RFA 29 results, Raoni Barcelos claims vacant title
RFA 29: USA vs. Brazil took place Friday evening at the Sanford Pentagon in Sioux Falls, South Dakota, and aired on AXS TV.
The format put  top American prospects against top Brazilian prospects with current UFC welterweight champion Robbie Lawler and former UFC light heavyweight champion Lyoto Machida serving as honorary coaches.
In the main event Brazilian, Raoni Barcelos defeated Ricky Musgrave to capture the Resurrection Fighting Alliance vacant featherweight title.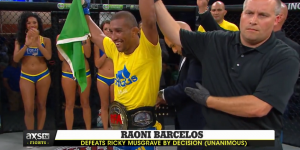 RFA 29 results include:
MAIN CARD
Raoni Barcelos defeated Ricky Musgrave via unanimous decision (50-45, 50-45, 50-45) – to win vacant featherweight title
Ackson Junior defeated Jordon Larson via submission (heel hook) – Round 3, 1:46
Leandro Higo defeated Terrion Ware via submission (rear-naked choke) – Round 3, 4:58
Joey Miolla defeated Pedro Falcao via unanimous decision (29-28, 29-28, 29-28)
Devin Clark defeated Dervin Lopez via unanimous decision (30-27, 30-27, 30-27)
Matt Lopez defeated Kevin Clark via submission (rear-naked choke) – Round 1, 0:36
PRELIMINARY CARD
Logan Storley defeated Bill Mees via TKO (punches) – Round 1, 2:32
Clay Wimmer defeated Eric Ramm via TKO (punches) – Round 1, 4:17
Jordan Johnson defeated Gemenie Strehlow via submission (brabo choke) – Round 1, 0:48
Logan McPadden defeated Keith Phathaem via submission (rear-naked choke) – Round 2, 2:57