Adam Townsend Hires Weight Management Specialist Louis Giordano
Adam Townsend Hires Weight Management Specialist Louis "Loutrition" Giordano in Advance of his Main Event Bout Vs Steven New at Valor Fights 32 on April 29 in Knoxville, TN.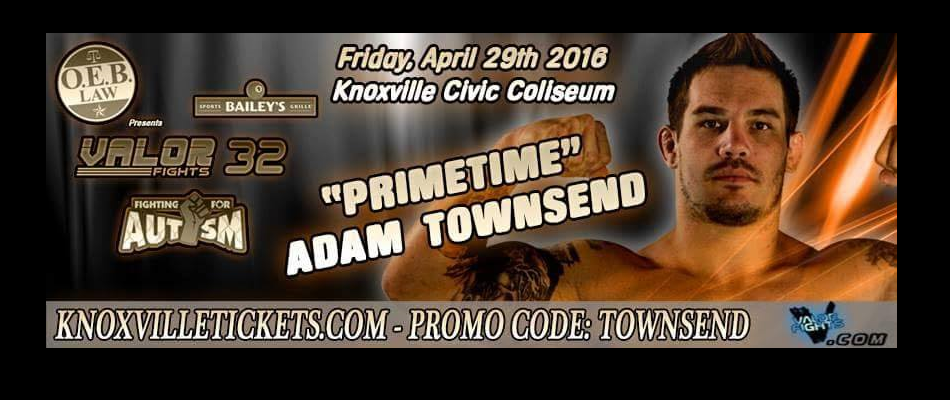 Simpsonville, SC. – 15-4 professional mixed martial artist, Adam "Primetime" Townsend has hired Louis "Loutrition" Giordano to help him make weight for his main event fight against Steven New at Valor Fights 32: Fighting For Autism on April 29th in Knoxville, TN. Townsend, a fan favorite and hometown hero is a resident of Hampton, TN and has competed for RFA, Ring of Combat and V3 Fights. He currently trains with the D-Evil Fight Team in Johnson City, TN.
"I'm very excited to be working with Lou and from what I can tell thus far, he has me feeling great and losing weight," explained Townsend. "Knowing I no longer have to starve myself is a great feeling. I feel honored to be part of the Loutrition team, as he has worked with many prestigious fighters. I'm excited to see what the future will bring with us working together. Primetime and Loutrition make a great team!"
Giordano has been working with many athletes and mixed martial artists, most notably, Eddie Gordon, UFC bantamweight Aljamain Sterling, former UFC welterweight champion Johny Hendricks and pound for pound King, Jon Jones. His belief is not in cutting weight, but managing it. He is against drastic weight cuts as well as rehydrating via IV. With determination, hard work and will power, Giordano has helped change the lives of many. After witnessing fighters struggle to cut weight, he decided he needed to help them avoid suffering any long-term health issues.
"I am looking forward to working with Adam and watching him compete at Valor Fights 32 on April 29th," Giordano said. "He has all the tools to make it to the top, including a very engaging personality. Now that he is taking his heath and conditioning seriously, I see no reason why he won't be more successful than he has been in the past. You will see a whole different fighter come April 29th." For more information on Louis Giordano and the Loutrition system, please visit www.loutrition.net or follow him on Twitter, Facebook & Instagram.
For more information on Adam Townsend you can follow him on Twitter, Facebook & Instagram.
ABOUT LOUIS GIORDANO:
Giordano has been working in the health and fitness industry for almost 15 years. During that time he has helped countless individuals achieve their weight-loss goals and given them a new lease on life. He has an extensive background in Tae-Kwon Do, wrestling and is currently a fitness enthusiast in the Central New Jersey area. He has a degree in exercise science and is a weight management specialist, trained directly under NY Jets registered dietician Glen Tabias. Giordano is also a certified Pilates coach and worked exclusively with television personality Wendy Williams for well over two years.
Follow MyMMANews.com on Social Media
The following two tabs change content below.
Founder of MyMMANews.com - After writing for Ultimate MMA magazine and serving as the editor for U.S. Combat Sports, both of which went on hiatus, I decided to venture out on my own and enlist a staff of writers and photographers that could help me achieve my goal of telling stories that would otherwise go untold. We pride ourselves in taking a deeper look into the fighter, and understanding what makes them tick. - #1 Dad, Marine Corps Veteran, 80's and 90's Pro Wrestling Fan, MMA Commentator, Beer Lover, and avid movie watcher. Seriously..... I watch a lot of movies.
Latest posts by Eric Kowal (see all)