Art of War Cage Fighting 10 results
Art of War Cage Fighting holds AOW 10 tonight from the 2300 Arena in Philadelphia, Pennsylvania. Yesterday the fight card suffered several severe blows during the promotion's weigh-ins, but fight promoter Mike Bickings looks to build past the obstacles placed in front of him.
Sharif Jones, the event's headliner, no-showed for the weigh-ins, leaving a void on the card and opponent Paul Sims without a fight.
Jon Tuxford Jr., showed up to the venue, but came in heavy and his fight with Lex Ludlow was also removed from the fight card.
Zedekiah Montanez and Josh Trainor will look to shine in the opportunity presented to them, the fight card's headlining bout.
The crowd tonight at the 2300 Arena will erupt in support of local favorite John Garbarino. The 23-year old star sold an estimated 450 tickets to the fight, and the number could be even higher come fight time.
[themoneytizer id="23967-2″]
Fighting out of Afghanistan, Mohamed Akbari opened up the night against Felix Torres who was making his MMA debut.  Akbari, flashy in style, is switching back and forth between a traditional and southpaw stance.  He throws a kick that lands center mass on Torres and hurts him. The two signal each other to come forward at one another.  Torres gets a takedown and the round ends with Akbari holding on to his opponent's mid-section.  Torres opens up the second frame with another takedown.  Akbari trying to keep Torres off him, but Torres sticking with the plan.  Torres works to apply an armbar but when that does not succeed he transition to side and then full mount. The round end with Torres looking to lock up another armbar.  Third and final round starts with Torres once again getting a takedown.  Torres throws hammer fists to the body from the side.  The round ends once again with Torres looking to work in a submission.  This one goes to judges and is ruled in favor of Torres.
Damir Bradley is immediately taken down by James Murray who is working to lock up a submission right away.  Murray hoping to lock up an armbar and when that does not work, switches to a triangle choke.  Bradley trying to avoid being submitted for most of the round.  Bradley starts working in some kicks to open the second round before shooting in for a takedown.  He gets Murray down to the canvas but is unable to keep dominant position.  Round three starts with a tussle.  Both men taking shots at one another.  Murray throws Bradley down by his head.  Murray fighting out of the guard.  He wins a unanimous decision.
Big pop from the crowd for Anthony Caschera who looks to earn his fourth amateur win here tonight in Philadelphia.  He takes on Reece Ward.  Caschera immediately gets the fight to the canvas, moves to side mount and works the body.  Caschera steps back, lets his opponent up and rocks him with a right hand.  Now Ward pushing the action, coming forth with shots of his own.  The round ends with Ward trying to get a takedown but Caschera managing to keep his balance while being pushed across the cage.  Little bit of blood trickling from the nose of Caschera here to start the second round.  Very good round between the two, action from both competitors.  Caschera working the neck of his opponent, scrambles from both.  Great action.  Striking on point for Ward to open the third, Caschera takes the fight back down to the ground.  Working ground and pound until the final bell.  Caschera won a unanimous decision.
The big men enter the cage for a heavyweight fight.  The winner of the Mike Evans vs Patrick Brady bout will be declared the number one contender to the Art of War Cage Fighting amateur heavyweight championship.  Evans connects with a  few shots that Brady does not like.  Brady shoots in and takes the fight down to the ground.  Brady knees to the body and then takes the back of Evans.  The stand and Evans connects, Brady pushes him up against the cage wall.  Round two starts with big heavy shots to include an uppercut from Brady.  Evans drops and turtles on his side.  Brady follows up with shots to the body before the referee calls an end to the contest.
Following the brief intermission, Bart Pierre opens up his fight with Duane Shields with not one, but two thunderous leg kicks that echo throughout the 2300 Arena.  Shields takes Pierre down and is working out of the guard. Pierre works up to his feet but "Crispy" Shields reintroduces him back down to the canvas.  Pierre works out and throws down some strikes to the head.  Shields turns his back and Pierre applies an armbar to the point of near bone breakage.  The round ends and referee Bill Bookwalter has the hold released.  We move to round two.  Shields connects with a right hand but then his next few shots are not carefully placed and Pierre is able to evade.  Shields gets the fight down to the ground once again.  Shields throwing a few shots to the body but nothing significant and the referee stands them up.  Shields picks the ankle and gets it back down again.  Pierre working for a kimura, Shields work out.  With ten seconds left in the round, Shields is in guard.  The corner of Shields urging him to posture up here in the third round.  Pierre connects with a leg kick, Shields counters with a big right.  The crowd going bananas for these two warriors.  Shields again gets the fight down.  The takedowns are the story here in this one.  "Crispy" Duane Shields wins unanimously.
The entire 2300 Arena is on their feet for John Garbarino.  A sea of red shirts in support of their fighter.  This kid is a star in the making her in Philadelphia.  Jon Madrak, not bothered by the attention his opponent is receiving, not afraid to trade shots with Garbarino.  Several knees and a takedown attempt made in the first round, but most of the opening minutes contested on the feet.  No significant damage done here by either competitor but with the fan support it sure sounds like Garbarino is winning.  Madrak working the neck of Garbarino here in the second frame.  Garbarino avoiding the choke, keeps attempting to work for a takedown.  He finally gets it, in a big slam in the final seconds of the round.  Madrak is going to have to do something spectacular here in the third round if he wants to pick up a win.  Garbarino throws a spin kick and then lets his hands go. Big combo, followed by a takedown.  Push kick sends Madrak's back up against the cage.  Garbarino shoots in but Madrak catches him and grabs hold of the neck.  Madrak applies a standing guillotine choke but Garbarino survives.  He rocks Madrak with two big shots and drops him.  The crowd goes wild.  The ref lets the fight continue.  With no striking to the head of a grounded opponent at this amateur level, Garbarino gets top position but can't do much more before time expires.  He will win the fight by way of decision.
And New
Jesse Stokes and Derrick Bradley feel each other out in the opening seconds of the co-main event which is for the vacant amateur heavyweight title.  The winner of this fight will defends against Patrick Brady at a later date.  Strokes shoots in and takes Bradley down, the entire cage shakes.  Lots of power in there.  Stokes gets on top and unleashes his fists.  Time expires but the round should easily be awarded to Stokes.  Round comes the and the men are throwing shots but not really following up, a little more cautious this time around.  Stokes connects with a leg kick that seems to hurt Bradley just slightly.  Bradley throws a few shots that connect, now they are fighting off the cage.  Stokes throws a knee that connects to the groin but the fight is not stopped.  They fight to the bell.  Bradley's hands coming to life here in the final frame, finding a home with Stokes.  Stokes presses the fight up against the cage and starts throwing knees, again a few land low.  Bradley getting irritated.  This fight goes the distance and Bradley wins a split decision.
Josh Trainor gets massive boos from the crowd as his name is called for the main event spot against Zedekiah Montanez.  This is the first and only fight scheduled for five rounds tonight.  Montanez immediately drops Trainor with a shot, but he pops right back up.  Serious swelling developing under the right eye of Trainor.   He comes forward but is caught with another big right hand by Montanez.  Montanez throws and lands a switch cake.  Montanez assaults Trainor with a flurry of knees and punches.  The fight is stopped in the very first round.
Complete Art of War Cage Fighting 10 results below:
Zedekiah Montanez defeated Josh Trainor via TKO – Round 1, 1:36
Derrick Bradley defeated Jesse Stokes via split decision (29-28, 28-29, 29-28) for amateur heavyweight title
John Garbarino defeated Jon Madrak via unanimous decision (29-28, 29-28, 29-28)
Duane Shields defeated Bart Pierre via unanimous decision (29-28, 29-28, 29-28)
Patrick Brady defeated Mike Evans via TKO – Round 2, 0:32
Anthony Caschera defeated Reece Ward via unanimous decision (30-27, 30-27, 30-27)
James Murray defeated Damir Bradley via unanimous decision (30-27, 30-27, 30-27)
Felix Torres defeated Mohamed Akbari via unanimous decision (29-28, 29-28, 29-28)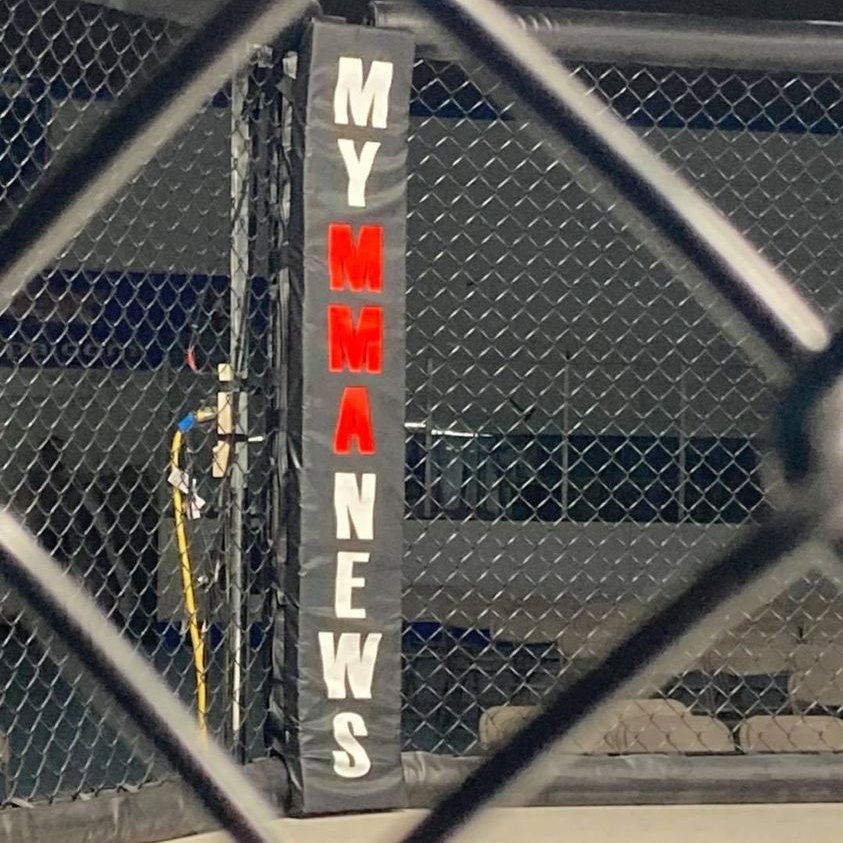 MyMMANews.com – We cover everything from MMA, BJJ, Bare Knuckle, Wrestling, Boxing, Kickboxing, and Judo
News, Opinions, Videos, Radio Shows, Photos and more.