Art of War Cage Fighting 21 results – 'The Rumble at Rivers' – Russell vs. Adams
Rumble at Rivers – SOLD OUT
Art of War Cage Fighting promoter Mike Bickings continues to elevate his product to another level as is evident in the final preparations being made for tonight's concluding card of 2021.
Art of War 21 ' The Rumble at Rivers' brings arguably the promotion's largest card to date, to the newly minted Rivers Casino Philadelphia on Saturday, December 4.  The event which is completely sold out is also available for pay-per-view purchase through the StarFund App.
Mixed martial arts fans will have a variety of options to choose from when selecting their purchase, including the ability to buy each Art of War event individually, or monthly and annual packages that will include access to hundreds of previously recorded content through a "fight library."
Rivers Casino Philadelphia is located at: 1001 N Delaware Ave, Philadelphia, PA 19125
In the first fight of the night, an amateur featherweight bout, Sean Hogan dropped Nickolas Harrison in the opening seconds of the frame.  Harrison gathered his composure and was able to push through the round but as time expired you could see the sense of frustration on his face.  Whatever coach Erik Purcell of MPR Endurance told his fighter in between rounds, worked.  Harrison poured it on Hogan in the second round, and not only stunned his opponent but spun him around, forcing the referee to call an end to the action just 28 seconds in.
The heavyweights were up next in the second amateur bout of the evening.  Rock Em' Sock Em' Robots in the first frame as Kalle Blindenbacher and Anthony Sanchez stood toe to toe and exchanged leather.  Surprisingly neither man was knocked out on his feet but the round did come to a close as Sanchez was knocked down and Blindenbacher threw a knee that did land on the grounded opponent.  The referee did warn Blindebacher between rounds for the foul.  In the second round, Blindenbacher's face is a bloody mess but he keeps pushing forward.  His nose is leaking pretty good as the round comes to a close but he's a fighter and will make it out for the third and final round.  Blindenbacher throws a leg kick that echoes throughout the event center here at Rivers Casino Philadelphia.  The crowd is growing louder as this heavyweight fight continues to escalate.  UFC heavyweight Chris Daukaus is in attendance and shouting instructions towards his Martinez BJJ teammate.  The big men continue to trade shots until the final bell before the embrace in the center of the cage.  GREAT FIGHT.  This one goes to the judges' scorecards for a decision.  Sanchez wins a close split decision.
Bantamweights Eric Beitz and Jason Quezada, the lightest fighters on the card tonight, come at each other right out the gate.  Beitz eats a few shots on this way in before attempting a takedown.  The fight works its way to the ground where Quezada attempts a guillotine choke but cannot get the submission victory.  The round continues and ends with Beitz on top in full mount, but because of the amateur rule set, he can only throw shots down to the body.  Round two is a game of chess as the two men scramble for dominant position.  It's a back and forth battle for control.  Doesn't appear that much damage was inflicted in the round but will likely be scored in favor of Quezada.  In the third and final round, Beitz carries Quezada across the entire cage but does not fulfill the suspense with a big slam as Quezada holds on and is placed down a little softer than Beitz would have liked.  Nonetheless, Beitz is on top with a dominant position when the fight ends.  This one also goes to the judges for a decision.  Beitz earns a unanimous decision win.
Keenan Forsey earns a huge pop from the crowd when he ties up Asking Deleon and slams him to the mat early on in their amateur lightweight bout.  Forsey continues to control the round despite late submission attempts from Deleon.  The roles reversed early on in round two with Forsey being put on his back.  Deleon maintains top position but not much done.  Forsey pops back up as the round concludes.  This third and final round could determine who wins the decision.  Forsey delivers three big right hands to open up the round, pushing Deleon up against the cage.  The MPR Endurance fighter continues the onslaught and gets the TKO win.  Good showing for Forsey.
The crowd is on their feet for Philadelphia's own, Johnny Garbarino.  Cameron McIntosh enters enemy territory to face Garb in his own backyard.  McIntosh finds early success, but not not before Garbarino turns the tide and slams his opponent, not once, but twice and ends the round with top control.  It appears that McIntosh was injured in one of the slams or retired on his own, but the fight is stopped in between rounds.
Anthony Dill looks as calm and relaxed as a fighter can be entering the cage for a fist fight.  Every time Oscar Garcia Jr. throws a strike, Dill avoids the punch as if he is in one of the Matrix films, shakes his head as to say "no," and points his finger in his opponent's face.  Dill in top position, throwing strikes to the body while Garcia looks to evade.  Dill takes his back and attempts a rear-naked choke before moving back to top position.  The round concludes but can easily be awarded in Dill's favor.  The two men come out kicking in round two.  Shot for shot, punch for punch, they appear to be on even ground this time around.  An accidental kick to the groin by Garcia temporarily halts the fight.  Dill shakes it off, continues and presses on.  Garcia coming forward.  Dill taunting him with smack talk.  Dill putting on a show, continuing to slip past every shot Garcia throws his way.  Time expires and the two men clap hands at the end of the second round.  We move to the third and final round.  Dill continuing to taunt.  Garcia gets his back and takes brief control on the ground, throwing a few shots before Dill impressively rolls out of the position and back to his feet.  Dill might just be a ninja, he is just so damn quick.  The battle continues on the feet up until the final bell.  Dill earns a split decision win, his first pro victory.
In the night's co-main event, both Patrick Brady and Larry Gonzales will look to earn their first pro victories.  Gonzales, who hails from California, is forced up against the cage early on after a feeling out process by Martinez BJJ's Brady.  Gonzales is peppering Brady with shots, but nothing to be concerned about yet.  While Brady may be wearing the bruising on his face, Gonzales is facing similar issues with his leg.  Brady continue to attack the leg in the second frame., recognizing its vulnerability.  Sweat flies from the face of Gonzales as Brady cracks him with a big right.  Brady has his opponent pressed up against the cage and is looking to take the fight down to the canvas.  Brady coming on strong but so is Gonzales.  Brady's face is a mess as Gonzales lands a combination.  Brady is rocked, but not out.  He continues to hunt down his opponent, but fatigue is starting to set in .  Brady stumbles and falls as the round comes to a close.  Brady is going to have to dig deep here if he wants to find a win in the third and final round.  The pace has slowed here between these two heavyweights but Gonzales is following Brady who is circling the outside of the cage.  Brady connects with shots but Gonzales doesn't seem to be bothered, unless the shot is a kick to the leg.  Gonzales is getting frustrated and tells Brady to meet him in the center.  The bell tolls and the fight is over.  It will be interesting to see who the judges believe inflicted more damage.  Was it Brady with the leg kicks, or Gonzales with the jabs that opened Brady up?  Brady gets a unanimous decision win and his first pro victory.
Cody Russell appears to be the much larger fighter than Bret Adams in the night's main event.  Adams has a unique style, sliding one foot forward at a time while shielding his sides, protecting from the vicious shots that Russell can land.  Despite the size difference, Adams brings the fight.  He is not backing down from Russell.  Instead, he pushes forward, throwing kicks and a variety of strikes of his own.  Russell opens the second round with a flurry of punches before taking his opponent down to the mat.  Adams has a small mouse under his left eye, nothing to be concerned about at this point.  Adams reverses and gets Russell up against the cage.  Russell fights out of it, attacks Adams and crumbles him with a knee.  Russell continues to land hard shots to his opponent before the fight comes to an end.  Russell wins by way of second round TKO.
AOW 21 'The Rumble at Rivers' results below:
Main Event (160 pounds)
Cody Russell defeated Bret Adams via TKO – Round 2, 2:15
Co-main Event (Heavyweight)
Patrick Brady defeated Larry Gonzales via unanimous decision (29-28, 29-28, 29-28)
140 Pound Fight
Anthony Dill defeated Oscar Garcia Jr. via split decision (29-28, 28-29, 29-28)
185 Pound Feature Fight
John Garbarino defeated Cameron "Tarzan" McIntosh via TKO (retirement) – Round 1, 3:00
170 Pound Fight
Keenan Forsey defeated Aking Deleon via TKO – Round 3, 0:34
135 Pound Fight
Eric Beitz defeated Jason Quezada via unanimous decision (30-27, 29-28, 3o-27)
Heavyweight Fight
Anthony Sanchez defeated Kalle Blindenbacher via split decision (29-28, 28-29, 29-28)
145 Pound Fight
Nickolas Harrison defeated Sean Hogan via TKO – Round 2, 0:28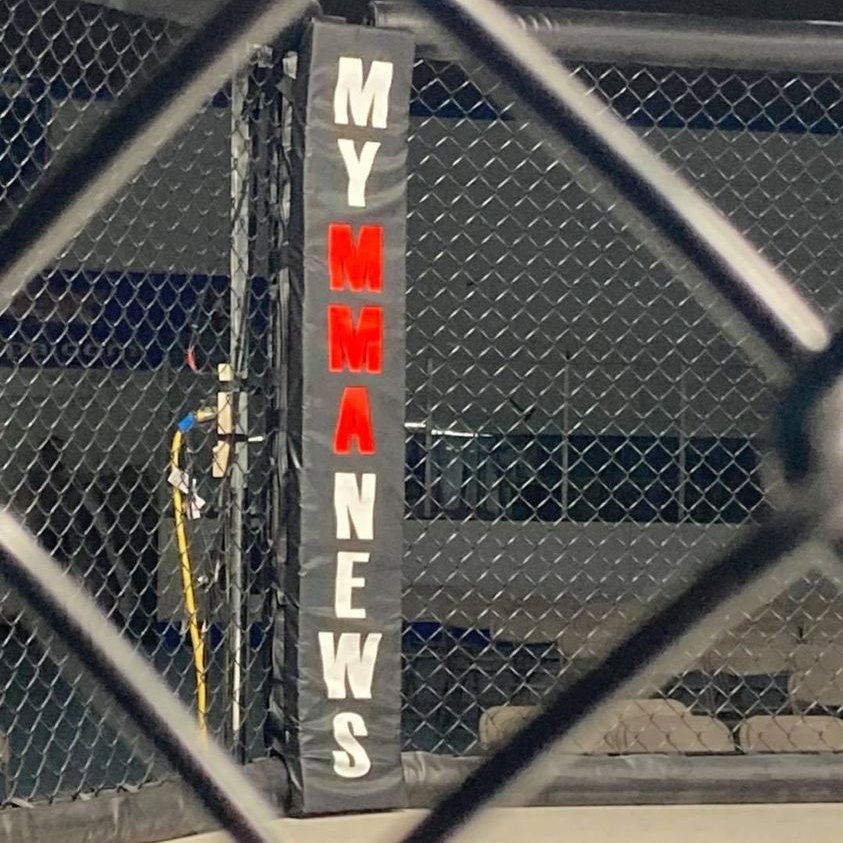 MyMMANews.com – We cover everything from MMA, BJJ, Bare Knuckle, Wrestling, Boxing, Kickboxing, and Judo
News, Opinions, Videos, Radio Shows, Photos and more.