Art of War Cage Fighting 7 results – Joseph Pyfer vs. Steven Covington
Fight promoter Mike Bickings presented his seventh installment of Art of War Cage Fighting tonight from the 2300 Arena in South Philadelphia, PA.  The May 18 event was to be headlined by "Sammy O" Sam Oropeza making his MMA return against the visiting Nick Wagner.
After Wagner failed to attend yesterday's weigh-ins, the fight was waived off, however Philadelphia resident and pro fighter Sharif Jones stepped up to the plate on short notice.  The commission approved the bout as both fighters made weight.  Today however told a different story.  Required blood work could not get processed in time for Jones to compete therefore the 185-pound catchweight main event is now off the card.
The night's new headlining fight will be Joseph Pyfer and Steven Covington at middleweight.
The first fight of the night was an amateur middleweight bout between Mikeal Kennedy and Luis Padilla Jr.  Kennedy, a Philadelphia native received quite a pop to open up the night.  Referee David Osaghae officiated the bout. After a quick hard shot from Padilla, Kennedy immediately took the fight to the ground where he maintained top position with side control.  Kennedy landed several shots to the body and attempted to work an arm submission. The round is complete and we move to round two.
Kennedy connects with a few shots to open the second frame before taking the fight back down to the canvas.  He stacks Padilla, then takes his back and attempts a rear-naked choke.  Padilla escapes, reverses, but only for a second.  Kennedy back on top. The third and final round begins with Kennedy knocking Padilla down with a big right hand and once again getting in side control.  Padilla working from guard.  Kennedy throwing down elbows to the body.  The round and fight ends and goes to Kennedy by way of unanimous decision.
SCARY, SCARY SUBMISSION
The next fight of the night was a heavyweight bouts between Ian Allston and John Jones.  These two big boys came out swinging until….. Allston locked Jones up in a standing guillotine that put him to sleep.  Jones crumbled to the canvas, the back of his head smacking hard before his eyes rolled back.  Jones is out cold.
CORNER STOPPAGE
Robert Astacio of Cherry Hill, New Jersey crossed the bridge to Philly to meet Thomas Salmon in the third bout of the night.  The first round was a kicking war between Astacio and American Killer Bee's prospect Salmon.  Every time one threw a kick, another returned the favor.  Astacio then gets the fight to the ground with less than 30 seconds to go in the round.  The first frame concludes with Salmon working from full guard.
Astacio lands a spinning backfist in the second round.  Salmon shrugs it off and says "come on."  Salmon now has Astacio up against the cage where he is landing knees to the body.  Astacio is hurt.  He's walking it off and as Salmon comes at him, Astacio lands strikes.  The round ends with a failed takedown attempt.  The fight ends between the second and third rounds.  Astacio's corner calls a top to the contest.
STRICTLY BUSINESS
"Strictly Business" Christian Carr meant "business" when he immediately took Matthew Santos down to the mat in their featherweight contest.  While Santos did a great job avoiding any submission attempts he didn't score any points on the judges' scorecards during the opening two minutes.  The second round was a repeat of the first, Carr takes his opponent down and works for submissions from the back.  Carr now works to a side mount and is landing down punches at the end of the second.  Carr opens the third round with a superman punch followed by a knee.  Santos survives and gets Carr up against the cage.  Carr reverses and takes the fight down to the mat.  Santos' corner is insisting he get up, but he can't.  The round and fight ends with Carr on top once again, throwing down punches.  Carr wins unanimously.
QUICK WORK
Shawn Stefanelli and Damir Bradley next competed in an amateur lightweight bout.  This one was over before it began.  Stefanelli thew a bunch as Bradley went in.  It appeared as if it clipped around the back of his head.  The fight goes to the ground.  Stefanelli wraps up his opponent's arm.  Bradley gives up his back, and is submitted by rear-naked choke seconds later.
DIAZ DECISIVE
A fun flyweight bout came next as Miguel Diaz and Charles (Mic) O'Brien banged it out. Diaz scoops O'Brien up early and slams him to the canvas.  Mic working from full guard now. With just ten seconds in the first round O'Brien is fighting off a rear-naked choke by elbowing his opponent to the thigh area.  First round for Diaz.  O'Brien opens up the second frame with a big right hand.  Diaz shoots in, takes fight down, and O'Brien applies a guillotine.  The fight works back to the feet and Diaz has taken the back of O'Brien while in the standing position.  O'Brien elbowing the thigh once again, trying to peel Diaz off.  The round ends right around the time Diaz is finally off his opponent's back.  Tough round to score.  The hands are flying in the final round.  When the fight goes to the ground, it's more of the same.  O'Brien working from a guard.  They get back up and the hands fly again.  This one goes to the judges.  Diaz wins unanimously.
SPLIT DECISION
A welterweight affair between Jordan Grenyion-Smith of Jamaiica (1-3) and Hawaii-native Avery Sanchis (4-2) followed the smaller guys. The competitors start with kicks before a shot hits Grenyion-Smith low and you can see he is irritated.  The hands are thrown and the fight goes to the ground.  Sanchis takes his opponent's back while standing and works for a choke.  Grenyion-Smith falls backwards in an attempt to hurt his opponent and pry him off.  Sanchis gets back on and working a submission. The bell tolls but Sanchis has a body triangle wrapped and can't easily get off to stand up and walk away.  Grenyion-Smith pushes out and walks away furious.
Bombs are thrown to open the second.  Sanchis gets a takedown.  They stand.  Sanchis gets a second takedown merely seconds later.  Grenyion-Smith thwarts off another rear-naked attempt to get a dominant position of his own.  He is landing knees from the side.  The round ends there.  A few push kicks following by hands open up the final round.  Sanchis has a hard time working for the takedown but follows through and it is completed.  The continue to work on the ground.  Grenyion-Smith works for a triangle choke but Sanchis begins to attack the leg and the fight time expires. Sanchis wins a tough split decision that some of the crowd is not too happy with.
SAMMY-O
Following the intermission an amateur 170-pound title bout between Zulkarnaiyn Kamchybekov and Anthony Inzone started the second half.  But before that took place Sam Oropeza took center stage to talk about the main event that would not happened.  Sammy O thanked all of his sponsors and a few important people in his life.  Fight promoter Dave Feldman then announced that Sammy will fight in Wyoming on pay-per-view at Bare Knuckle Fighting Championship.
#ANDNEW X2
Kamchybekov and Inzone now take the stage. Kamchybekov puts his perfect 3-0 record on the line against the 1-2 Inzone.   This one was fireworks from the start as the two men stood and traded shots.  Kamchybekov then unloaded on Inzone and appeared as if Inzone may have been down or thought he was down and tried to signal to referee Jimmy Chappell to stop the fight temporarily.  Kamchybekov kept punching as Inzone protested and he was getting hit without answering back. Chappell did not waive the fight off, and Kamchybekov applied a choke.  Inzone bleeding under his left eye but staying in the fight after gathering his composure.  A second dominant round is added in favor of Kamchybekov as he gets several takedown and works the body of his opponent.  Inzone hanging tough and putting up a fight.
Kamchybekov unleashes to open the third, and knocks Inzone down.  He continues to strike.  The referee halts the fight and deducts a point from Kamchybekov and tells him that he also did it in the first round.  The action resumes and Kamchybekov continues the assault, then picks Inzone up, walks across the cage and slams him in a very Matt Hughes-eque way.  The crowd erupts.  Kamchybekov throws down shots to the body before the bell. Zulkarnaiyn Kamchybekov is your new champion by way of unanimous decision.
Zebekiah Montanez and William Warrick duked it out for the AOW featherweight strap.  Warrick had to eat a few shots before finding his range and working Montanez up against the cage.  That's where he started to throw knees.  Once Montanez found room to break free he landed a spinning back kick that hurt Warrick.  That's when the round ended.  Let's see what Warrick can do here to start the second round.  Montanez lands an uppercut to start the second round.  He's eating shots every time that he tries to go in on Montanez.  A knee to the face rocked Warrick and he complained to halt the fight.  The ref signaled to continue.  Montanez kept pouring it on.  Cornerman and AOW champion Ben Moser threw in the towel and the referee called and end to the fight. Montanez wins the title.
24-SECONDS ON THE CLOCK
Timothy Tyler and Jamal Johnson put on the first pro fight of the night.  WOW!!!! This one was quick.  Johnson immediately gets to Tyler's back and submits him with a guillotine choke while standing.
MAIN EVENT
Joseph Pyfer and Steven Covington did not expect to be headlining tonight's card when they hit the scales yesterday but, fast-forward 24-hours later and they find themselves in the leading roles.  No love from the crowd for Covington.  Pyfer gets the biggest pop of the night.  Pyfer, making his pro debut, looks amped…. and scary.  'BodyBagz' is a frightening man.  He immediately slams Covington, mounts and begins the ground and pound.  Covington is cut across the forehead from elbows.  Pyfer gets another takedown and unleashes hell.  Covington is out cold.  Brutal finish!!!! BRUTAL!!!!
COMPLETE ART OF WAR CAGE FIGHTING 7 RESULTS BELOW:
185 lb. pro bout – Joseph Pyfer defeated Steven Covington via TKO – Round 1, 2:40
150 lb. pro bout – Jamal Johnson defeated Timothy Tyler via submission (rear-naked choke) – Round 1, 0:24
145 lb. title fight – Zebekiah Montanez defeated William Warrick via TKO – Round 2, 0:56
170 lb. title bout – Zulkarnaiyn Kamchybekov defeated Anthony Inzone via decision (29-27, 29-27, 29-27)
170 lbs. –  Avery Sanchis defeated Jordan Grenyion-Smith via split decision (29-28, 28-29, 29-28)
125 lbs. – Miguel Diaz defeated Charles O'Brien via unanimous decision (30-27, 29-28, 30-27)
155 lbs. – Shawn Stefanelli defeated Damir Bradley via submission (rear-naked choke) – Round 1, 0:44
145 lbs. – Christian Carr defeated Matthew Santos via unanimous decision (30-27, 30-27, 30-27)
155 lbs. – Thomas Salmon defeated Robert Astacio via TKO (corner stoppage) Round 2, 5:00
Heavyweight – Ian Allston defeated John Jones via submission (standing guillotine choke) – Round 1, 0:57
185 lbs. – Mikeal Kennedy defeated Luis Padilla Jr. via unanimous decision (30-27, 30-27, 30-27)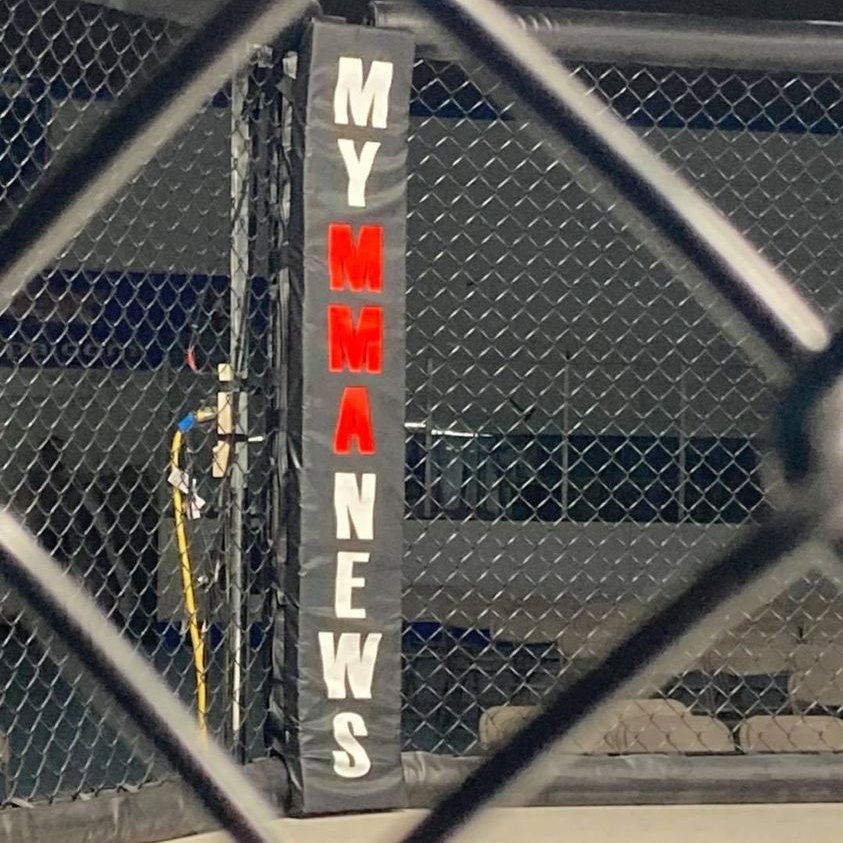 MyMMANews.com – We cover everything from MMA, BJJ, Bare Knuckle, Wrestling, Boxing, Kickboxing, and Judo
News, Opinions, Videos, Radio Shows, Photos and more.