Art of War Cage Fighting – AOW 23 results – Turnbull vs. Vento
AOW 23
Art of War Cage Fighting hosts back-to-back nights of mixed martial arts action on Friday and Saturday nights as fight promoter Mike Bickings delivers yet another "All-Star Weekend" for fans in Philadelphia.
Saturday night's AOW 23 fight card from the all-new LIVE! Casino and Hotel, the same venue as last night's AOW 22.
Tonight's night's fight card will begin at 7 pm ET and is available for live streaming on the StarFund app.
The event opened with a singing of the National Anthem by professional boxer Nahir Albright (14-2) who also happens to be an R&B recording artist. Watch below.
In the night's main event, last year's 'Art of War Fight of the Year' winner Matt Turnbull (3-4) returned to the cage to meet Federico Vento (3-5) at bantamweight.  These two combatants test the waters on the feet before Turnbull finds an opening and drags Vento down to the canvas.  With coach Will Martinez and UFC middleweight Kyle Daukaus in his corner, Turnbull drags his opponent within ear's reach and listens to their instructions.  Turnbull takes Vento's back and applies a rear-naked choke. The tap comes and the fight is over.  Easy night at the office for Matt Turnbull.
Fan favorite John Garbarino (6-2) locked horns with Gracie New Jersey's Russ Korbul (6-3) in the evening's co-main event slot.  While the fans in attendance were behind Garbarino, he couldn't get enough momentum going in the fight to defeat the wrestling strategy that Korbul utilized.  Fans let referee Keith Peterson know their disappointment in the fight's action, but to Korbul's credit he was staying active to the trained eye.  Garbarino was ultimately frustrated with the outcome of the fight and at the bell's final toll, shoved Korbul to the canvas.  Despite the infraction, Garbarino lost the fight on all scorecards and Russ Korbul achieves his dream of earning a mixed martial arts title.
First Win
Isaiah Herring of Grindhouse MMA picked up his first amateur MMA win with a first-round finish of Josh Shemesh to start AOW 23.  Shemesh was wobbly from a big shot delivered by the hands of Herring before being put down with a follow-on shot just two seconds shy of the round's close.
Heavyweight War of Attrition
Heavyweight fighters Jason Viana (0-3) and Michael Grybos (0-2-1) entered the Art of War cage next.  Each fighter, with three bouts a piece, is searching for their first amateur win. The first round, contested entirely on the feet, was a mix of punches and kicks from both contestants.  After another feeling out process at the start of the second, Grybos was clobbered with two big shots from Viana.  Grybos wobbled across the cage and just when it looked like the fight might have been stopped, he was able to gather his composure and fight to the bell, coming forward with heavy hands of his own.  The third and final frame, much like the two prior, was a back and forth brawl but Grybos is outstriking his opponent.  Overall, it wasn't the prettiest fight in the world, but these two heavyweights should be proud of what they have accomplished.  Grybos picked up his first victory after scoring a unanimous decision on the judges' scorecards.
Unsportsmanlike Conduct
Bilal Khan rushes out of the gate in his featherweight bout against Dylan Beever.  As a result, Khan is pressed up against the cage, luckily in front of his own corner, and winks to coach Ricardo Migliarese.  Khan winks to his Migliarese to say that he is ok.  The round comes to a close but at the start of the second, Khan is immediately put into a guillotine choke and forced to submit.  Upset with his performance Khan goes on a tirade, punches the cage wall and canvas and disobeys instructions from cageside officials.  Will be interesting to see if the commission hands down any punishment to the unruly fighter?
Leave it to Leve
Not much to write about here in the middleweight bout between Bryce Gibbons and Evan Leve.  Just moments into the fight Leve launched a massive right kick to the body which sent Gibbons down to the canvas in pain.  Could possibly be a broken rib or a severely bruised liver, or both.
Green Gone Wild
Jordan Grenyon throws a kick early on his middleweight bout against Timothy Green.  Green grabs the foot, takes Grenyon to the canvas and goes to work.  As Grenyon works back to his feet, Green grabs gets his back and again takes him down.  Green maintains side control in the closing seconds of the round.  Green picks up where he left off in the second round, getting the back of his downed opponent.  Hooks in, Green is working for a rear-naked choke.  It's deep but Grenyon not giving up.  Green begins the assault on the body to try and soften him up.  Grenyon flips over and is now mounted before the round comes to a close.  Green should be up 2-0.  Back to where we left off as again Grenyon finds himself belly down on the canvas with Green on top.  Grenyon now mounted and covering up as Green throws down haymakers.  The fight goes to the bell but it was all Green from start to finish.
And New!
Mikeal Kennedy and Isaiah Margheim move quick for heavyweights.  These big boys are throwing and after a tussle for power, the men go down to the canvas and exchange control.  Nice pick up and slam from Kennedy in the second.  He lifts Margheim up over his head and crashes him down to the canvas.  Once on the ground, Kennedy is in Margheim's guard.  Kennedy controls the movement on the ground as he works the body with shots.  Good round for Mikeal Kennedy.  In the third and final round, Kennedy looking for a finish as he has his opponent pinned to the mat.  The finish does not come but Kennedy gets the unanimous decision and picks up the Art of War Cage Fighting heavyweight title for his efforts.  Great win!
Christian Bobe and Dylan Harnish are up next and this one is for the advanced amateur featherweight championship.  After a brief exchange, Harnish looks to shoot in.  Bobe works around and gets a trip of his now.  With the fighters on the ground, Bobe takes back and works for a rear-naked choke.  It looks deep but Harnish hangs on until the bell tolls. Again, the leather is traded, and this time Bobe shoots to start the second frame.  Harnish is fighting to pry Bobe off his back.  Bobe is able to work to mount and begins to throw down bombs.  Harnish escapes that position but is still on defense.  We move to the third and final round.  Harnish is light on his feet, throws a nice left hook.  Bobe presses forward and takes the fight to the ground once again.  Bobe connecting with the head of Harnish.  Unless Harnish does something spectacular here, he will likely lose this fights on the scorecards.  Bobe takes home the title with a unanimous decision victory.
AOW 23 results below:
Featherweight main event – Pro bout – Matt Turnbull defeated Federico Vento via submission (rear-naked choke) – Round 1, 2:30
175-pound title bout – co-main event – Advanced Amateur – Russ Korbul defeated John Garbarino via unanimous decision (30-27, 30-27, 30-27)
145-pound title bout – Advanced Amateur – Christian Bobe defeated Dylan Harnish via unanimous decision (30-27, 30-27, 30-2)
Heavyweight title bout – Advanced Amateur – Mikeal Kennedy defeated Isaiah Margheim via unanimous decision (30-27, 29-28, 30-27)
Middleweight bout – Amateur – Timothy Green defeated Jordan Grenyon via unanimous decision (30-27, 30-27, 30-27)
Middleweight bout – Amateur Rules – Evan Leve defeated Bryce Gibbons via TKO (kick) – Round 1, 0:19
Featherweight bout – Amateur Rules – Dylan Beever defeated Bilal Khan via submission (guillotine choke) – Round 2, 0:26
Heavyweight bout – Amateur Rules – Michael Grybos defeated Jason Viana via unanimous decision (30-27, 30-27, 30-27)
170-pound bout – Amateur Rules – Isaiah Herring defeated Josh Shemesh via TKO (strikes) – Round 1, 1:58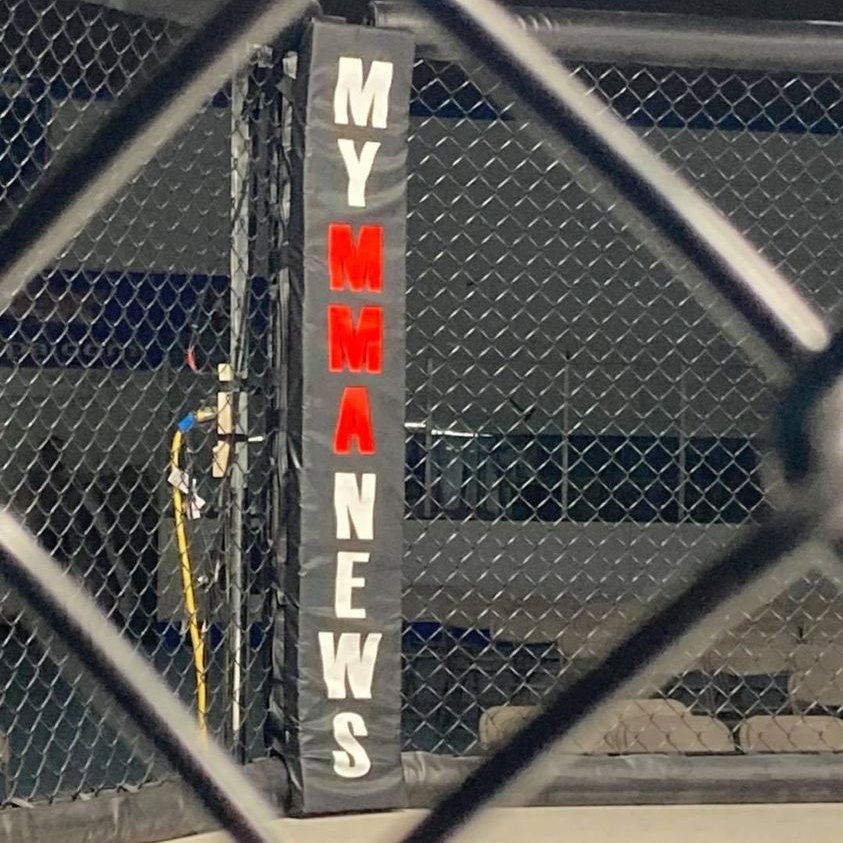 MyMMANews.com – We cover everything from MMA, BJJ, Bare Knuckle, Wrestling, Boxing, Kickboxing, and Judo
News, Opinions, Videos, Radio Shows, Photos and more.