Releasing 'Calm Rage' Key To Bryce Lawrence Lion Fight 29 Win
Releasing 'Calm Rage' Key To Bryce Lawrence Lion Fight 29 Win
From Lion Fight Promotions website
Don't let Bryce Lawrence's day job fool you.
Just because he's a youth pastor doesn't mean for one second that he has a passive approach. In fact when it comes to fighting, Lawrence has learned to tame his rage. It is certainly quite a dichotomy that Lawrence lives, but he's found a serenity in it all. The 24-year-old is definitely at home in the Lion Fight ring where he's become one of the organization's leading up-and-comers, and will put himself to the test at Lion Fight 29 when he faces fellow Floridian Asa Ten Pow – he himself a full-fledged rising star.
The fellow hot prospects are former training partners but there's a crucial win up for grabs in a prominent spot on the AXS TV Fights main card. The two will square off on Friday, May 27th at Foxwoods Resort & Casino in Mashantucket, Connecticut, in a rematch from their days in the amateur ranks.
"Asa is a good friend of mine and we've spent a bit of time training together. We've been following each other for years as Florida fighters," said Lawrence. "My very first amateur fight, Asa was fighting for a championship title and was also the main event of the night. I remember looking up to him. It's cool how our careers have progressed and now we're here competing on the biggest stage in the U.S."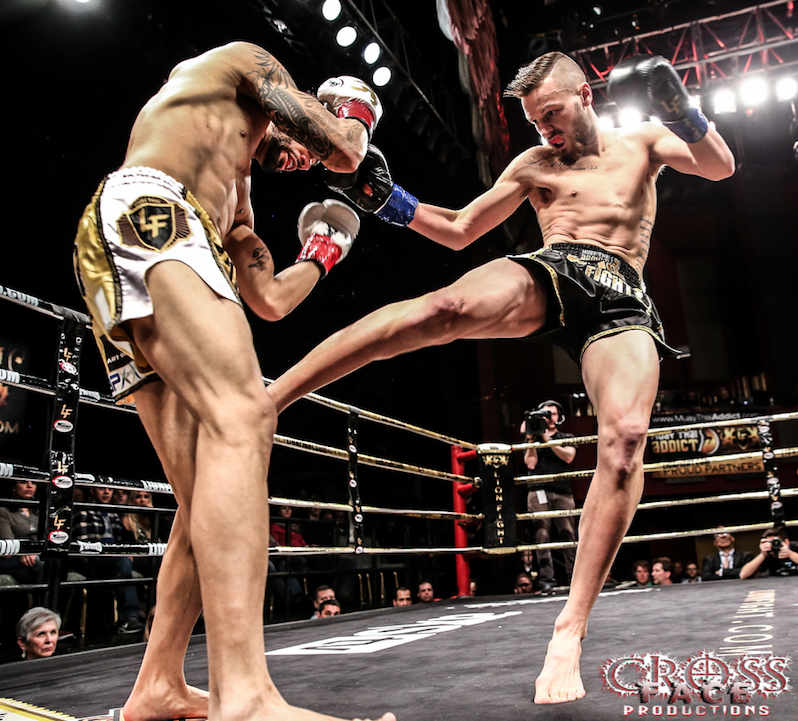 Lawrence fell into Muay Thai in much same way that many do. He was constantly in trouble as a teenager but found refuge in a local gym and studied the sport and its culture. It was an instant fit. Now Lawrence combines his passions – fighting and raising the next generation.
In the ring, though, Lawrence has had to contend with some of the same aggression that caused him problems as a youth.
"I think the biggest thing I've been trying to work on overall is staying in a calm rage," explained Lawrence, who lives in Estero and trains in nearby Naples, Florida. "I'm a very aggressive fighter and in the past I've kind of just 'gone to town.'
"I'm now learning to stay calm and release that 'rage' at the right time."
Lawrence's timing for near-perfect his last time out at Lion Fight 28 when a vicious series of leg-kicks brought about a convincing first-round stoppage of Yeison Berdugo. Just a few minutes later on the same card, Ten Pow won his professional debut when he registered a third-round TKO against Turan Hasenov. Fittingly now, the two will meet and figure out which of them takes a significant step up the promotion's super lightweight ranks.
After needing only to showcase two of the "art of eight limbs" in coming away victorious his last time out, Lawrence is cognizant of the fact that he needs to expand his method of attack against a foe like Ten Pow.
"This fight I am just focusing back on the basics and ensuring my cardio and power are exactly where they need to be," said Lawrence.
"One place I am extremely focused on right now is the clinch. I have had the opportunity to train daily with the legend Lamsongkram in preparation for this fight and he's a wizard when it comes to clinch. I think my biggest strength is definitely my hands. I punch hard and precise."
The Lawrence-Ten Pow clash is part of an action-heavy lineup on tap for Lion Fight 29 which is headlined with super welterweight champion 'Smokin' Jo Nattawut putting his title on the line against three-time world champion Armin Pumpanmuang.
Tickets for Lion Fight 29 are on sale now at www.foxwoods.com or by calling 800-200-2882 or by visiting the Foxwoods Box Offices.
The main card will air live on AXS TV Fights with a special start time of 9 p.m. ET / 6 p.m. PT. with commentary from renowned duo "The Voice" Michael Schiavello and UFC Hall of Famer Pat Miletich.