Wanderlei Silva hit by car while riding bike; surgery required
Wanderlei Silva hit by car while riding bike; surgery required
Former Pride Fighting Championship middleweight champion and former UFC fighter, Wanderlei Silva was seriously injured earlier this week while riding his bike.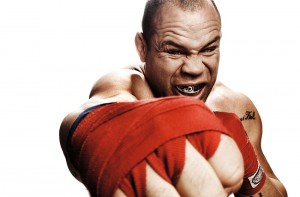 Silva was struck by a vehicle in his hometown of Curitiba, Parana, Brazil.  UFC 198 will take place in Curitiba tomorrow evening.
Fortunately for Silva he was wearing a helmet but did sustain injuries that will require surgeries to be performed on his shoulder and knee.
A post on his Facebook page said:
"Note: please be advised that the wand had an accident, where he was hit by a car when I was returning from bike to your house after a workout, with that over the shoulder and caused a lot goes through surgery today. We ask your prayers for our champion. Ascom"
On Instagram:
"Everyone told me bikes were dangerous, but I believed that the right to come and go was the same for everyone – cars, pedestrians and bikes," he wrote (translated by MMAjunkie). "But I felt firsthand that it's not like that. I was in a serious accident and I will have to get surgery on my shoulder and left knee. A guy who saw it said I was 'born again,' and the guy who ran me over didn't stop to help."
"I'm very sad; I could have died," Silva wrote. "My helmet broke. I don't know what could have happened if I wasn't wearing it. Then I thought about the number of bikers who die every day and no one talks about. Who are run over like me and nobody does anything! This happened in Curitiba, a 'model city.' We have a lot to improve when it comes to bikers. The bike is a vehicle like any other, it deserves the same rights! I'm very sad about what happened! But I'll fight so that bikers have the same rights."
In closing, Silva said he thanks his fans for their concern and support.
"From my heart, thank you so much for the support I've been receiving," Silva wrote. "I have no words for this much support. In times like these, we see who is really with us. I had some serious injuries and I don't know what is going to happen, but I trust in God and I think everything happens for a reason. So I'll do my best and whatever happens, happens. If I wasn't wearing a helmet, I could have died! This made me rethink my life and grow so much! So live well, because it will be over soon enough. God bless you. And if you ride a bike wear a helmet, because we'll never know when we're going to need it."
Another Facebook post:
"Guys, we thank you in the name of the wand to all the messages of support and support, always so caring and concerned about the state of him. We are waiting for return of doctors in relation to the clinical picture of him and the next procedures that should be carried out in order to be able to inform you. ‪#‎Forçawand‬ ‪#‎tocomwand‬ ‪#‎withwand‬‪#‎pedalandocomwand‬
Ascom"