Cage Fury Fighting Championships Acquire Xtreme Fight Events, Inks TV Deals with Comcast, SNY
Cage Fury Fighting Championships Acquire Xtreme Fight Events, Inks TV Deals with Comcast, SNY
ATLANTIC CITY – In a move sure to send shockwaves through the regional MMA community, officials from Cage Fury Fighting Championships announced today that they have acquired the Pennsylvania-based Xtreme Fight Events in a deal that nearly doubles the size and scope of the nation's No. 1 regional promotion.
CFFC CEO Rob Haydak said the XFE brand would be gradually phased out, with the soon-to-be larger CFFC organization promoting more than 25shows in 2015 and eventually employing as many as 100 fighters. Future fight locales include Chicago, New Orleans, Arizona, and Florida, as well as the Northeast, with multiple shows planned in New Jersey and Pennsylvania.
"This acquisition is huge for us. Not only are we increasing our roster and number of events, but we are getting some key personnel who will continue to take us to the next level," said Haydak, noting that XFE owners David Feldman Sr. and David Feldman Jr. are among those who will remain with the organization.
"I've always had a respect for both of them. Though we were competitors, I viewed them as a legitimate player in our market. Truth be told, they pissed me off a lot because they were getting deals done that left me scratching my head. Now that we are united and share a common goal, it's going to be something great. Fighters and fans are going to be ecstatic at some of the things we have planned. Our roster has always been great and made us what we are. With this acquisition, we are going to increase our roster substantially and continue to put on the best fights in the country."
David Feldman Sr. will hold an executive position and focus on business development, Haydak said. His son will work directly with the CFFC executive team in operations and fighter relations. Both will play major roles in CFFC securing its position as the top regional promotion in America.
"I am very excited to be part of this history-making deal. XFE had a great five years and has a great team. I look forward to helping create one of the best promotions in the country," David Feldman Sr. said. "I am pleased to be a part of CFFC and with the growth potential of this great organization. A new era in MMA is here."
More than 20 fighters are currently under contract with XFE, including standout lightweights Brett "Young Blood" Martinez (7-1) and Jon "Devastator" Delbrugge (4-1, all four wins by stoppage), prospect Thad Frick (1-0 pro, 4-0 amateur and cousin of UFC stars Jim and Dan Miller), and heavyweight champion Carmelo "The Fury" Marrero (16-6). Coupled with CFFC's current fighters, the new roster will inch closer to 60, though company officials say 75 to 100 men and women will eventually be signed.
The acquisition of XFE is the latest major step for an organization that has grown exponentially over the last four years. Haydak, who was a college wrestler with a passion for competition and a profound respect for the commitments athletes make, purchased the promotion in 2011 with a business philosophy of slow and steady growth.
He assembled a dedicated staff and CFFC grew from two shows in 2007 to 12 shows held in four states a year ago. This year, the organization plans to host 19fight cards, including an October show in Chicago.
According to Haydak, one of the most important moves for the organization this year was bringing in well-known MMA trainer and manager Michael Constantino as president. Constantino, who trains a number of UFC fighters, was a natural fit to run the promotion as Haydak looked to focus on distribution and business development.
"I look forward to continuing our amazing growth at CFFC and working with David Feldman Sr. and Jr., as well as continuing to expand our brand throughout the United States and beyond," Constantino said. "Cage Fury Fighting Championships will continue to provide the regional-level fighter with a first-class experience and an opportunity to grow their career."
While promoting more than 25 fight cards in a year would be daunting for most organizations, Constantino said his staff would arrange a consistent and strategic show schedule in 2015. This will help expand CFFC's rabid fan base and eventually lead to it being broadcast in more television markets. Comcast currently broadcasts CFFC fight cards in eight of its 11 markets. The promotion also has a deal with SNY to show its fights in New Jersey, New York, and much of New England.
August 9 will be the last day that the companies operate separately. On August 16, CFFC will make its debut at the Sands Casino in Bethlehem, Pennsylvania, with the Feldmans on board. Headlining the event will be Scott "the Animal" Heckman (17-5), who holds the distinction of being a former champion with both XFE and CFFC.

That event will be bookended by CFFC 38, which will be held at the Borgata Hotel Casino and Spa in Atlantic City on August 9, and CFFC 39 at Valley Forge Casino in King of Prussia, Pennsylvania, on August 23.
"We will build the best roster in the world outside of the UFC," Haydak said. "I have zero interest in buying fighters. So many promotions over the years have failed miserably doing that. At CFFC, we will build tomorrow's stars."
For information, visit cffc.tv.
About Cage Fury Fighting Championships
Cage Fury Fighting Championships (www.cffc.tv) is a pioneer in bringing prominent and elite MMA talent to the East Coast. Since CFFC's debut, past, and current champions have competed at the highest level. Before they were in the UFC, Jim and Dan Miller were both CFFC champions. That legacy remains the same today. Three current CFFC champions, George Sullivan, Aljamain Sterling, and Charlie Brenneman are currently on the UFC roster. Current UFC fighters Zach Makovsky, Nick Catone, Nah-Shon Burrell, and John Howard have also competed in CFFC prior to their entry to the UFC. Also, CFFC helped jumpstart the career of Internet fighting sensation Kimbo Slice, whose first foray into MMA came in the CFFC cage when he fought former boxing champion Ray "Merciless" Mercer. CFFC continues to thrive as one of the best regional promotions in the world while focusing on treating fighters with respect and giving the fans the ultimate MMA experience.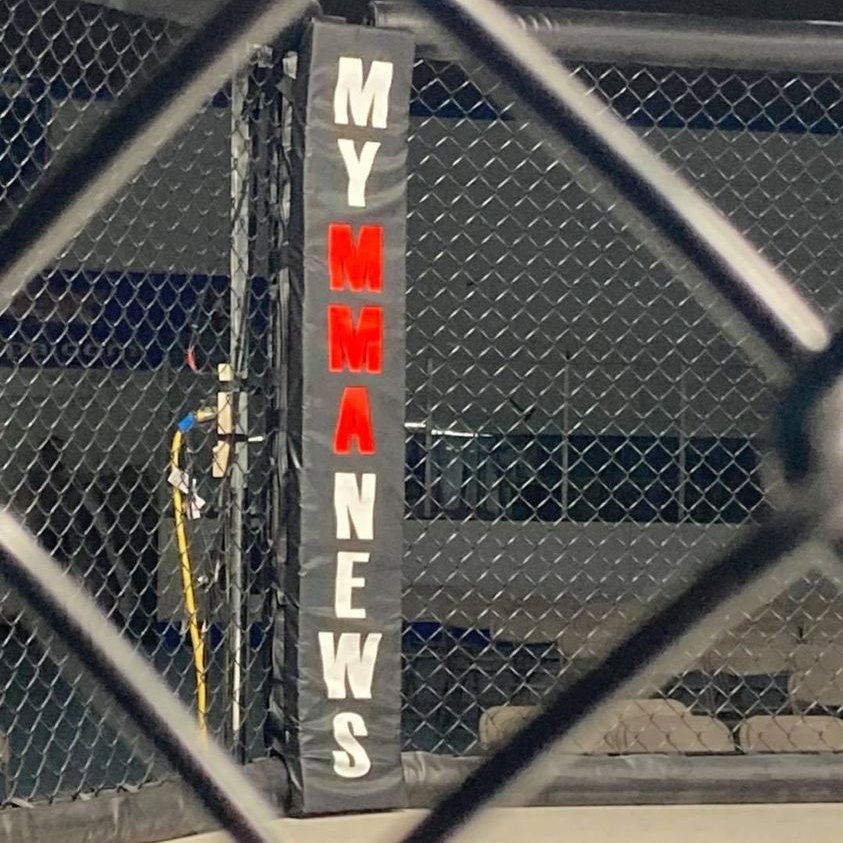 MyMMANews.com – We cover everything from MMA, BJJ, Bare Knuckle, Wrestling, Boxing, Kickboxing, and Judo
News, Opinions, Videos, Radio Shows, Photos and more.