Carroll's Corner MMA Podcast E8: Randy "Rudeboy" Brown of the UFC Joined us Live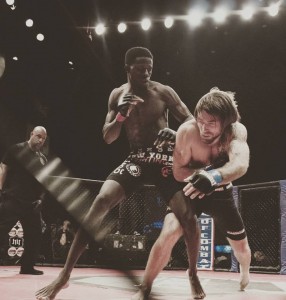 A UFC newcomer joined us live on the air Tuesday, February 9th, 2016. Randy "Rudeboy" Brown came on to Carroll's Corner MMA Podcast and discussed his UFC debut, meeting Dana White, and more. Brown improved his record to 7-0 overall and now 1-0 in the UFC after earning a unanimous decision victory inside the octagon at Newark, New Jersey.
Brown is a welterweight that was discovered by the UFC president, Dana White, while he attended a Ring of Combat show in Atlantic City, New Jersey. While President White was there, Brown impressed him with his finish victory over a fighter out of Matt Serra's gym. On their show, 'Lookin' for a Fight', Brown was greeted by Dana White after his bout in the locker room.
Brown's next fight is yet to be scheduled, but there are many fighters in the welterweight division that Brown matches up well against. He's a fun, exciting fighter, expect to see him often within the next year.
Interested in following this rising UFC star on social media? Follow him on Instagram @TouchNgo_ and on Twitter @TouchNgo_ – On Facebook fans can find the UFC welterweight by typing Randy "Rudeboy" Brown in the search. Be sure to also follow My MMA News on social media @MyMMANews and My MMA News Reporter Kyle Carroll's podcast by following him on twitter @jiblitz77.
Tune in every Monday evening at 7 p.m. EST to listen to Carroll's Corner MMA Podcast. Next week will be episode 9. We are still waiting for our guests to be confirmed, but be sure to tune in!
Randy Brown of the UFC live with us!
Follow MyMMANews.com on Social Media
The following two tabs change content below.
Kyle Carroll
Kyle Carroll is a Long Island, N.Y. native and avid MMA and amateur wrestling fan. He has been a part of the wrestling community for nearly 20 years. Carroll has six years of experience coaching high school wrestling. His father coached high school wrestling over 35 years, passing on his strong knowledge. Carroll has been reporting MMA news since January 2011. The former wrestler's coverage includes the 2012 U.S. Olympic Wrestling Team Trials, 2013 & 2016 NCAA D1 Wrestling Championship, and numerous MMA events (Bellator MMA, King of the Cage, North American Fighting Championship, and Glory).
Latest posts by Kyle Carroll (see all)