The Champ is HERE – Jordan Griffin Continues KOTC Bantamweight Reign
The Champ is HERE – Jordan Griffin Continues KOTC Bantamweight Reign
At King of the Cage: Generation X on Saturday, April 9, 2016, the bantamweight champion Jordan Griffin, once again proved why the prized belt is strapped around his waist.  During the co-main event at Black Bear Casino Resort in Carlton, Minnesota, Griffin defeated Adam Ward via TKO (Did not answer the Bell) in the first round at 5:00.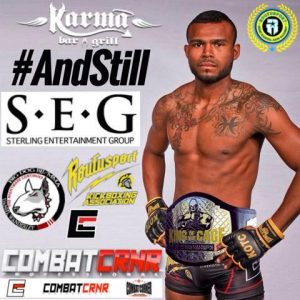 This was Griffin's third successful title defense, and his fifth win in a row. His TKO victory makes it his fourth consecutive finish. The champion improved his record to 13-4, dropping Ward to 15-9. Griffin has finished 9 opponents of his 13 wins.
Early in the bout, Ward managed to takedown Griffin twice. While Ward was on top both times, he inflicted little to no damage against the reigning champion. Ward's corner screamed encouragement to their fighter to keep striking from the top. Griffin mentioned in his interview with My MMA News, how he sarcastically told Ward to "Keep doing that, it's working,", before standing back to his feet.
While on his feet, the bantamweight champion delivered numerous combinations of punches and kicks to Ward. The champion made an adjustment and prevented all further takedown attempts by Ward. Keeping the fight standing, Griffin displayed a superior set of boxing skills and foot work as he danced around Ward.
In the final seconds of the first round, Griffin delivered two lethal body kicks. In between round one and two, Ward began vomiting into a bucket. The event doctors didn't allow Ward to continue for medical reasons, giving Griffin the victory by TKO (Didn't answer the Bell) in round one.
Griffin informed My MMA News how he has mentally focused on each opponent in front of him and not worrying too far into the future. Inside the cage of his last bout, the Milwaukee native explained how calm and collective he was while fighting, even when Ward placed him on his back.
The 26-year-old champion escaped the match without any injures. Griffin demonstrates passion for MMA with every fight he takes and never turning down a bout offered to him. He hopes to climb back into the cage within the next few months. King of the Cage will be returning to Black Bear Casino Resort on July 8, 2016 and headed back to Griffin's home state later that month at Lake of Torches Casino. He hopes to hear within the next couple of weeks about his next possible opponent.
Griffin expressed his love and gratitude for KOTC family and the support they have showed him. The numerous battles he's fought in the Duluth area and in Wisconsin, has built the Roufusport athlete a growing fan base. After his last bout Griffin told us how much he loved signing autographs and taking pictures with the young fans. "I might enjoy the fans more than I do fighting,"
According to Tapology, Griffin is the No. 1-ranked featherweight in North Dakota, South Dakota, and Minnesota. He's also the No. 6-ranked featherweight in the Midwest. KOTC bantamweights are featherweights in almost every other promotion. They weight 136 to 145. UFC bantamweights weigh 126 to 135.
The Brew City fighter has two fights left on his KOTC contract and plans to enter free agency with a record of 15-4. If Griffin can successfully defend his title for another two times, it would be hard for Bellator MMA or even the UFC to ignore his success.
Be sure to keep an eye out for Jordan Griffin as he's riding a five-fight win-streak and plans to "Dirty Dog" his next opponent inside the cage.
Follow Griffin on Twitter by using his handle @JGriffMKE and on Instagram at https://www.instagram.com/jgriffmke/
Jordan Griffin Highlights.
Uploaded by Central Media Designs on 2015-07-14.
Kyle Carroll is a Long Island, N.Y. native and avid MMA and amateur wrestling fan. He has been a part of the wrestling community for nearly 20 years. Carroll has six years of experience coaching high school wrestling. His father coached high school wrestling over 35 years, passing on his strong knowledge. Carroll has been reporting MMA news since January 2011. The former wrestler's coverage includes the 2012 U.S. Olympic Wrestling Team Trials, 2013 & 2016 NCAA D1 Wrestling Championship, and numerous MMA events (Bellator MMA, King of the Cage, North American Fighting Championship, and Glory).