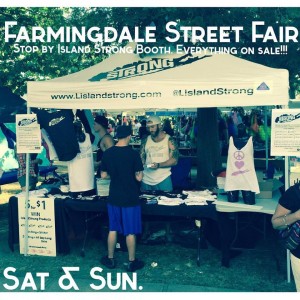 If you are from Long Island and have any sort of social media accounts, it's a great chance you've seen a photo of Long Island's beautiful sunset descending over the blue ocean horizon, a Light House standing tall and a variety of local businesses. Island Strong posts a wide variety of images taken by Long Island native photographers.
Island Strong is a clothing apparel company that is specific to beautiful Long Island. Ultimate Fighting Championship athlete Chris Wade and partners, Terrance Saporito and Brian, launched the company in March of 2015. Island Strong offers a selection of T-shirts, tank tops, hats, and stickers.
The 8-month-old company uses their Instagram account to support local businesses on Long Island. They recognize restaurants, Barbers, Bars, Breweries, and gyms across Long Island. This young company understands the importance of buying, reinvesting, and building within the community will help all businesses to thrive.  Island Strong plans to add to the assortment of items they sell in the near future.
This weekend, Island Strong will be at the Farmingdale Main Street fair. Their tent will be set up Saturday from 10 a.m. – 4 p.m. and Sunday between the hours of 11 a. m. – 5 p.m. selling their products. People can find Island Strong Products at Lislandstrong.com.
Wade (10-1) is a Long Island native. He hails from Islip, where he attended high school, winning a New York State wrestling title for the Buccaneers. He has fought three fights within the UFC. He has won all three bouts in the UFC, two by the way of unanimous decision, and the third with a first round submission. Wade fights in the 155-pound weight class. He recently celebrated his 28th birthday.
Island Strong's mission statement: Island strong is a multi-faceted promotional platform for local businesses charities and athletes.
On Island Strong's web page under "About Us" they describe what they are about.
"Island Strong was created to celebrate all the great aspects of living on Long Island. The incredible entrepreneurial spirit possessed by our small business owners. The unrelenting drive and focus of our athletes, artists, and local heroes. And the spectacular landscapes we take for granted every day from Manhattan to Montauk. We love where we live and we owe everything we have to the Long Islanders before us. The Island Strong community will ensure future generations enjoy an ever greater experience."
Follow Island Strong on Facebook and on Instagram @Lislandstrong for all their latest updates.