Combate Americas 47: Monterrey weigh-in results
WEIGH-IN RESULTS FROM MONTERREY, N.L., MEXICO: COMBATE AMERICAS' LIVE TELEVISED, STAR-STUDDED MMA EXTRAVAGANZA
NEW WELTERWEIGHT MAIN EVENT: ALVARO HERRERA VS. FRANCISCO TREVINO ELEVATED TO HEADLINING STATUS
ORIGINAL MAIN EVENT – LEVY MARROQUIN VS. ENRIQUE GONZALEZ – SCRATCHED DUE TO GONZALEZ'S INABILITY TO MAKE FEATHERWEIGHT LIMIT
FEATURED FEATHERWEIGHT BOUT: ALEJANDRO "GALLITO" FLORES VS. MARCO "LA ROCA" ANTONIO ELPIDIO
FEATURED STRAWWEIGHT WOMEN'S BOUT: ALMA CESPEDES VS. CRISZAIDA ADAMES
EIGHT BOUTS SET FOR FRIDAY, OCTOBER 18
LIVE ON TELEVISION ON UNIVISION AND TUDN IN THE U.S., TELEVISA IN MEXICO
Fighters hit the scale and faced off today, one day before the Mixed Martial Arts (MMA) showdown at Domo Care, live on television on Univision (12 a.m. ET/11 p.m. CT) and TUDN (12 a.m. ET/9 p.m. PT) in the U.S. and on Televisa (11 p.m. CT) in Mexico,, tomorrow, Friday October 18, 2019.
The weigh-in event was also streamed live via Facebook Watch. Tomorrow's preliminary bout card will stream live on Facebook Watch, beginning at 9 p.m. ET/6 p.m. PT.
The welterweight (170 pounds) contest between exciting strikers Alvaro "Chango" Herrera (9-7) and Francisco Gonzalez Trevino (4-2) has been elevated to main event status due to the inability of Enrique "Baby Bull" Gonzalez (8-3) to make the contracted featherweight (145 pounds) limit for what was originally scheduled to be the main event bout against former "COPA COMBATE" champion Levy "El Negro" Marroquin.
Marroquin will be paid his fight purse, but will not compete as a result of Gonzalez withdrawing from the fight one day before the show.
Herrera of Guadalajara, Jal., Mexico weighed in at 172.3 pounds, 1.3 pounds over the contractual limit of his fight, while Trevino of Piedras Negras, Coah., Mexico tipped the scale at 170.7 pounds.
Featherweight (145 pounds) featured bout competitor and 2018 "COPA COMBATE" runner-up Alejandro "Gallito" Flores (16-2) and battle-tested veteran Marco "La Roca" Antonio Elpidio (9-3-1) weighed in at 149.1 pounds and 150.5 pounds, respectively, ahead of their showdown.
Wrapping up the main card, unbeaten Criszaida Adames (1-0) and Alma Cespedes (0-1) weighed in at 120 pounds and 125.1 pounds, respectively, for their scheduled, 120-pound catchweight fight. Cespedes will sacrifice 40 percent of her purse as a result of missing weight.
COMBATE AMERICAS WEIGH IN RESULTS:
WELTERWEIGHT MAIN EVENT:
Alvaro "Chango" Hererra (172.3 lbs.) vs. Fernando Gonzalez Trevino (170.7 lbs.)
CATCHWEIGHT (150 LBS.) FEATURED BOUT:
Alejandro "Gallito" Flores (149.1 lbs.) vs. Marco "La Roca" Antonio Elpidio (150.5 lbs.)
CATCHWEIGHT (120 LBS.) FEATURED BOUT:
Criszaida Adames (120 lbs.) vs. Alma Cespedes (125.1 lbs.)
PRELIMINARY BOUT CARD:
Emmanuel Rivero (159.1 lbs.) vs. Ricardo "El Loco" Arreola (158.7 lbs.)
Iván Pérez Rubalcava (149.7 lbs.) vs. Ernesto Quiroga (150 lbs.)
Ana Palacios (105.1 lbs.) vs. Lezly "La Killer" Hinojosa Compean (106 lbs.)
Mario Tena (136 lbs.) vs. Emilio Saavedra (135.4 lbs.)
Rodrigo Garcia (135 lbs.) vs. Cesar Briones (140.1 lbs.)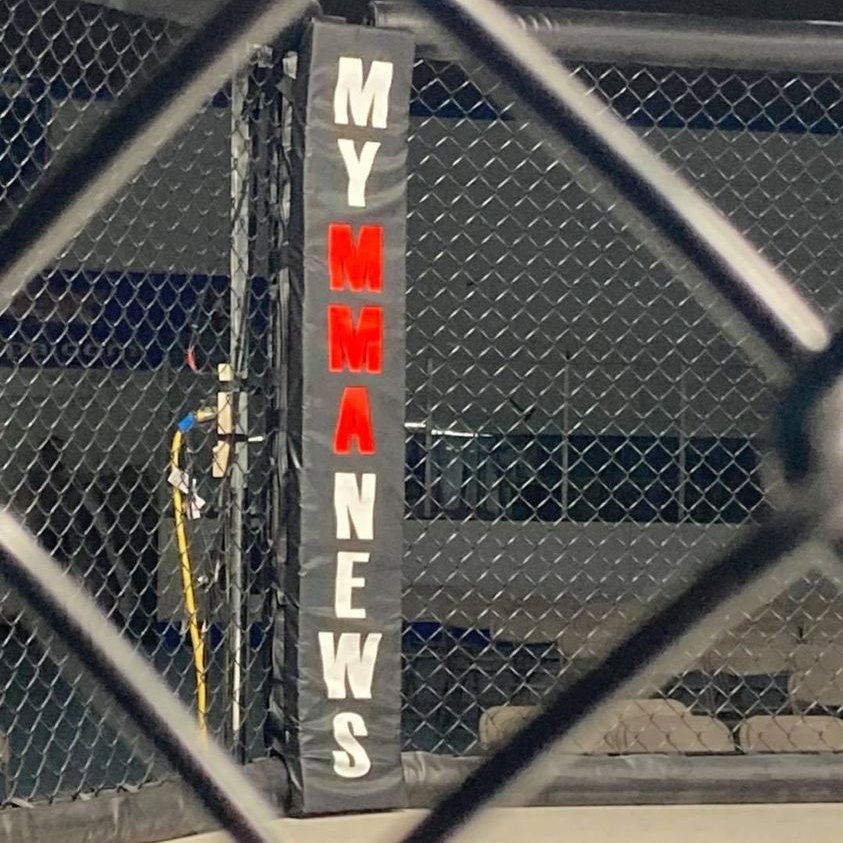 MyMMANews.com – We cover everything from MMA, BJJ, Bare Knuckle, Wrestling, Boxing, Kickboxing, and Judo
News, Opinions, Videos, Radio Shows, Photos and more.