Conor McGregor named one of the top 25 sex symbols by Rolling Stone
2015 was a huge year for Conor McGregor, winning three fights, including the UFC featherweight title from former champion Jose Aldo in December.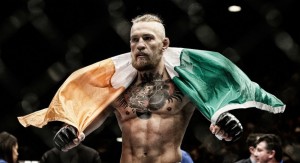 Now in the start of 2016, McGregor was named one of the top 25 sex symbols of the previous year by Rolling Stone.
Rolling Stone says that McGregor embodies athlete and sex symbol with his action inside the Octagon as well as his lavish lifestyle outside of it. McGregor was also officially declared the UFC's biggest star — trumping even former women's champion Ronda Rousey.
"There's no denying that the brash, brawling Irishman is currently the biggest star in mixed martial arts (sorry, Ronda); and now, he's got Aldo's Featherweight Championship, too," Rolling Stone said about McGregor.
"And while his accomplishments inside the Octagon are impressive, his flashy excesses outside of it make him legendary."