Meet No. 1 Ranked Amateur Lightweight in South East, Damon Minor
Meet No. 1 Ranked Amateur Lightweight in South East, Damon Minor
Damon Minor (9-1) has accomplished more with little more than a year fighting in the amateur rankings than many amateur mixed martial artists accomplish in their entire amateur career.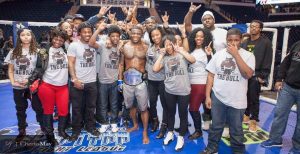 At the young age of 20 years old, this young man has taken the Virginia amateur MMA rankings by storm being ranked number one lightweight in the state of Virginia and now after his most recent win, Tapology has Minor ranked as the number one lightweight in the South East beating out more than 840 competitors.
Minor has been there and done that and is nearly on the cusp of turning pro. Tune in below as MyMMANews' own, Adam Crist goes head to head with Damon Minor to discuss his recent title win, success at a young age, and much more! Tune in below!
Currently studying Broadcast Journalism at Wilmington University, Adam's passion for the sport only grows stronger when a fighter's voice can be heard. He thrives on asking detailed questions to inspire the thoughts behind the punches in hopes that each fighter can find their proper justice. Specializing in pre and post fight interviews for MyMMANews, Adam strives to keep the fight fans up to speed with the most recent and authentic MMA news possible.
He is Co-promoter of Delaware's premier kick-boxing and Muay Thai organization, IBF Promotions. Recently he has also accompanied MMA organizations Global Proving Ground and XCC as Co-host and ringside commentator.