Meet No. 1 Ranked Amateur Lightweight in South East, Damon Minor
Meet No. 1 Ranked Amateur Lightweight in South East, Damon Minor
Damon Minor (9-1) has accomplished more with little more than a year fighting in the amateur rankings than many amateur mixed martial artists accomplish in their entire amateur career.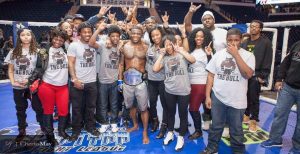 At the young age of 20 years old, this young man has taken the Virginia amateur MMA rankings by storm being ranked number one lightweight in the state of Virginia and now after his most recent win, Tapology has Minor ranked as the number one lightweight in the South East beating out more than 840 competitors.
Minor has been there and done that and is nearly on the cusp of turning pro. Tune in below as MyMMANews' own, Adam Crist goes head to head with Damon Minor to discuss his recent title win, success at a young age, and much more! Tune in below!