Ryan Castro Defends his WW Belt Against Clubber Creed at KTFO 13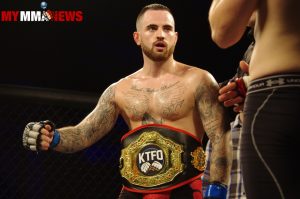 If you strolled into Buffalo Wild Wings in Centereach on Long Island Friday evening, you would have ran into KTFO welterweight champion, Ryan Castro, promoting KTFO 13 and his title defense this Saturday, April 30,  at The Sports Arena in St. James, New York.
The 170-pound title-holder looks to defend his belt against American Top Team – Whitestone's Clubber Creed. Doors swing open at 6 p.m. EST and fights start at 7 p.m. EST.
Castro and Creed will be headlining an impressive fight card that also includes a highly anticipated women's bantamweight (135lbs) matchup between Long Island MMA's Sarah Thomas and Creed's ATT-Whitestone teammate, Rose DeMatteo. A bantamweight featured matchup between Irvin Averbukh and Lee Rasanen is also scheduled to take place.
Castro, accompanied by a couple of other fighters, went to Buffalo Wild Wings to promote KTFO 13. KTFO events will now be streamed at all five Buffalo Wild Wings location in Suffolk County starting on May 11th. Castro earned the opportunity to do a great and meet with MMA fans at the BWW location, and where they also raffled off KFTO 13 tickets.
As a young teenager, Castro faced early difficulties in life that threatened his health, particularly his eye sight. Castro was struck with an autoimmune disease that attacked primarily his eye sight. This disease left him legally blind at about the age of 13-14 years-old.
In search for treatment, the constant traveling to doctors across the country pulled Castro out of school for lengthy periods of time. Eventually his family found a specialist in Boston that narrowed the disease down to one of two illnesses. The doctor issued chemo infusions to Castro, which lasted ten years.
After a decade long battle for his eye sight, Castro finished chemo and has been declared 100% healthy by doctors. Between his illness and getting into some trouble, Castro dropped out of high school after 13 days of school. He recognizes how the sport of MMA and his faith helped him become the man he is today. The amateur welterweight champion now boasts a record of 5-2 in MMA and 2-0 in kickboxing. The KTFO champion seeks his first successful title defense this weekend against a tough opponent.
The East Patchogue native found himself in Coram at Bobby Beltran's gym, East West MMA in January 2014 and has been training there ever since. In November of 2014, Castro entered the cage for the first time at MMA Platinum Gloves 7; the promotion has since been renamed to KTFO, against James Gonzalez of Serra-BJJ. In his debut against Gonzalez, Castro went the full length of the fight earning a split decision versus a skilled grappler.
His next two fights were finishes over Andrew Small via submission and Drew Nolan via a 22-second knockout. In his fourth fight of his amateur career he ran into a highly talented Sam Watford. Watford is currently a professional fighter, owning a record of 2-0 inside the BellatorMMA cage. Castro displayed his grit and heart as he battled Watford through three rounds. In September 2015, Castro jumped back into the cage against the No. 1 lightweight amateur in the Northeast, Nick Fiore. After slugging through the first round, Fiore managed to submit Castro.
Nearly five Months later, Castro showed the spirit of a warrior returning to the cage at MMA Platinum Gloves 12 in the co-main event. He was fighting Tom Kern of Bellmore Kickboxing MMA for the vacant KTFO welterweight title. It took Castro only twelve seconds to land a lights-out head kick on Kern. Castro won the title in devastating fashion over his opponent.
Creed (3-1) has also fought Tom Kern at MMA Platinum Gloves 8, which ended in a split decision in favor of Clubber Creed. Castro expressed his excitement for this upcoming bout and his appreciation for KTFO. The champion mentioned the great work KTFO president Nic Canobbio has been doing with the live streaming of fights, the promotion at Buffalo Wild Wings and ads popping up on Pandora. Castro said how Canobbio wants to make the fighters of KTFO "local superstars,"
Since the legalization of mixed martial arts in New York, fans and fighters have been wondering as to how local amateur promotions will continue with their events. In many states, events have amateur fights followed by professional bouts. Castro would love to have the chance of also becoming the KTFO professional welterweight champion once he decides to go pro.
Ryan "Loborious" Castro views himself as a professional fighter already. He trains full-time and works part-time to cover bills and various costs. Castro trains about three times a day, focusing on becoming an all-around fighter. He mentions the importance of his cardio regiment. He uses a multitude of training techniques to increase his gas tank and skills. Castro is waiting for the nod from his coaches for when he'll turn professional.
"Expect fireworks; expect what you always see from me. This is the best I've ever felt physically, mentally, spiritually." Castro said when asked what fans can expect in his bout against Creed. "I'm in tune man. I feel like I got it all together. It's to the point 3 to 4 hours training consistently feels like an hour, I feel like it's going to be a very short night for Clubber Creed,"
Be sure to attend Saturday night at The Sports Arena at 620 Middle Country Rd, St. James, NY 11780. These two athletes are sure to have fireworks explode in the cage. Creed (3-1) enters the bout with two decision victories and a submission. Both fighters are highly talent Long Island fighters with the same storyline of being the best fighter they can be. Castro hopes to continue wearing the crown, as Creed seeks his first taste of MMA gold.
According to Tapology, Creed is ranked 42nd in New York for amateur welterweights. Castro is ranked 23rd in the state of New York for Welterweights, and also 25th as a lightweight. This much talent inside the cage only can only lead to a finish in the main event.
Castro's Next bout is already scheduled for July 9th, 2016, on the Ballista Fighting Championships at Bald Hill at the Pennysaver Amphitheater in Farmingville, New York. His opponent is still unknown, but he'd like to finally meet Clubber Creed's teammate, Codie Payne inside the cage.
Tickets are available online at www.KTFO.com or at the door. Be sure to follow My MMA News on Social Media at @MyMMANews for the results and updates of KTFO 13.
Follow Ryan Castro on Instagram at @loborious.castro
See posts, photos and more on Facebook.
Kyle Carroll is a Long Island, N.Y. native and avid MMA and amateur wrestling fan. He has been a part of the wrestling community for nearly 20 years. Carroll has six years of experience coaching high school wrestling. His father coached high school wrestling over 35 years, passing on his strong knowledge. Carroll has been reporting MMA news since January 2011. The former wrestler's coverage includes the 2012 U.S. Olympic Wrestling Team Trials, 2013 & 2016 NCAA D1 Wrestling Championship, and numerous MMA events (Bellator MMA, King of the Cage, North American Fighting Championship, and Glory).