ONE: KINGDOM OF CHAMPIONS MEDIA DAY HELD AT BANGKOK FIGHT LAB
ONE STRAWWEIGHT WORLD CHAMPION DEJDAMRONG SOR AMNUAYSIRICHOKE MEETS YOSHITAKA NAITO FOR THE FIRST TIME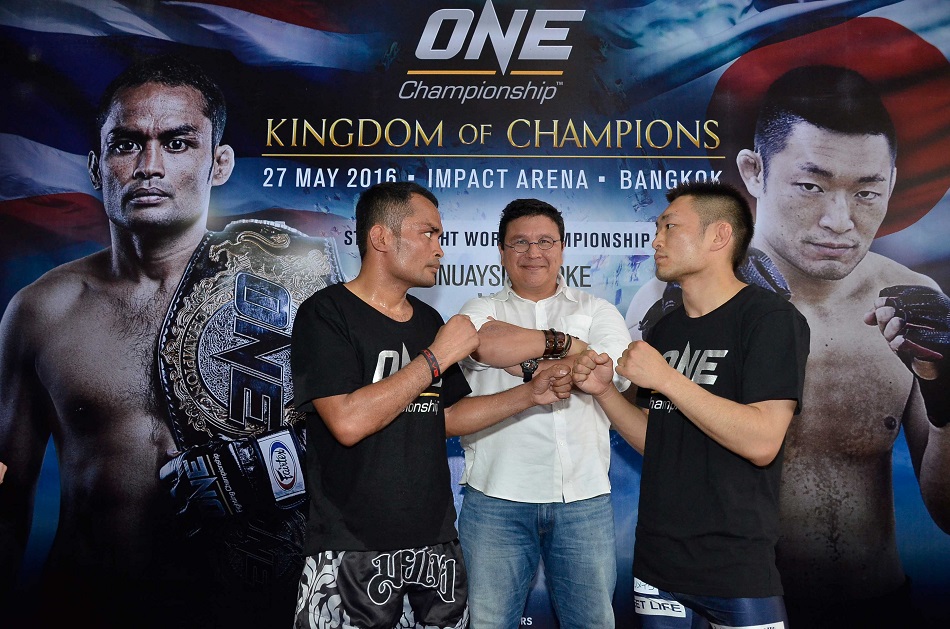 Bangkok, Thailand: The largest sports media property in Asian history, ONE Championship™ (ONE), met with local and international media on Monday, 25 April at Bangkok Fight Lab in lieu of its inaugural event in the city of Bangkok, ONE: KINGDOM OF CHAMPIONS, which is set to take place 27 May at the Impact Arena. In attendance were ONE President of Thailand Kamol 'Sukie' Sukosol Clapp and main event combatants, ONE Strawweight World Champion Dejdamrong Sor Amnuaysirichoke and undefeated challenger, Yoshitaka Naito of Japan.
Tickets for ONE: KINGDOM OF CHAMPIONS are available at: http://www.thaiticketmajor.com/sport/one-championship-th.html
Dejdamrong and Naito both showcased their talents in various skills demonstrations to media in attendance. The two will compete in the main event of ONE: KINGDOM OF CHAMPIONS, which is Thailand's first-ever live MMA event held by a major organization, featuring the best local and international mixed martial artists.
ONE President of Thailand, Kamol 'Sukie' Sukosol Clapp stated: "I am very happy and excited to be bringing MMA into Thailand and on such a huge scale such as ONE Championship. Nothing like this has ever been done before in Thailand. Myself and the ONE team are planning to put on an amazing show for all to remember and most importantly we hope all Thai people will come out to root for our hometown hero, Dejdamrong Sor Amnuaysirichoke."
ONE Strawweight World Champion, Dejdamrong Sor Amnuaysirichoke stated: "I have trained very hard with the best talents at Evolve MMA. The whole team has helped me with elevating my skills in MMA and Muay Thai. I am very proud to perform in my home country and I am so happy that my family and friends can come and support me. Also I am so excited to introduce MMA to Thai people. I hope everyone will love it after watching the live show."
Challenger Yoshitaka Naito stated: "I know Dejdamrong is a superstar in Bangkok. I feel very nervous but also excited to compete against him. I know Dejdamrong has a very big advantage with the Thai fans behind him in his home country, but I will do my best for sure. I have been training so hard at Paraestra Chiba gym in Japan, which is one of the top Brazilian Jiu Jitsu gyms. I think it will be a very exciting fight."
For more updates on ONE Championship™, please visit www.onefc.com and follow Twitter and Instagram @ONEFCMMA and Facebook at www.facebook.com/ONEFCMMA