Harry Potter actor earns first mixed martial arts win
Harry Potter actor earns first mixed martial arts win
Gregory Goyle has traded in his magical wand for a pair of four-ounce mixed martial arts gloves.  Goyle, of course is not the actor's real name.  It is the name of a character played by Josh Herdman, a 28-year old English actor who has played the part of Draco Malfoy's trusted lieutenant in all eight of the Harry Potter films.
Herdman competed on and won a decision victory at Brad Pickett's 'Rise of Champions' 2 this past Saturday night.  He defeated Janusz Walachowski, April 23 in Romford, East London.
With the win, Herdman is now 1-0 in mixed martial arts, but it seems that this is not a necessarily new experience in his life.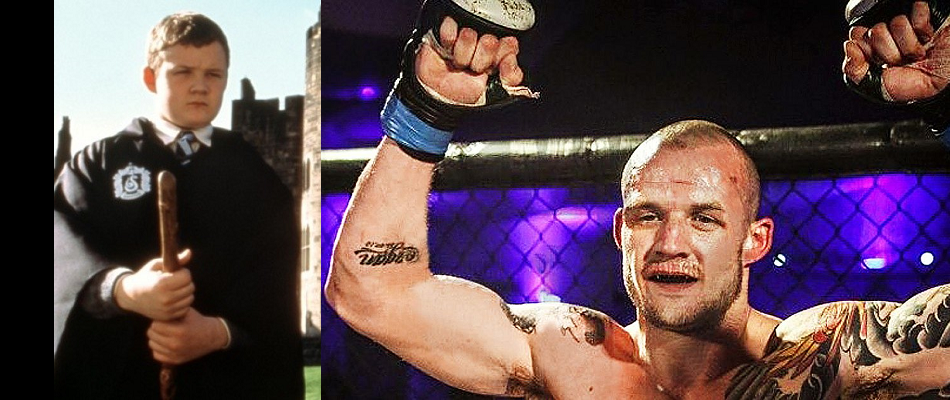 In a recent article with Addicted On The Road MMA, Herdman states he comes from a family of experience fighters.
"Addicted OTR: When most people look at your change in career change, I'm sure the first question most will ask would be "why?". Would you say that to some extent you're following in your dad's footsteps, but in mirror image?
Herdman: I've never looked at it like that but I guess you're right in a way. I don't see it so much as a career change, I still act and am passionate about both acting and fighting. I obviously grew up around sport, looking at my Dad's newspaper clippings as a kid (Josh's father, Martin Herdman was a boxer and professional rugby league player prior to pursuing an acting career in his late 20's), he taught us all how to fight from an early age, I also played rugby from about 6 – 13.
Addicted OTR: Have any of your other four siblings taken up sport as a career?
Herdman: Two of my older brothers have boxed. My brother Jake is an ex-Royal Marine and he boxed for them winning the heavyweight division title. My brother Luke has had several bouts, amateur and unlicensed. He recently fought in the Queensbury Boxing League as a heavyweight."