Invicta FC 14 Weigh-In Results – Both main event fighters miss weight
The Invicta FC 14 weigh-ins take place on Friday afternoon in Kansas City, Missouri.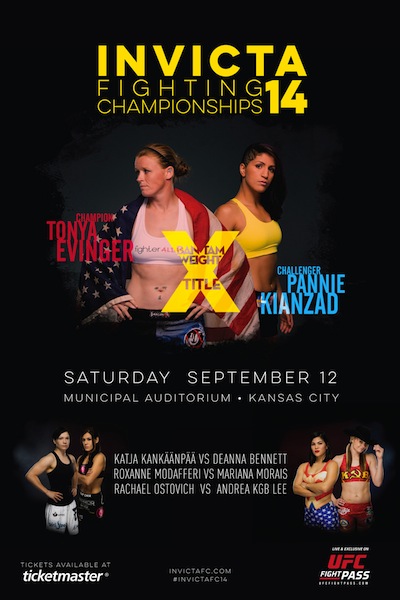 Headlining the event will be a bantamweight title fight between recently crowned champion Tonya Evinger (16-5) and unbeaten Swede Pannie Kianzad (8-0).  The event streams live and exclusively on UFCFIGHTPASS.com tomorrow.
The previously announced strawweight title fight between champion Livia Renata Souza (8-0) and No. 1 contender Alexa Grasso (7-0) was postponed until a later date due to an injury that prevented Grasso from training and Evinger and Kianzad stepped up to save the card.
The full 10-fight card for Invicta FC 14 can be found below:
Bantamweight Title: Tonya Evinger1 (135 lb) vs. Pannie Kianzad2 (136.7 lb)
Strawweight: Katja Kankaanpaa (115.6 lb) vs. DeAnna Bennett3 (117.4 lb)
Flyweight: Roxanne Modafferi (124.9 lb) vs. Mariana Morais (125.9 lb)
Flyweight: Rachael Ostovich (125.8 lb) vs. Andrea Lee (125 lb)
Featherweight: Cindy Dandois (145.6 lb) vs. Megan Anderson (145.1 lb)
Strawweight: Jamie Moyle (115.6 lb) vs. Sharon Jacobson (116 lb)
Atomweight: Jinh Yu Frey (105.8 lb) vs. Liz McCarthy (105.4 lb)
Strawweight: J.J. Aldrich (115.7 lb) vs. Rosa Acevedo4 (118.2 lb)
Flyweight: Aspen Ladd (125.7 lb) vs. Amanda Bobby Cooper (125.1 lb)
Lightweight: Rachel Wiley (155 lb) vs. Felicia Spencer (155.3 lb)
1,2 Evinger initially weighed in at 135.2 lb and was fined 20 percent of her purse for missing on the first attempt. Kianzad elected not to cut any additional weight and was fined 25 percent of her purse. As a result, the bout is a five-round non-title fight.
3 Bennett elected not to cut any additional weight and was fined 25 percent of her purse.
4 Acevedo elected not to cut any additional weight and was fined 25 percent of her purse.
Watch the weigh-in for Invicta FC 14 live Friday, September 11 at 6pm/3pm ETPT.
Founder of MyMMANews.com
– After writing for Ultimate MMA magazine and serving as the editor for U.S. Combat Sports, both of which went on hiatus, I decided to venture out on my own and enlist a staff of writers and photographers that could help me achieve my goal of telling stories that would otherwise go untold. We pride ourselves in taking a deeper look into the fighter, and understanding what makes them tick.
– #1 Dad, Marine Corps Veteran, 80's and 90's Pro Wrestling Fan, MMA Commentator, Beer Lover, and avid movie watcher. Seriously….. I watch a lot of movies.