KIMBO SLICE TO JOIN THE FIGHT WEEK FESTIVITIES FOR 'BELLATOR: DYNAMITE 1' ON SEPT. 19 AT THE SAP CENTER IN SAN JOSE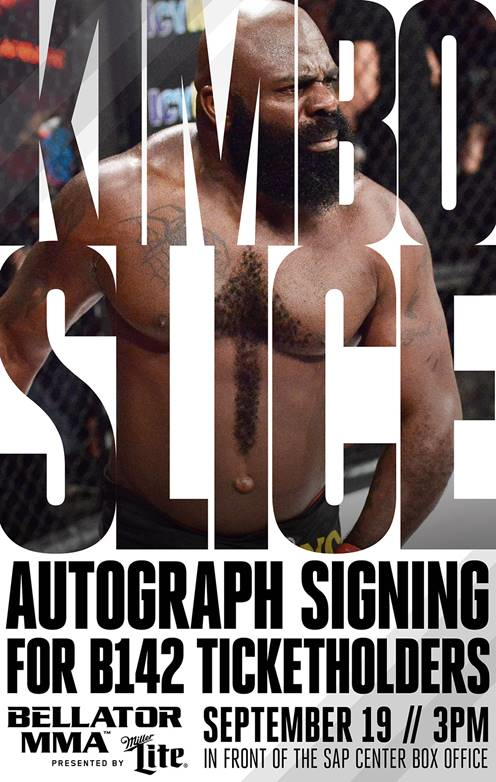 "Bellator MMA: Dynamite 1" ticketholders will now be able to grab a signature from one of the sport's most recognizable stars in front of the SAP Center Box Office next Saturday at 3 p.m. PT local time, as they enter the arena.  Kimbo Slice, who scored a knockout victory over MMA legend Ken Shamrock in his Bellator debut this past June, will be on site signing autographs and taking photos with fans before taking in the explosive action at the "Dynamite 1" event.
For the first time ever, "Bellator MMA: Dynamite 1" will feature both a Bellator MMA cage and a Glory kickboxing ring on one arena floor at the same time. In the evening's main event, Tito Ortiz (18-11) will challenge the undefeated Bellator Light Heavyweight World Champion, Liam McGeary (10-0) for the title.
The revolutionary event airs live and free on Spike at 9/8c. Tickets for the historic event start at just $30 and are on sale now at the SAP Center box office and are also available for purchase at Ticketmaster.com, as well as Bellator.com.
Additionally, the previously announced fight card features a Glory kickboxing title fight featuring Zack Mwekassa (13-2, 12 KO) and Saulo Cavalari (31-2, 19 KO) for the vacant Light Heavyweight Championship, as well as Bellator MMA competitors Paul "Semtex" Daley (37-13-2) and Fernando "The Menifee Maniac" Gonzalez (24-13) also competing in Glory action, when they trade-in the MMA gloves for kickboxing gloves. Finally, recently signed Keri Anne Taylor-Melendez (2-1) will compete in kickboxing action against Hadley Griffith.
On the mixed martial arts side, Bellator MMA will also conduct a four-man, one-night light heavyweight tournament to determine the No. 1 contender in the division that features Phil Davis (13-3) taking on Emanuel Newton (25-8-1) and Linton Vassell (15-4-1) facing Muhammed "King Mo" Lawal (15-4, 1 NC). Newly signed lightweight standout Josh "The Punk" Thomson (20-8, 1 NC) is also in action, when he makes his Bellator MMA debut against Mike "The Greek Assassin" Bronzoulis (18-8-1).
"Bellator MMA: Dynamite 1" – Saturday, September 19 – SAP Center, San Jose, Calif.
Main Card:
Bellator Light Heavyweight Title Fight: Tito Ortiz (18-11) vs. © Liam McGeary (10-0)
Bellator Light Heavyweight Tournament Final: TBD vs. TBD
Glory Vacant Light Heavyweight Title Fight: Saulo Cavalari (31-2) vs. Zack Mwekassa (13-2)
Bellator Lightweight Feature Fight: Josh Thomson (20-8) vs. Mike Bronzoulis (18-8-1)
Glory Welterweight Feature Fight: Paul Daley (37-13-2 MMA/20-3 Kickboxing) vs. Fernando Gonzalez (24-13/1-2 Kickboxing)
Glory Bantamweight Feature Fight: Kerri-Anne Taylor Melendez (2-1) vs. Hadley Griffith (Debut)
Bellator Light Heavyweight Tournament Fight: Phil Davis (13-3) vs. Emanuel Newton (25-8-1)
Bellator Light Heavyweight Tournament Fight: Linton Vassell (15-4-1) vs. Muhammed Lawal (15-4, 1 NC)
Preliminary Card:
Bellator Featherweight Feature Fight: Victor Jones (Debut) vs. David Blanco (1-0) *
Bellator Flyweight Amateur Fight: Gloria Telles (Debut) vs. Alysia Cortez (Debut) *
Bellator Lightweight Feature Fight: Nick Pica (4-0) vs. Mauricio Alonso (10-5)
Glory Lightweight Feature Fight: Jose Palacios (7-7) vs. TJ Arcengal (4-1) *
Bellator Middleweight Feature Fight: Brandon Hester (1-0) vs. DeMarco Villalona (1-0) *
Bellator Lightweight Feature Fight: Israel Delgado (0-1) vs. JJ Okanovich (0-1)
Bellator Welterweight Feature Fight: James Terry (15-8) vs. Carlos Rocha (9-3)
Bellator Flyweight Feature Fight: Matt Ramirez (1-1) vs. Josh Paiva (5-1)
Bellator Bantamweight Feature Fight: Gabe Carrasco (5-0) vs. Joe Neal (5-0)
Bellator Lightweight Feature Fight: Adam Piccolotti (5-0) vs. Marlen Magee (3-3)
Bellator Featherweight Feature Fight: Thomas Diagne (5-4) vs. Mike Malott (4-1)
Bellator Light Heavyweight Tournament Alternate Bout: Francis Carmont (23-10) vs. Roy Boughton (12-5)