Just How Good Is Former Rizin Champion, New UFC 205-lb Contender Jiri Prochazka?
Just How Good is Jiri Prochazka?
Jiri Prochazka has really been making some waves in the UFC since his promotional debut back in July of last year. He came in as a two-time Rizin light-heavyweight champion, and was first pitted against former title challenger Volkan Oezdemir, who was ranked at No. 7 at the time.
The two put on a great fight while it lasted, all sub-six minutes of it.
Prochazka landed a beautiful jab-overhand right, the overhand in which slept Oezdemir on the spot.
Oezdemir had never been knocked out before, he'd only been TKO'd to ground-and-pound by all-time great Daniel Cormier, and he himself is an incredibly dangerous striker: 12 of his 17 victories come via knockout, and he's 5-0 as a kickboxer.
Not to mention, Oezdemir's last defeat came to Dominick Reyes via controversial split decision, and he was coming off two victories over Ilir Latifi (KO) and Alekandar Rakic (SD). More or less, Oezdemir is a ridiculously tough task for a debutant.
Prochazka was awarded the Performance of the Night award, very deservedly so, and he was of course pitted against another former title challenger for his next bout, this time No. 3 ranked Dominick Reyes.
While Reyes has been very highly regarded over the last year or so, especially due to his performance against Jon Jones, he was coming off two defeats coming in. The first of course to Jones, and the second in a vacant title fight against current champion Jan Blachowicz.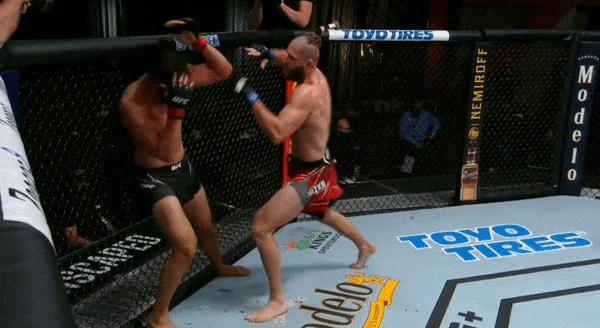 Reyes was hungry on Saturday though, he wanted that win bad, and he was willing to do anything it took to end Prochazka's 11-fight win streak.
The fight between these two, my god, what an absolute WAR it turned out to be!
It's too bad it didn't last much longer than Prochazka's debut. He was cracking Reyes with a lot of hard shots, and before we knew it, he was landing some really sharp combinations on Reyes, particularly with his hands.
Reyes was eating them and firing back however, and he too was landing some hard shots.
Late in round two is where it all ended for him, when Prochazka partially hit him with an elbow, followed by a vicious spinning back elbow, catching Reyes directly on his jaw, face-planting him into the mat right then and there. This awarded him his second-straight Performance of the Night award.
As you might have guessed, Jiri Prochazka isn't new to this.
The Czech native made his professional mixed martial arts debut in April of 2012, after a successful amateur Muay Thai career, where he won a national championship in 2011.
Prochazka won his first two fights via KO, his next via TKO, then his next via submission (triangle choke), before being TKO'd by future UFC & PFL talent Bojan Velickovic, bringing his record to 4-1 just before the years end.
He'd then secure a couple more knockout victories, before being submitted (rear naked choke) by a very talented opponent in Abdul-Kerim Edilov. Prochazka would then go 8-0-1 over his next nine bouts, finishing all of them with eight knockouts before making his way over to Rizin.
This included becoming a two-time GCF light-heavyweight champion.
Over his first two bouts within the Japanese promotion, he fought and defeated Satoshi Ishii (KO) and Vadim Nemkov (TKO).
Ishii was a very highly touted prospect who defeated the likes of Tim Sylvia, Pedro Rizzo, and Jeff Monson all before he had ten victories. Do we really need to explain to you who Vadim Nemkov is?
Prochazka was then slated against former Strikeforce light-heavyweight champion Muhammed 'King Mo' Lawal, who KO'd him in round one to claim the Rizin light-heavyweight gran prix world championship. He then KO'd his next opponent, before winning a unanimous decision in his next bout, the first and only of his career.
Prochazka then took a local fight in the Czech Republic, TKO'ing his opponent, before TKO'ing Karl Albrektsson in his Rizin return. This was followed up by two more knockouts, before he knocked former Bellator middleweight champion Brandon Halsey out, improving his win streak to seven.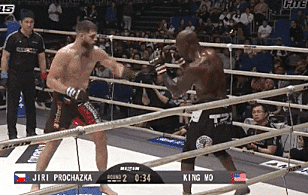 Next came a rematch with 'King Mo', and Prochazka was prepared this time, as he avenged his most recent defeat via third-round knockout. We've been hearing knockout a lot in this piece, haven't we? Thank Jiri Prochazka.
This victory saw him claim the Rizin light-heavyweight championship, and it improved his professional record to 24-3-1. Since then, Prochazka has fought four times. We already heard about his last two, so we'll now discuss his last two bouts with Rizin.
They came against former UFC talents Fabio Maldonado and CB Dollaway.
Firstly, we'll start off by saying he KO'd both of them, but let's talk about why these victories are impressive. Neither of them are at their peaks anymore, so why was it a good thing to see?
Well, Maldonado is a professional boxer with a record of 26-4 in the sport, and he's also 40-5 as an amateur boxer. Not to mention, he's a very experienced mixed martial artist. Then Dollaway, he's an incredible wrestler that could've posed some threats to Prochazka on the mat.
Those threats never became apparent though, Prochazka never let them, as he starched Dollaway inside two minutes, defending his throne that lone time in the process, as his fight with Maldonado was a non-title bout at 220 lbs.
Now, Prochazka has a record of 28-3-1, 25 of those victories come via knockout with two submissions.
Of those 25 knockouts, 12 come via KO, including his last four-straight, and 13 come via TKO. It's astounding.
So how does he do it?
Well, he puts himself in danger, a lot. He puts himself in harms way in order to land, thus the reason he's been finished with strikes twice. However, as you see, he's on a 12-fight win streak with 11 knockouts, he's on a 10-fight knockout streak, and he avenged his most recent defeat.
His last defeat before that came in just his eighth professional bout, where he obviously fell to 6-2 that night.
That was in 2013, so really, he's gone 22-1-1 since then, having avenged that only defeat. That's some Georges St-Pierre-like stature. That's really something to be proud of.
The only thing is, Prochazka may be the guy that's too good for everyone else, but he is also the guy that someone he should handily defeat will just starch with a hard punch.
John McCarthy and Josh Thomson were talking about it on Weighing In, and they're right.
As mentioned above, he puts himself in harms way. It works for him more often than not, and he clearly has an incredible chin, but it happens to the best of them when they're there to be hit.
Being hit so often worsens your chins durability, it's not like conditioning your shins, it's quite the exact opposite.
However, at just 28 years of age, Prochazka is still coming into his own. He's still blooming into what he can really become over the next five years, and it's incredibly exciting, because he's already so good at fighting.
It's kind of surprising how good he is at it honestly, because he didn't start until adulthood.
Name someone more dangerous. You can't, not at 205 lbs. Believe it or not, Francis Ngannou doesn't have the knockout ratio of Jiri Prochazka, and neither does Derrick Lewis. Neither does Conor McGregor, nor Anthony Johnson, nor Paul Daley, Israel Adesanya, Paulo Costa, Anderson Silva, none of them.
For an example, here is an all-time knockout ratios list we made for this piece:
Jiri Prochazka: 28 wins – 25 knockouts = 89% knockout ratio
Francis Ngannou: 16 wins – 12 knockouts = 75% knockout ratio
Derrick Lewis: 25 wins – 20 knockouts = 80% knockout ratio
Conor McGregor: 22 wins – 19 knockouts = 86% knockout ratio
Anthony Johnson: 22 wins – 16 knockouts = 73% knockout ratio
Paul Daley: 43 wins – 34 knockouts = 79% knockout ratio
Israel Adesanya: 20 wins – 15 knockouts = 75% knockout ratio
Paulo Costa & Yoel Romero: 13 wins – 11 knockouts = 84% knockout ratio
Anderson Silva: 34 wins – 23 knockouts = 68% knockout ratio
Melvin Manhoef: 32 wins – 29 knockouts = 90% knockout ratio
Dan Henderson: 32 wins – 16 knockouts = 50% knockout ratio
Cain Velasquez: 14 wins – 12 knockouts = 86% knockout ratio
Junior dos Santos: 21 wins – 15 knockouts = 74% knockout ratio
Chuck Liddell: 21 wins – 13 knockouts = 62% knockout ratio
Cody Garbrandt: 12 wins – 10 knockouts = 83% knockout ratio
Mauricio 'Shogun' Rua: 27 wins – 21 knockouts = 78% knockout ratio
Wanderlei Silva: 35 wins – 27 knockouts = 78% knockout ratio
Robbie Lawler: 28 wins – 20 knockouts = 71% knockout ratio
Quinton 'Rampage' Jackson: 38 wins – 20 knockouts = 53% knockout ratio
Andrei Arlovski: 31 wins – 17 knockouts = 55% knockout ratio
Shane Carwin: 12 wins – 8 knockouts = 66% knockout ratio
Vitor Belfort: 26 wins – 18 knockouts = 69% knockout ratio
Mirko Cro Cop: 38 wins – 30 knockouts = 79% knockout ratio
Alistair Overeem: 47 wins – 25 knockouts = 53% knockout ratio
Understand something, these are the most prolific knockout artists in mixed martial arts history, and just one of them has a higher knockout percentage than Prochazka. That man is a very dangerous professional kickboxer, and his ratio is just 1% higher than the Czech natives.
That doesn't even touch his finishing percentage, which is also higher than anyone else's in the sport.
It's incredible what this man has been able to do. If all that isn't enough, 24 of those wins come in round one. His last two came in round two. He was 26-3-1 at this time last year with 24 first-round finishes. Just remarkable.
Does Jiri Prochazka win the UFC light-heavyweight championship in his next fight?
I became a fan of combat sports when I was 12 years old. I was scrolling through the channels and landed upon Versus, where WEC was televised. Urijah Faber fought Jens Pulver for the second time that night. That's the first fight I ever saw, and I was immediately hooked. So eventually, I began covering the sport in the fourth quarter of 2018, and have since started writing about animals as well. If you'd like to see those pieces, be sure to check out learnaboutnature.com!