KTFO 13 Results: Clubber Creed Defeats Ryan Castro for WW Title
KTFO 13 Results: Clubber Creed Defeats Ryan Castro for WW Title
Saturday night, at The Sports Arena in St James, New York, KTFO 13 delivered its greatest show thus far with eight action packed fights, including a welterweight title bout between Ryan Castro and Clubber Creed. Castro and Creed went three rounds, which eventually ended in a split decision in favor of the American Top Team -Whitestone fighter, Creed.
In the first round, Castro came out guns blazing as he went on the attack against the American Top Team – Whitestone 170 pound fighter. Castro earned an early takedown in the first round and controlled the majority of the three-minute round.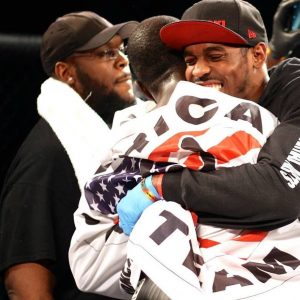 Round two started with pressure applied by Castro, as he fought diligently for a takedown. He eventually scored a takedown via slam at about the half-way mark of the second round. Creed wasted no time climbing to a wrestling referee's position. The champion slid off the challengers back onto his hip, where Creed eventually reversed the champion. The second half of the round was Creed attempting to submit The East West MMA fighter. Round three was a complete take over by Creed. After landing several head strikes, the challenger scored a takedown of his own and controlled the remainder of the bout.
Throughout the fight, Creed fought with focus and patience. The ATT-Whitestone fighter displayed a great amount of maturity inside the cage for an amateur fighter. Creed won a split decision victory over Castro via judges score 29-28, 29-28, 28-29. Creed became the new welterweight KTFO champion with his fourth amateur MMA win, improving his record to 4-1.
In the co-main event, Irvin Averbukh went to work through three rounds on Lee Rasanen before he eventually caught the bantamweight with a powerful overhand strike. Rasanen showed toughness and his ability to take numerous body kicks, and significant head strikes. Averbukh, whom fights out of the UFC gym on Staten Island, delivered heavy leg and body kicks that nearly landed every time he let one loose. In the third round, Averbukh finished Rasanen at 1:52 via knockout, improving his overall amateur record to 2-0.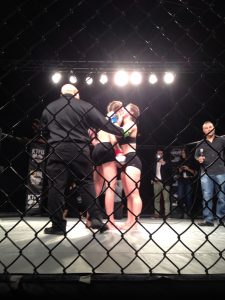 In the third-to-last bout of the evening, two female bantamweight fighters stepped inside the cage to battle. Rose DeMatteo, of American Top team –Whitestone defeated Long Island MMA's Sarah Thomas in a tough three-round fight. While the fight remained standing, Thomas used her reach and strong boxing skills to own the standup. In each round, Dematteo earned a takedown, which managed to be enough for DeMatteo to deliver ground-and-pound on Thomas. After three rounds of ground control, Dematteo defeated Thomas by unanimous decision (30-27, 30-27, 29-28).
Fight of the Night Honors goes to East West MMA Fighter, Jake Marino, with his third round TKO over Ruslan Volinchii. After suffering possibly a broken nose, that continued gushing blood since early in the first round, Marino Came back strong in the third round to earn a TKO at 0:53.
Five out of the eight bouts Saturday evening were finishes. In the three fights that went all three rounds, one was a unanimous decision, and the other ones were majority decision, and split decision. These eight amazing amateur fights took place in front of a sold out arena of 950 plus fans.
Starting May 11th, all five Buffalo Wild Wings locations in Suffolk County will host the KTFO fights every Wednesday at 8 p.m. EST – beginning with KTFO 13. Wing specials will take place during the airing of the KTFO promotion's fights.
KTFO 14 is scheduled for June 17th, 2016. Be sure to visit KTFO.com for more information and follow My MMA News on social media at @MyMMANews.
The official results:
*- Title Fight
*170- Clubber Creed (ATT-Whitestone) defeated Ryan Castro (East West MMA) via split decision (29-28, 29-28, 28-29).
135- Irvin Averbukh (UFC Gym-Staten Island) defeated Lee Rasanen (Top or Bottom MMA) via Knockout in Round 3, at 1:52.
135- Rose DeMatteo (ATT-Whitestone) defeated Sarah Thomas (LIMMA) via Unanimous Decision (30-27, 30-27, 29-28).
155- Paul Thimote (Ultimate MMA Academy) defeated Dave Della Rocca (Vamos BJJ) via Majority Decision (29-28, 29-28, 29-29).
170- Jonathan Potts (Monster MMA) defeated Chris Macchi (Ultimate MMA Academy) via TKO/Referee stoppage, Round 2, at 0:01.
155- Dennis Buzukja (UFC Gym) defeated Andrew Noia (Unique Fitness) via TKO in Round 1, at 1:09.
195- Jake Marino (East West MMA) defeated Ruslan Volinchii (Astra Fitness) via TKO in Round 3, at 0:53.
135- Ashiek Ajim (LIMMA) defeated Dilshod Zaripov (LAW MMA) via Arm Triangle Submission in Round 1, at 2:50.
Rose DeMatteo Post-fight interview-
DeMatteo def. Sarah Thomas at KTFO 13 on April 30th, 2016.
Irvin Averbukh Post-fight interview-
Averbukh of UFC-Gym-Staten Island, def. Lee Rasanen of Top or Bottom MMA. KTFO 1. April 30th, 2016.
Clubber Creed KTFO 13 Post-fight interview.
Clubber Creed def. Ryan Castro for Welterweight title fight at KTFO 13. Creed won via split decision 29-28, 29-28, 28-29.
Kyle Carroll is a Long Island, N.Y. native and avid MMA and amateur wrestling fan. He has been a part of the wrestling community for nearly 20 years. Carroll has six years of experience coaching high school wrestling. His father coached high school wrestling over 35 years, passing on his strong knowledge. Carroll has been reporting MMA news since January 2011. The former wrestler's coverage includes the 2012 U.S. Olympic Wrestling Team Trials, 2013 & 2016 NCAA D1 Wrestling Championship, and numerous MMA events (Bellator MMA, King of the Cage, North American Fighting Championship, and Glory).