M-1 Grand Prix 2016 Alexander Shlemenko vs. Vyacheslav Vasilevsky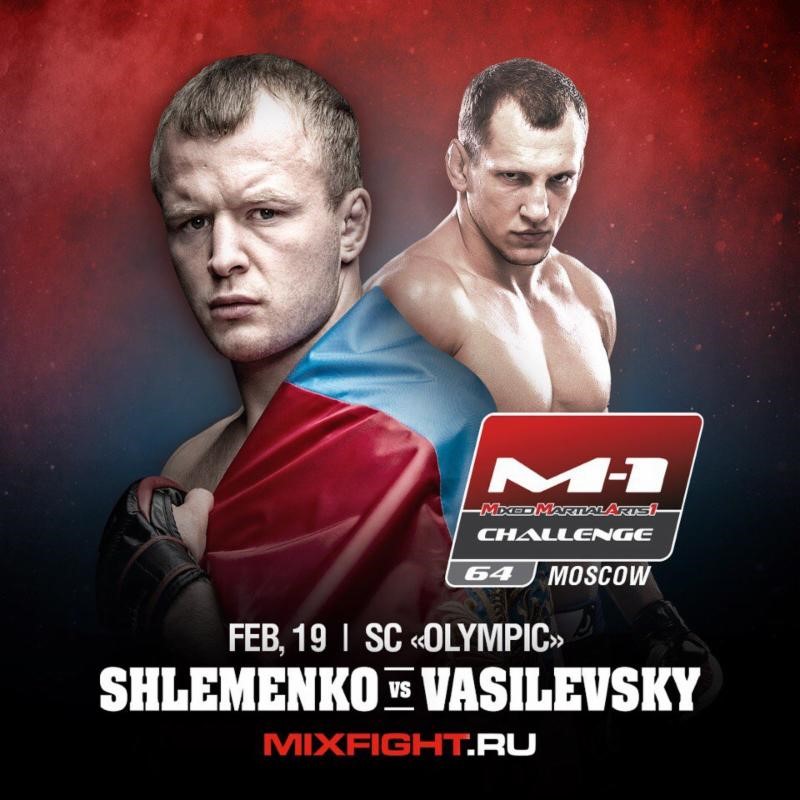 PETERSBURG, Russia (January 17, 2016) – M-1 Global has officially announced the launching of the 2016 M-1 Grand Prix Middleweight Tournament series. The first match will be a showdown at M-1 Challenge 64, February 19 at Olympic Stadium in Moscow between three-time Bellator champion Alexander "Storm" Shlemenko and former M-1 Challenge middleweight and light heavyweight titlist Vyacheslav Vasilevsky.
The dream battle between Russian favorites Shlemenko (51-9-0, M-1: 2-0-0) and Vasilevsky (27-3-0, M-1: 10-1-0), featuring two of the most respected strikers in the middleweight division, strengthens an already explosive M-1 Challenge 64 card that includes an M-1 Challenge heavyweight title fight.
M-1 Global's newly-signed Alexander "Drago" Volkov (24-6-0, M-1: 8-3-0), of Russia, battles powerful Estonian challenger Denis Smoldaraev (11-1-0, M-1: 7-1-0) for the vacant M-1 Challenge heavyweight championship.
Known as one of the strongest and most popular fighters in Russia, Schlemenko has knocked out 29 opponents, while the equally dangerous Vasilevsky is a five-time combat Sambo World Champion.
M-1 Challenge 64 will be streamed live from Moscow in high definition on www.M1Global.TV. Viewers will be able to watch the preliminary fights and main card by logging on to register at www.M1Global.TV. Fans may watch all of the action on their computers, as well as on Android and Apple smart phones and tablets.
Another previously announced main card match is a M-1 Challenge bantamweight semifinal eliminator, Pavel Vitruk (12-2-0, M-1: 6-2-0) facing Sergey Morozov (4-0-0, M-1: 2-0-0) with the winner advancing to fight for the vacant M-1 Challenge bantamweight title with the victor of a soon-to-be announced second title eliminator.
Information
Twitter & Instagram:
@M1GlobalNews
@VFinkelchtein
@M1Global
Facebook: