Mark Hall of Apple Valley Wins Record Sixth Minnesota HS Wrestling State Title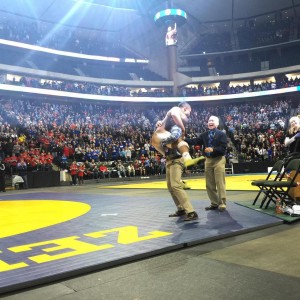 Last night at the Xcel Energy Center in St. Paul, Minnesota, Apple Valley's Mark Hall defeated Hasting's Austin Eichmann by technical fall (2:50, 16-1) in the 170-pound weight class AAA final. Hall became the first Minnesota wrestler ever to win six state individual titles.
Hall finished his senior campaign with an undefeated record of 48-0 for the season. He strung together an impressive 171-match win streak to complete his career. Hall ended high school with an astonishing career record of 278-5 over his six years wrestling in the varsity lineup.
In Minnesota, junior high school students are allowed to participate on the high school varsity wrestling teams. Hall, clearly a talented wrestler, has wrestled in the varsity lineup since 2011, which placed him in seventh grade. As a 7th grader, Hall battled his way to the top winning his first title at 130-pounds.
As an eighth grader, Hall moved up a weight class and claimed the 145-pound state title in 2012. The following year, the Apple Valley wrestler moved up to 152-pounds as a freshmen, where he continued his championship conquest taking home his third MN state championship. As a sophomore, Hall moved up in weight for the final time, as he went on to claim three more ('14, '15, '16) individual state championships at the 170-pound weight class.
Along with 6 team titles, the future Penn State Nittany Lion set a record by capturing a staggering total of 12 Minnesota state Championships. Apple Valley Eagles wrestling won their 24th Team state title and 11th Class 3A title in a row. Hall's 182-pound win over St. Michael-Albertville's Lucas Jeske was a crucial instrument to the Eagles 31-26 victory.
The Apple Valley wrestler Mark Hall's teammates (present and former), family, fans, and PSU coach Cael Sanderson were in attendance at the Xcel Energy Center. Hall received a standing ovation from the crowd. He humbly acknowledged the crowd, then proceeded to climb into the stands to share the historic moment with friends and family.
Year – WT Class – Place – School Year
2011 – 130-pound champion – 7th grade
2012 – 145-pound champion – 8th grade
2013 – 152-pound champion – Freshmen
2014 – 170-pound champion – Sophomore
2015 – 170-pound champion – Junior
2016 – 170-pound champion – Senior
Follow MyMMANews.com on Social Media
The following two tabs change content below.
Kyle Carroll
Kyle Carroll is a Long Island, N.Y. native and avid MMA and amateur wrestling fan. He has been a part of the wrestling community for nearly 20 years. Carroll has six years of experience coaching high school wrestling. His father coached high school wrestling over 35 years, passing on his strong knowledge. Carroll has been reporting MMA news since January 2011. The former wrestler's coverage includes the 2012 U.S. Olympic Wrestling Team Trials, 2013 & 2016 NCAA D1 Wrestling Championship, and numerous MMA events (Bellator MMA, King of the Cage, North American Fighting Championship, and Glory).
Latest posts by Kyle Carroll (see all)