Mixed martial artist, Antonio Borden, convicted of sexual assault
Antonio Borden, a professional mixed martial artist who last fought for King of the Cage, has been convicted of choking and sexually assaulting a woman.  The fighter from North Dakota held a 4-4 professional record.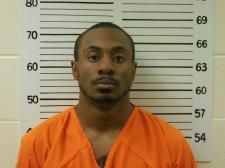 21-year-old Antonio Borden was found guilty of gross sexual imposition, aggravated assault and menacing. He could face life in prison without parole. Sentencing was not immediately scheduled.
Borden was accused of assaulting a woman after she gave him a ride home from a bar in May 2015. He denied assaulting her and pleaded not guilty.
According to a Bismarck Tribune article published in May 2015 when the arrest happened, "A Jamestown police officer reported being called to a residence early Wednesday (May 27, 2015) morning after a man became concerned that he hadn't heard from his girlfriend in several hours. He said that, when he last heard from her, she was at the Corner Bar in Jamestown and had agreed to give somebody a ride home.
Upon contact with the woman, whose voice was hoarse and who had marks on her neck, police were told the woman had offered to give Borden a ride home. After briefly visiting with Borden and the relative inside the residence, the woman went to leave.
Borden, who is listed on the MMA tracking website Sherdog.com as a 135-pound fighter from Jamestown whose most recent fight was May 2, allegedly became upset and put her in a headlock when she turned her back on him. The woman reported trying to fight Borden off before passing out.
After she awoke, Borden allegedly told her to go to her vehicle. The two sat in the back of the vehicle, where the victim said he told her that she made him assault her because she wouldn't sleep with him.
"At least I stopped choking you. I could have kept going," Borden said, according to the affidavit.
After some forced sexual activity, Borden let the woman go with a warning not to call the police, she said.
Police found Borden at his residence, where they interviewed him. Borden admitted to meeting the woman at the bar and getting a ride home. However, Borden denied any physical or sexual contact with the woman.
Police arrested Borden and took him to jail.