MMA Platinum Gloves 12 Results: DeRiso Retains TItle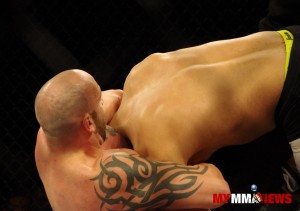 Long Island – Last night at The Sports Arena in St. James, MMA Platinum Gloves delivered another exciting event as they presented their eleventh installment. MPG 11 had a fight card of seven bouts, including three title bouts. In the main event, Vinny DeRiso defended his MMA Platinum Gloves middleweight title, Brett Sanchez won the heavyweight interim title, and James Gonzalez earned a unanimous decision in an exciting bout against defending champion Paul Geraci.
In the main event, Vinny DeRiso of Bellmore Kickboxing improved his record to 5-1 on the amateur circuit as he successfully defended his middleweight belt. After earning a takedown over Evander Russ, Russ stood back up and used an inside trip, which is where the champion snagged the neck of the challenger. Using a guillotine choke, DeRiso finished the Fusion MMA fighter in under a minute of the first round to retain the crown.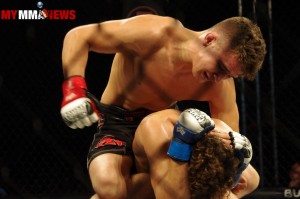 The heavyweight co-main event was between United States Army veteran Geoffrey Costa and Vamos Bjj fighter Brett Sanchez. Sanchez displayed his reach as his shorter opponent struggled to connect. Costa looked for a takedown after being bull rushed by Sanchez on the handshake. Costa got deep on a single, but was unable to finish the takedown as Sanchez's height appeared to create difficulties for the West Point graduate. Sanchez earned the TKO victory after he landed several solid shots, opening a cut under the right eye of Costa. The referee intervened, bringing the bought to a conclusion at 1:27 of the first round.
A featherweight title bout between James Gonzalez and Paul Geraci turned into an exciting matchup, which earned Fight of the Night honors. These two warriors displayed high levels of grappling as they rolled around the cage attacking each other with various techniques. Geraci entered the caged as the champion, putting up a valiant effort that fell just short of retaining his title. Gonzalez appeared to do just enough to capture the 145-pound MMA Platinum Gloves title. Gonzalez, fighting out of Serra BJJ, finished the third round attacking the next neck of the champion, in hopes of getting a Rear Naked choke. Entering the third round, most would have the fight even at one round a piece. Geraci, a Bellmore Kickboxing student, suffered his first loss of his amateur career, bringing him to a 4-1 record. Gonzalez (6-2) earned the victory on the judges' score cards by a score of 29-28, 29-28, 30-27, crowning him as the featherweight champion of MMA Platinum Gloves.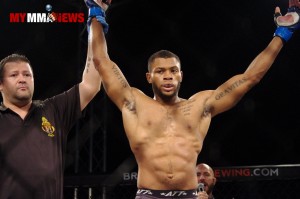 Athlete Spotlight:
After his opponent showed up to weigh-ins seven pounds over, he was given the option to show back up on fight day weighing at least 157-pounds. Instead of honoring the agreement, Eddie Neron decided to just not show up. After an adjustment on the card, Codie Payne found an opponent in Roan Allen. Allen was set to fight at welterweight, Payne at lightweight, but both fighters agreed to fight instead of sitting on the sidelines.  Payne displayed his athletic abilities inside the cage as he hunted a heavier opponent that was running inside the cage.
As the ten-second warning came in the first round, Payne caught Allen with a nasty head kick. Throughout the bout, Payne chopped at the legs of Allen with kicks that resembled a lumberjack cutting through the foundation of a tree. The American Top Team – Whitestone fighter, Payne, also demonstrated that he is more than a Muay Thai fighter, as he sprawled on Allen multiple occasions, as well as earning a takedown, showing off his wrestling skills. Payne is a well-rounded fighter that improved his record to 1-1. Hopefully opponents take the challenge and step-up to battle this talented young man. Payne earned a TKO, ten-seconds into the second round.
"Great night," said MMA Platinum Gloves President Nic Canobbio, talking about the event. Canobbio also explained the reason for the heavyweight interim belt. Costa took the bout on short notice. Canobbio hopes to get Sanchez to fight number one ranked New York State fighter, Guy Hammond. "Vinny DeRiso is a stud,"
The MMA Platinum Gloves president was also asked about his new sanctioning body and his thoughts about the United States Muay Thai Association. He mentioned it's "Night and day" from their old sanctioning body and U.S.M.T.A., "everything is done professional," Canobbio said.
"We want to set up fighters to go pro, and U.S.M.T.A allows us to do that," Canobbio said.
MMA Platinum Gloves next event has no set date, but is planned for February. After a night full of finishes, be sure to stay tuned for information regarding the next MMA Platinum Gloves event.
Below are the official results:
185- Title- Vinny DeRiso (Bellmore Kickboxing) def. Evander Russ (Fusion MMA) via Submission, way of Guillotine choke, in R1 at :59.
HWT- Title- Brett Sanchez (Vamos BJJ) def. Geoffrey Costa (US Army) via TKO in R1 at 1:27.
145- Title- James Gonzalez (Serra BJJ) def. Paul Geraci (Bellmore Kickboxing) via Unanimous Decision, 30-27, 29-28, 29-28.
135- Lee Rasanen (Kioto BJJ) def. Dilshod Zaripov (UFC Gym) via TKO in R1 at :29.
145- Nyko Harrynarine (Bellmore Kickboxing) def. Quavon Allen (Brooklyn, NY) via TKO in R1 at 1:07.
165- CW- Codie Payne (American Top Team) def. Roan Allen (Brentwood) via TKO in R2 at :10.
205- Graham Hensser (Fusion MMA) def. Joseph Voetter (Bayport, NY) via TKO in R1 at 2:15.
Kyle Carroll is a Long Island, N.Y. native and avid MMA and amateur wrestling fan. He has been a part of the wrestling community for nearly 20 years. Carroll has six years of experience coaching high school wrestling. His father coached high school wrestling over 35 years, passing on his strong knowledge. Carroll has been reporting MMA news since January 2011. The former wrestler's coverage includes the 2012 U.S. Olympic Wrestling Team Trials, 2013 & 2016 NCAA D1 Wrestling Championship, and numerous MMA events (Bellator MMA, King of the Cage, North American Fighting Championship, and Glory).