Patrick Martin plans to "put the world on notice" at LFA 67
LFA 67 will feature one of the promotion's biggest main events as 6'6″ Patrick Martin meets 6'5″ Daniel James at heavyweight. With the big fight Patrick Martin sees a big opportunity he's been waiting for.
"I hit hard man, no doubt about that," Martin told MyMMANews. "I'm really precise with my punches. I been working combos and all that. It's a fight, my opponent, we have to hit each other. I'm focused on hitting him in the right spot, getting him hurt, and you know finishing him. Whether it's on the ground or it's on my feet, I've been preparing every aspect of my fight style because he a game opponent. And this is the opponent, the match that I wanted. This will really showcase my skills and put the world on notice, hopefully that I'm here and I'm going to be here for a while. I'm 35 (years old). I've got a lot, like five years left of fight in me, definitely. I'm just getting better. I'm about 75 percent of the 100 I can be."
LFA 67 is Friday, May 24, at the Branson Convention Center in Branson, Missouri.
Check out the full interview at the top of the page.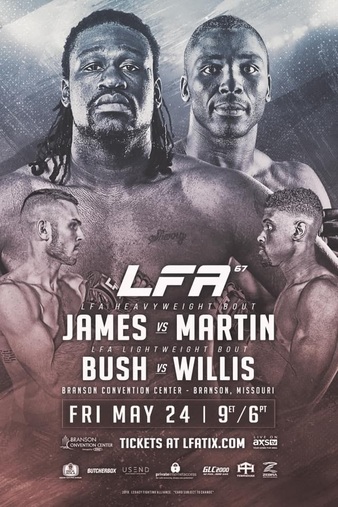 AXS TV Main Card
265: Daniel James (8-3-1) vs. Patrick Martin (7-4)
155: Dakota Bush (6-1) vs. Jaleel Willis (9-2)
145: TJ Brown (12-6) vs. Ken Beverly (8-4)
145: TeeJay Britton (5-1) vs. Solo Hatley Jr. (5-1)
170: Chel Erwin-Davis (5-2) vs. Mike Breeden (6-2)
135: Garrett Armfield (2-0) vs. Chris Ocon (4-0)
Prelims
185: Marco Hutch (3-1) vs. Kyron Bowen (5-4)
Team MMA for life. MMA Journalist since April 2011