Rousey comes in #8 on Forbes: World's Highest-Paid Female Athletes 2015 list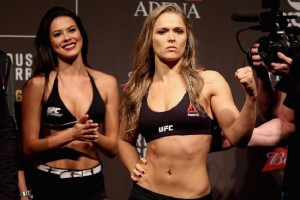 UFC women's bantamweight champion Ronda Rousey is a newcomer to the Forbes Magazine' annual list of the world's highest paid female athletes.
The mixed martial artist came in number eight on the list being beaten out by tennis players Maria Sharapova, Serena Williams, Caroline Wozniacki, Ana Ivanovic, Petra Kvitova, Simona Halep, and Nascar driver, Danica Patrick .
Sharapova has topped the list for 11 consecutive years.
8. Ronda Rousey