At UFC 248 earlier this month, Weili Zhang and Joanna Jedrzejczyk put on an instant classic inside the Octagon. As soon as it was over, many in the MMA community were praising it as one of the very best fights of all time – regardless of gender. And for very good reason.
With that in mind, the contest automatically went to the peak when discussing MMA fights involving female athletes. So where exactly does it fall among the very best? Is it easily No. 1?
When we think of a truly great fight, some requirements need to be met. First and foremost, you want a good fight to be competitive. In MMA, there are a lot of areas that a contest can go and unfold in. The more arts explored, the better the overall fight we have on our hands. The better the skill and technique on display, the much better and more exhilarating the many momentum shiftings will be. Fighters can hurt one another or lock-in submissions that come close to ending the night … there's just such a myriad of options. Those that combine those the best are the ones we as MMA fans crave the most.
Storytelling is massive in every sport. Fans crave drama whether it's in and or out of the physical action. The longer an MMA bout goes, the better the chance there is for everything mentioned to happen.
Although we've seen condensed forms of dramatic chaos in the forms of fights like Cris "Cyborg" Justino vs. Amanda Nunes, that bout didn't even last a minute. Therefore despite its great entertainment value for all of its 51 seconds, it doesn't make a list like this. We dug deep and looked for a little more. There are just so many elements that go into hand-to-hand combat.
These are the top 20 greatest MMA fights of all time featuring women.
Honorable Mentions:
Stephanie Geltmacher vs. Liz Tracy, Rose Namajunas vs. Tecia Torres 2, Jessica Penne vs. Randa Markos, Rose Namajunas vs. Tecia Torres 1, Claudia Gadelha vs. Joanna Jedrzejczyk 1, Sarah Kaufman vs. Alexis Davis 2, Jessica Andrade vs. Angela Hill, Megumi Fujii vs. Zoila Frausto
20. Cat Zingano vs. Amanda Nunes – UFC 178 – September 27, 2014
UFC 178 is responsible for hosting two of the most dramatic and emotional moments in MMA history. The second of those two was Cat Zingano's comeback fight with the future all-time great, Amanda Nunes.
After winning her UFC debut at The Ultimate Fighter 17 Finale in April 2013, Zingano had earned her first, and what would be her only, UFC title shot along with a coaching spot against the reigning champion, Ronda Rousey. Unfortunately, a torn ACL would put that on hold.
Upon her return, Zingano was matched with "The Lionness" and it wasn't a warm welcoming back.
In round one, Nunes battered and dominated the returning Zingano with ground and pound punches that would have put away lesser opponents. Instead, Zingano was able to hang tough and rally late in the round before completely shifting the momentum in the second frame against a now-tired Nunes.
In the third, Zingano continued pushing onward and got Nunes down with another front-headlock takedown that resulted in her finding mount. From there, elbows would land and slice open the future champion and result in a big comeback TKO. This happens to be the last time that Nunes tasted defeat.
19. Nicco Montano vs. Roxanne Modafferi – The Ultimate Fighter 26 Finale – December 1, 2017
For the most part, the UFC's flyweight division doesn't have the greatest perception in the eyes of the general community. However, before the class being introduced by the organization it was arguably the best women's division collectively across the world in MMA. Nicco Montano and Roxanne Modafferi showed exactly why in December 2017.
Fighting their ways through a season of The Ultimate Fighter, it would be the huge underdogs and unlikely candidates in Montano and Sijara Eubanks that came out as the top dogs. Unfortunately for Eubanks, an inability to make weight when it mattered most cost her the biggest fight of her career. Therefore leading to the woman she beat getting there, Modafferi, taking her spot.
The inaugural UFC title was on the line and both came out fast and furious as they knew how big this moment was for each of their careers. Montano, still very young and continuously looking to prove she belongs, vs. one of the sport's pioneers and most seasoned competitors. The dynamic actually worked out better than what was planned.
Never known for her striking, Modafferi essentially had none of it early in her career but has improved leaps and bounds in recent years. So much so that she was able to stun Montano on the feet at a point. Now a BJJ black belt, Modafferi is always dangerous on the ground yet the always gritty Montano wasn't deterred and found submission threats of her own.
It wasn't the most technical fight you'll ever see, but it was consistently back and forth, and each fighter left it all on the line. Despite the history attached to it, it's a fight that is more forgotten than it should be.
18. Holly Holm vs. Miesha Tate – UFC 196 – March 5, 2016
As a forewarning before things really get picking up, you're about to see Miesha Tate mentioned more than any other fighter appearing on this list. And it just goes to show how fun and exciting that "Cupcake's" MMA fighting career was.
At UFC 196, the former Strikeforce bantamweight queen got her second crack at UFC gold after somewhat of a career turnaround after a rough UFC start. Standing in her way was the new superstar, Holly Holm, who had just dethroned the believed to be unbeatable champion in Ronda Rousey.
Tate was the underdog and rightfully so. The story of this fight was striker vs. grappler and that's exactly how it played out. Rounds one, three, and four were all clear in favor of the champion as she steadily picked apart the challenger with her superior in-and-out kickboxing style. That goes without mentioning that things were made interesting by Tate's dominant round two where she got Holm to the ground for practically the entirety of the round to register a 10-8 scorecard.
Round five saw more of the same while things were on their feet as Holm was looking to coast her way to her first title defense. Tate needed a hail mary and she knew it. Attempting some takedowns from afar on a few occasions, Tate would end up finally getting one as the clock was ticking down from two minutes.
It would be all she needed as she found her way to Holm's back and pulled off a miraculous comeback and upset with a rear-naked choke that put the champion unconscious. Tate had once again become a champion in MMA and did so on the biggest stage after being ruled out by so many.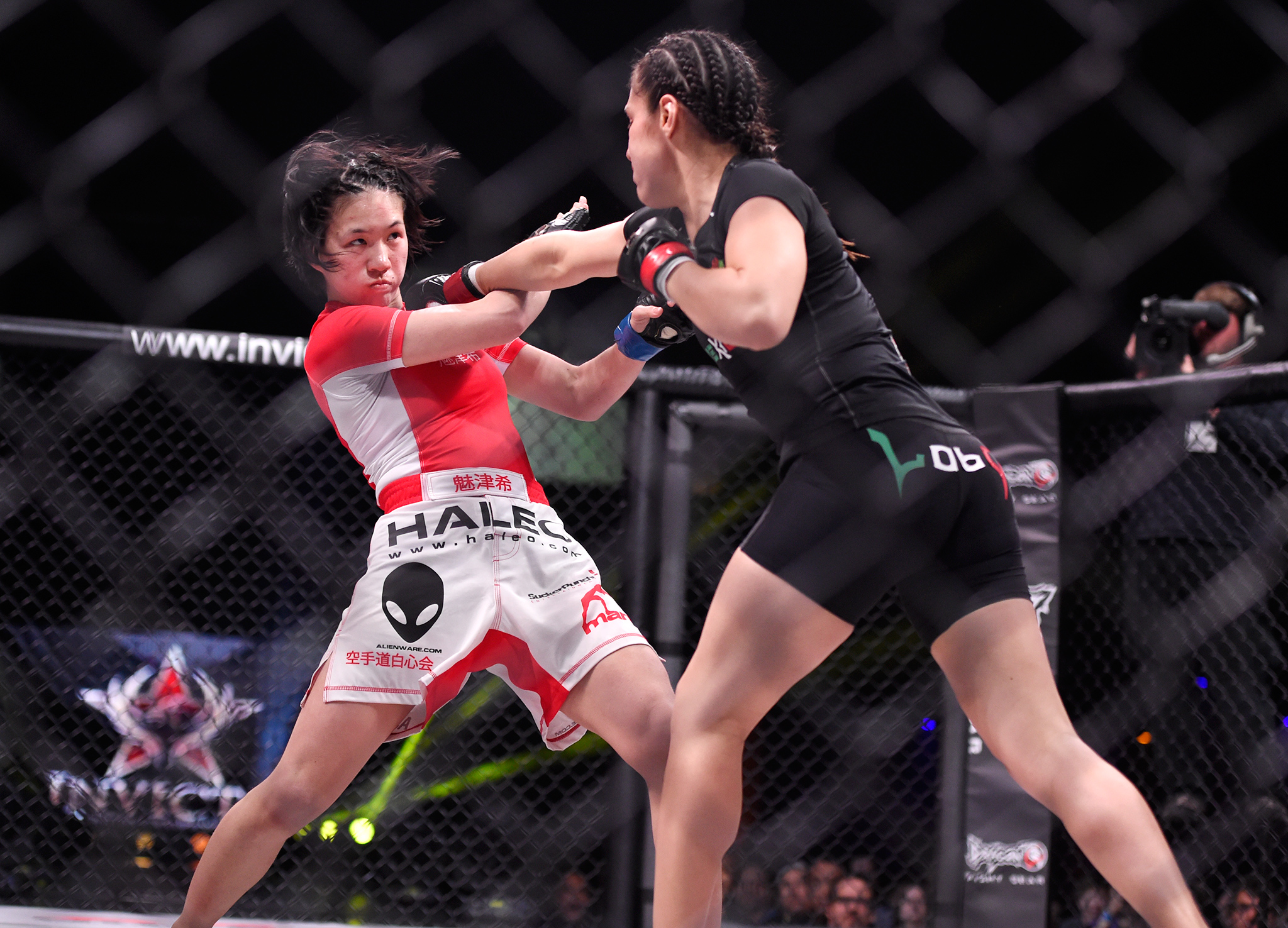 17. Alexa Grasso vs. Mizuki Inoue – Invicta FC 11 – February 27, 2015
At the time that perennial top prospects from their respective counties of Mexico and Japan, Alexa Grasso and Mizuki Inoue squared off, they were a combined age of 41 years old.
The skills that both women displayed that night were simply unbelievable for how young they were. It just went to show how much the sport had really evolved over the years and continues to.
Each fighters' kickboxing shined as they attacked with various strikes effectively. Grasso happening to be the one to get the better of most exchanges early on with some late-round submission threats mixed in.
Despite still being fairly close through the first two, Inoue was the one down on the cards and in the third, she did her best to change that by making it a grappling heavy round which still ended up impressing. Ultimately, Grasso managed to hang on and walk away the winner keeping her unbeaten streak intact.
With both fighters now in the UFC, here's to hoping we get a much-needed rematch sometime soon. Whether that's at flyweight or strawweight like it was originally.
16. Lisa Verzosa vs. Julija Stoliarenko – Invicta: Phoenix Series 3 – March 6, 2020
After Invicta had their 135-pound title vacated by Sarah Kaufman who went to test herself in the Professional Fighters League (PFL), it was time to crown a new champion.
The unbeaten 5-0 Lisa "Battle Angel" Verzosa is clearly destined for big things in her still-young career. So when the opportunity to claim her first major world title presented itself, she tried her damnedest … It was just that Julija Stoliarenko had other plans.
Stoliarenko, a season 28 of The Ultimate Fighter alum at featherweight, was perfect by winning three straight upon her return to bantamweight and that continued against Verzosa.
In what was a relatively slower and methodical approach from each fighter, the fight still delivered the violence as they battered each other to a bloody pulp over the course of their allotted five rounds. Like, seriously. This was quite possibly the bloodiest fight in MMA history.
We saw submission threats from the armbar-loving Lithuanian in Stoliarenko mixed in with her nasty elbow work. The always aggressive Verzosa unleashed her countering fury with big punches at every chance she had. Ultimately, she was on the receiving end of most of the damage but the fight that both women put on was one hell of a sight.
15. Miesha Tate vs. Ronda Rousey 1 – Strikeforce: Tate vs. Rousey – March 3, 2012
When it comes to the greatest rivalries in MMA history, Ronda Rousey vs. Miesha Tate is right up there amongst the most heated. Now a whole eight years removed from their very first meeting, it's easy to forget just how fun their first fight was while it lasted.
Obviously, what's remembered most about this fight is that it was Rousey's first time tasting gold. That along with the lasting image of her mangling her foe's arm to a disturbing 90-degree angle in the opposite direction.
Prior to that, however, the action began with Tate immediately pressing and engaging her rival and the punches began to fly. In most exchanges, Tate was the one getting the better of the striking. The fight soon found its way to the ground, as expected.
From there, Rousey instantly looked for her patented armbar and found it. Tate survived and ended up making things interesting as she would find her way into advantageous grappling positions as she scrambled to get on top of Rousey and even took her back at a point.
Unable to find a submission of her own, Tate would see Rousey escaping and get back to her feet where the action would intensely unfold some more. All before the final big judo throw from the Olympic bronze medalist led to that vaunted armbar.
In a way, this fight felt a bit like the bantamweight equivalent of Nick Diaz vs. Paul Daley – another one-round MMA classic.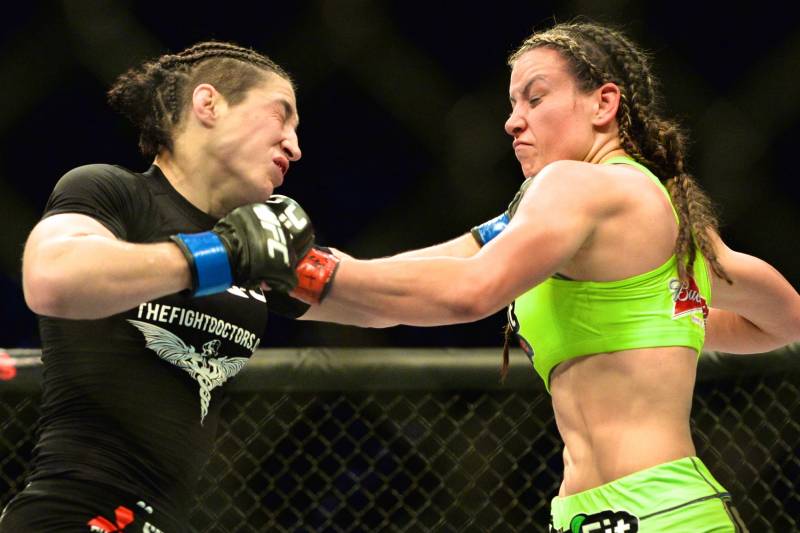 14. Miesha Tate vs. Sara McMann – UFC 183 – January 31, 2015
While Tate vs. Rousey 1 may have been the forgotten or lesser remembered piece of that rivalry, Tate vs. Sara McMann was the most forgotten great fight of Tate's career overall.
For the Olympic silver medalist in wrestling, McMann, she was now a win removed from her own loss to Rousey and looking to work her way back toward a title shot. As for Tate, she had now won two straight since her second defeat to Rousey.
As McMann's career continued, her phenomenal wrestling was always her strong suit. But her powerful striking began to shine through specifically in this fight.
Tate and McMann engaged instantly trading leather – a common theme in Tate fights. Unfortunately, the former Strikeforce queen would find out that wasn't the best of ideas. McMann connected with a massive right hand that rocked and dropped Tate. We would later find out that the shot broke her orbital bone. Thus making everything that followed all the more impressive.
With Tate now below her, McMann would reign down big ground and pound elbows until the round closed. The second round would see Tate recover and avoid the same amount of danger as absorbed in the round before. But McMann still found a home for her shots and managed to do some work in tight clinch positions against the cage. With the round waning, McMann went for a double leg takedown that resulted in a guillotine attempt from "Cupcake".
The momentum had started to turn – literally and figuratively. It presumably came down to the final round and McMann, the talented wrestler she is, went for a takedown but wound up on her back this time. From there she was controlled for the rest of the fight being fed with some short shots and a late kimura thrown in.
13. Miesha Tate vs. Cat Zingano – The Ultimate Fighter 17 Finale – April 13, 2013
The rise of Cat Zingano was truly an emotional yet incredible ride. As the first mother to compete in the UFC, every fight was so primal for "Alpha". Going into her UFC debut opposite Miesha Tate, she was an underdog that was virtually unknown by most as she had only fought once in Invicta FC prior. Regardless, Zingano was undefeated for a reason.
This fight was all over the place. As per usual, Tate brought the heat to her opponent and began throwing punches right from the get-go. A thudding takedown from a trip quickly followed but wouldn't be held as the two had their first of many scrambles which led to a standing guillotine attempt from Zingano. Surviving, Tate would re-engage in what made for a very tightly contested and physical affair where each fighter served up a healthy supply of knees, elbows, and punches to one another.
The infamous Zingano flying knee opened round two and the pair was back at it. Somewhat surprisingly despite being the favorite, Tate seemed slightly in control and ahead in the fight overall as the third round rolled around. And for as much heart and determination that she has and has shown in her numerous outings, Zingano too has that in spades.
Vicious knees against the cage to Tate's face and nose would spell the end for her as Zingano made history and showed that she was the "Alpha" that night.
12. Rose Namajunas vs. Joanna Jedrzejczyk 2 – UFC 223 – April 7, 2018
Rose Namajunas' first-round knockout of the longtime strawweight queen Joanna Jedrzejczyk was not a fluke.
In their instant rematch, both fighters came in on point despite the madness that was UFC 223 fight week. They were moving around the Octagon at practically lightning speed. Light, flowing, and accurate with almost all of their strikes. The new champion Namajunas in particular who also showed phenomenal defense.
It was a continuation of Namajunas showing she was here to stay and for the majority of the bout, she got the better of one of the sports all-time greatest strikers. Jedrzejczyk would come on strong as the fight went on but it was just the overall talent and skill that was on display from a striking perspective by both, as per usual, that made it oh so fun and interesting to watch.
A competitive yet clear outcome, these two went toe-to-toe and showed why the strawweight division has become one of the best divisions in MMA period.
11. Irene Aldana vs. Lucie Pudilova – UFC 228 – September 8, 2018
From the beginning of her career, Mexico's Irene Aldana made it apparent that she was one to keep an eye on. Having hit some speed bumps along the way, she's now really starting to come into her own as she sits atop the shortlist of contenders in the UFC's bantamweight division.
During her climb, Aldana met the Czech Republic's Lucie Pudilova and the two put on one of 2018's best fights of the year.
This fight was kind of like a sped-up version of Verzosa vs. Stoliarenko … with less blood, of course.
Pudilova was majorly the one walking forward like a terminator as she looked to start exchanges with stiff jabs and leg kicks while Aldana was always seeking her beautiful combinations. The problem was just that Pudilova put the pressure on so aggressively that it was made difficult as Aldana always had something coming at her. The end of the first round saw the Mexican flooded by various kicks up high that made it nearly impossible to defend them all.
Eventually, Aldana would somewhat slow down her opponent with leg kicks and begin to work more of her game as big shots continued to be traded on both sides. Generally, well off defensively, Aldana threw that out the window as did Pudilova. The action carried on late and practically everything being thrown by each was starting to land and do damage.
It was a tactically violent MMA chess match to kick off the card that it was showcased on.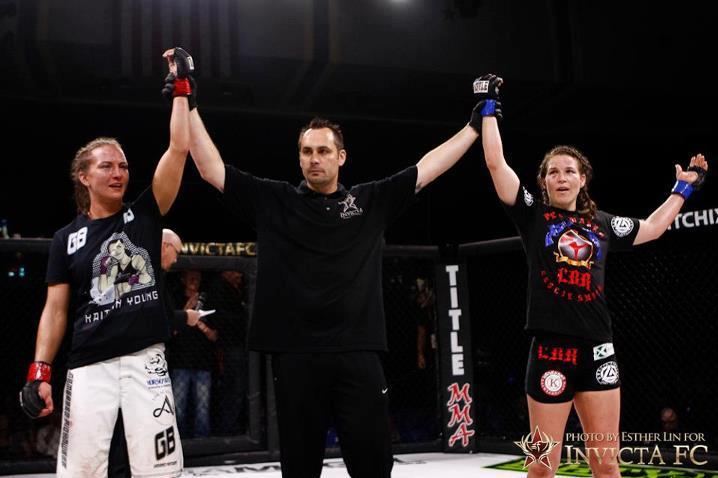 10. Kaitlin Young vs. Leslie Smith 1 – Invicta FC 1 – April 27, 2012
There's just something about inaugural events or historic landmarks that brings the best out of fighters. Invicta FC 1 did just that and Leslie Smith and Kaitlin Young were the highlights of that night.
The fight was very similar to Aldana vs. Pudilova as the action was nonstop and each combatant landed whatever they wanted almost at will. The big difference between those fights was the willingness of the duos of fighters to fight in tight. Smith and Young threw elbows and knees in the pocket and clinch whenever they could. It was Smith in particular who continually threw punches to her opponent's body and even hit an early trip to fall into guard.
Smith's flurries came frequently and when they did they were met with return fire from Young which was consistently wild. The pace really never slowed too drastically at any point.
Predominantly a kickboxing war that saw Young more sparingly using her power shots with Smith aggressive and active to start, the third would be where things shifted the most.
Young would attempt to drag Smith down which failed and found herself on the bottom. It wasn't all bad though, now she was working for armbars and triangles. Smith would escape then look for an armbar of her own to no avail. Shortly after, things got back standing as they closed the show throwing as they did earlier on.
There was a little bit of chaos everywhere in this one and no one could really be too mad that the official result was a split draw.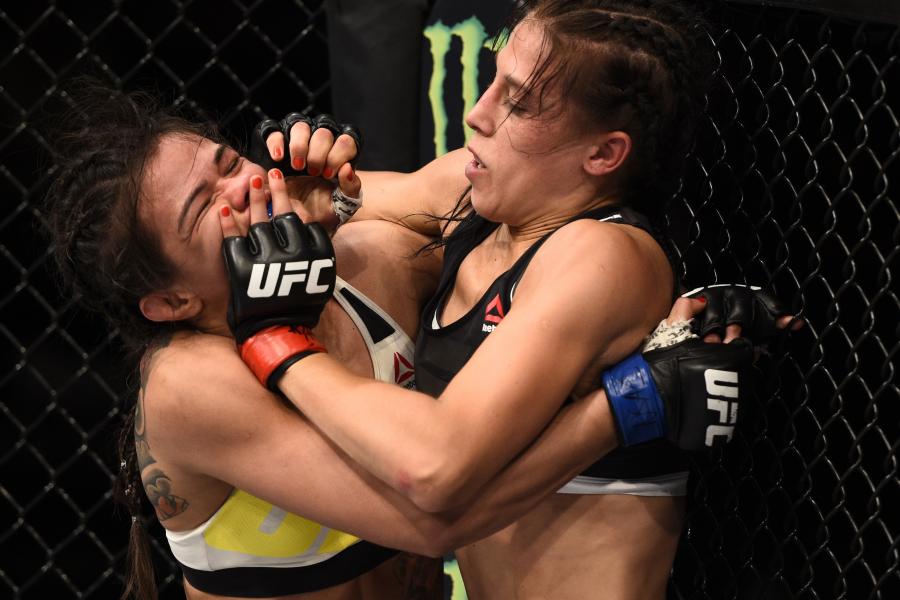 9. Joanna Jedrzejczyk vs. Claudia Gadelha 2 – The Ultimate Fighter 23 Finale – July 8, 2016
We already discussed one of the most heated rivalries we've ever seen in the sport, now it's time for another.
Claudia Gadelha and Joanna Jedrzejczyk first met in December 2014 to decide who would be the first challenger to newly minted champion, Carla Esparza. A great fight in itself, it was the outcome that was clouded with controversy.
A very close bout no matter how you scored it, a rematch was inevitable and needed between these two. Especially by the time that we finally got it.
They had coached against one another on Season 23 of The Ultimate Fighter and the buildup had only amplified because of that. At a point, things even got so heated that there was an alleged scuffle between the top strawweights off camera.
The story of their first fight was essentially striker vs. grappler as expected. In the second fight, that was more of the same but to intensified degrees of intriguing.
Gadelha dropped Jedrzejczyk with the very first jab she threw which came in the first six seconds. From there, she would take the rest of that round as well as the second round with her great grappling prowess and feasible counter and clinch striking. It seemed as though the champion had met her kryptonite if she hadn't already in the first encounter.
Unfortunately for the challenger, she would be the one whose strength and cardio would fade from her work. Despite Jedrzejczyk getting outworked, she looked fresher than ever in the final three rounds and shifted the tide to outpoint Gadelha with strikes aplenty in vintage fashion.
At this point, Gadelha had been the lone fighter to be able to cause the seemingly now unbeatable Jedrzejczyk any problems. And even in doing so, the champion persevered which only made her even scarier.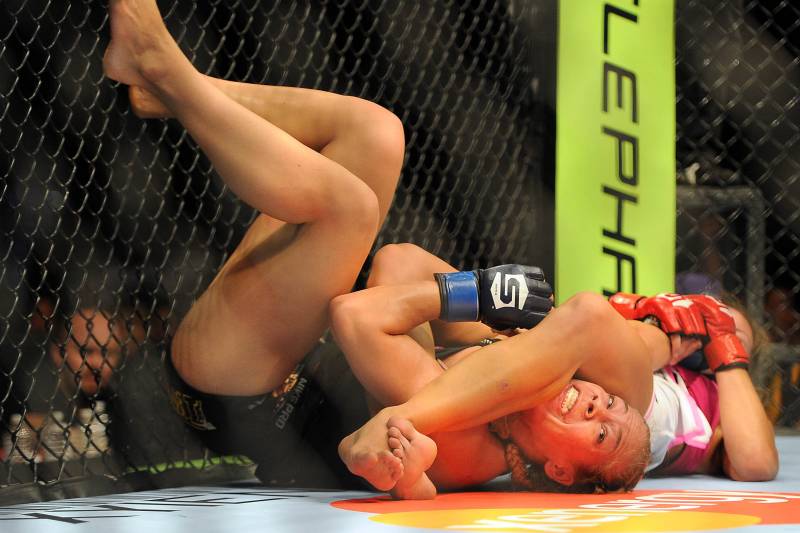 8. Miesha Tate vs. Julie Kedzie – Strikeforce: Rousey vs. Kaufman – August 18, 2012
If you can believe it, Tate's win over Holm wasn't even the best comeback of her career.
Directly after Tate's first encounter with Ronda Rousey that saw her drop her newly achieved Strikeforce crown, she was matched up with the seasoned veteran, Julie "Fireball" Kedzie.
Expected to be a reasonable rebound for the former champion, Kedzie wasn't going to be walked over so easily. The difference between this fight for Tate as opposed to the Holm one was that Tate absorbed some serious damage.
Kedzie proved early and often that she was the superior striker and landed almost at will. There were moments where Tate was indeed able to get things to the ground but she had to work extra hard to get the action there. In doing so, she found some success and advantageous positions that came primarily in the second round. Things were looking better going into the third after a rough first round… all up until a baseball bat of a head kick connected to Tate's dome. Surprisingly, she managed to survive.
Kedzie instantly pursued the finish and followed her opponent to the ground. Tate dug deep once again as she threw up a desperation armbar and ended up forcing the tap after Kedzie held off for as long as she could.
If there is one thing that Miesha Tate proved throughout her great career, it's that she was more often than not never truly out of a fight.
7. Livia Renata Souza vs. Angela Hill – Invicta FC 19 – May 7, 2016
Angela Hill made good on her only career title shot to this point when she took on the perpetually underrated Livia Renata Souza.
9-0 at the time, Souza had proven herself to be one of the most dangerous strawweights on the planet no matter where the fight went. Her area of expertise was primarily in her BJJ which we saw plenty of against the always elusive Hill.
The two traded on the feet on numerous occasions with Hill often on the better side of the blows. For Souza, her grappling and submissions were always a threat and they came early and often as the fight ticked all the boxes when it comes to where a fight can go.
The challenger landed very hard shots throughout and defended surprisingly well against Souza's dangerous ground game.
With the bout potentially coming down to the final round, Hill had only picked things up as time went on. Souza's submission skills continued to threaten and as Hill had looked to be sealing it with the final seconds ticking down, the champion would sink in a guillotine that could have seen the challenger tapping if there was more time in the round.
This fight had absolutely everything you could ask for from a championship fight. Great striking, great grappling, momentum shifts, dramatic submission threats, and the title changing hands. It's definitely one of the lesser talked about great fights in MMA.
6. Ayaka Hamasaki vs. Seo Hee Ham 3 – RIZIN 20 – December 31, 2019
RIZIN 20 was arguably one of the greatest events in MMA history, if not the greatest. But that's an entirely different topic for a different day.
One of the reasons for that was the epic trilogy bout pitting super atomweight champion Ayaka Hamasaki against Seo Hee Ham.
Both fighters were a perfect 10-0 in bouts south of 115-pounds going in. For Ham, Hamasaki was the only non-strawweight to have defeated her in the past 10 years. Their second encounter came in 2011 a year after they first fought.
The bell sounded and they were off to the races. The champion stung early and often as Ham fired back but ate shots aplenty. These were the two consensuses greatest atomweights on Earth going at it and it showed in the ring. Skill for skill, it didn't get any better than this.
Every strike was thrown hard and precise. In the middle round, the action hit the floor and when it did, things got very interesting. After a minute in, Ham would lock up a very tight triangle choke that would be held for the remainder of the round. Incredibly, Ham made it to the bell but took a gnarly amount of elbows and punches from Ham all while trying to attack back and show that she was okay.
In the third round, it was a bit of a combination of both of the prior rounds. Heavy yet technical kicks and punches flew but once things got grappling oriented, it was Hamasaki this time who got in an advantageous position to deliver grounded punches.
It was about as close of a fight as we could have gotten and was just as good as expected. Ham got her title along with redemption and she did so against the atomweight division's all-time best. Everything about it encapsulated "storybook."
5. Angela Lee vs. Xiong JingNan 2 – ONE: Century Part 1 – October 13, 2019
As we break into the top 5 here, let's just make it very clear that these five fights are all very interchangeable and incredible in their own right. The order flipped around multiple times before finalization. The point is, you can't go wrong with any of these.
If you want to talk about fighters who are just made for each other, then those are the ONE Championship champions Xiong JingNan and Angela Lee.
Months removed from their historic strawweight champion vs. atomweight champion bout that took place in the latter division for JingNan's title, the two met again – this time for Lee's title.
This time around, Lee found herself more willing to engage in the striking with "The Panda" who got the better of her there in their first encounter. Of course, this didn't go without Lee's usual gameplan that saw her seek takedowns and submissions.
Both fighters are just oh so good at their strengths and well-rounded enough as well as defensively sound enough to make a lengthy must-see duel.
In the end, Lee got her redemption over her Chinese counterpart and retained her title with a late rear-naked choke submission. Something she potentially needed going to the judges' scorecards.
The only thing that detracts from this fight being any higher is the fact that there was controversy surrounding Lee's winning sequence.
4. Xiong JingNan vs. Angela Lee 1 – ONE: A New Era – March 31, 2019
Originally, the first clash between champions Angela Lee and Xiong JingNan was supposed to be the first-ever female super fight pitting titleholders against one another in MMA. Instead, it went down as the second behind Cyborg vs. Nunes after an injury to Lee postponed the fight.
When we did get the bout, it delivered and then some.
The "Unstoppable" was 9-0 and looking to make even more history than she already has in her very young career. The first Chinese world MMA champion in JingNan was the one standing in her way with her title on the line. Meaning, everything to lose with seemingly everything to gain for her superstar opponent.
The odds appeared stacked against JingNan. Lee came out and got the fight down as she generally is capable of doing. But the striking specialist in JingNan showed some great and somewhat surprising defense against the proven atomweight champion.
In strike exchanges, JingNan was doing what she does best and landing speedy combos while bouncing around loosely. It looked like the "Chinese Fighting Panda" was rising to the moment and had a new swagger to her that Lee wasn't quite prepared for. Meaning she needed to keep the fight close and gritty as often as she could.
Heading into the fourth round, the momentum was on JingNan's side as she had landed fruitfully at this point. However, Lee would eventually catch her championship-caliber opponent in an unbelievably deep armbar. The heart shown by JingNan not to tap truly displayed how much this occasion meant to her. Startup the fifth, and it was time to finish things.
Lee appeared visibly tired and JingNan began to pour on the damage as she landed multiple body kicks and punches that hurt Lee and halted the fight. The "Unstoppable" had been stopped. We didn't get the second female double champion in MMA history, but we did get the first defending in a super fight. And what a fight it was.
3. Mei Yamaguchi vs. Angela Lee 1 – ONE: Ascent to Power – May 6, 2016
While Maycee Barber still hopes to break the UFC record of becoming the youngest champion ever, it's already too late in MMA overall as Angela Lee did it before anyone could have imagined.
At just age 19, Lee got her first career title shot when she took on the unfinishable veteran in Mei Yamaguchi. If there was ever a fight to further prove that "V.V" can't be taken out, it was this one.
Known for her incredible grappling skills, Lee would aim for the submission on several occasions in the fight and come rather close on her numerous attempts. Yamaguchi, being the seasoned competitor she was, found her fair share of success on the ground as well and on the feet provided Lee with something to think about – and vice versa.
After a back and forth first two rounds, Lee and Yamaguchi had both survived dangerous armbars and guillotines. To kick off the third, Lee got absolutely cracked with a massive right hand that dropped her. Yamaguchi continued to pour it on before transitioning into the mount and dropping punches. Thus leading to a wildly tight armbar. Magically able to survive, the "Unstoppable" Lee wound up on top and worked her way to the back of her opponent. Talk about a mad scramble.
The fight continued just as crazily as it had been in the three rounds prior and as the seconds started winding down in the fifth, Lee locked in an arm-triangle choke. Yamaguchi started to turn purple but escaped the round with her consciousness.
Like Grasso and Inoue during their fight, the talent possessed by Lee considering her youth has always been something to behold.
2. Weili Zhang vs. Joanna Jedrzejczyk – UFC 248 – March 7, 2020
Weili Zhang vs. Joanna Jedrzejczyk was simply incredible and arguably unlike anything we've ever seen in MMA.
These two battled it out with the same consistent level of intensity and an ultra-high pace for five straight rounds, never slowing, never taking their foot off the gas.
Kick for kick, punch for punch, elbows, you name it, it was probably thrown. The only thing this fight lacked was exhilarating grappling exchanges but the incredible skill level and relentless striking action that we got more than made up for it.
China's second fighting champion in MMA behind JingNan, and its first in the UFC, Zhang performed brilliantly for a first title defense against stylistically perhaps her toughest matchup. On Jedrzejczyk's side, she showed that she's still as elite as ever whether or not she has a belt to show it or not.
No matter who was walking away as the winner, this was one of those fights that fans demanded an eventual rematch for just because of how good it was. It's pretty comfortably one of the very best striking battles we've seen in the sport.
1. Jessica Penne vs. Michelle Waterson – Invicta FC 5 – April 5, 2013
Why it's so hard to narrow down one solid choice between this top 5 is quite simple. We have the very best striking fight, the best grappling fights, and one that is an incredible mix of both. It's just a matter of preference. In Jessica Penne's atomweight title defense against Michelle Waterson, we got a bit of everything – primarily some seriously insane grappling.
Drama and a finish are always those added little sprinkles of excitement that we get out of fights. What creates drama? Moments that shift momentum, bring the action close to a halt, and the story.
Here, the story was that of a developing division of 105-pounds. Penne had just become the first major champion of the division while Waterson had dropped down from strawweight a few fights prior and looked to make herself the face of the new class. What we ended up getting in the cage was a grappling contest rarely ever seen of its caliber.
We saw omoplata attempts, gogoplata attempts, very deep armbars, rough ground, and pound. And the stand-up was sharp whenever they played there. It was just obvious where each's strengths were and they were happily willing to test how good the other was.
Waterson would catch Penne in an armbar in the fourth after all the wild scrambles in the previous rounds. It was exactly the type of fight that the division needed for the time as did Invicta at such an early stage.
Since then, atomweight has gone on to flourish worldwide and these two athletes provided one hell of a high bar for the future of MMA to try and surpass.
Drake is an MMA writer based out of Brush Prairie, Washington, USA who specializes in feature pieces, the women's fight scene, lists, news coverage, and rankings. He has been a passionate fan of MMA ever since 2009. Drake has most notably written for BJPenn.com, FanSided, The Body Lock, South China Morning Post, MyMMANews, WhatCulture, Cageside Press, Sherdog, The Scrap, and MMA Today. He has also written for and created video content for RT Sport. As for other sports, Drake is a longtime fan of the NFL's Green Bay Packers and Jacksonville Jaguars.
You can follow him on Twitter and Instagram: @DrakeRiggs_ . Also check out all of his video content on YouTube at YouTube.com/DrakeRiggs where he uploads fighter interviews, podshows, and various other types of content.