'Uncle Creepy' Ian McCall: "I may never fight again"
'Uncle Creepy' Ian McCall:  "I may never fight again"

Despite not having fought since January 2015 and dropping a unanimous decision loss to John Lineker, 'Uncle Creepy' Ian McCall is still ranked as the number four flyweight in the world.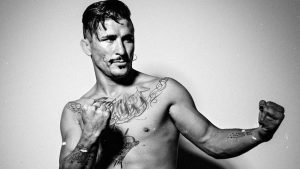 With a professional mixed martial arts record of 13-5-1, McCall was involved in some of the best scraps in the UFC's flyweight division.  His initial bout with current champion Demetrious 'Mighty Mouse' Johnson went to a draw and warranted a rematch that again went the distance but with Johnson having his hand raised.  McCall then fought another hard fought match, this time against Joseph Benavidez, again dropping a decision.
McCall bounced back with two more wins before the loss to Lineker.  Now it seems that McCall may never return to the sport, citing injuries and other medical conditions as the root of his time away from mixed martial arts competition.
"Just to put it in perspective, I have two bulging discs in my neck and then I have the four-part surgery on my shoulder, I fractured and dislocated my elbow, I got three surgeries, two breaks (in my hand), and I've had an infection in this arm," said McCall, as transcribed by Hunter A. Homistek for MMA Fighting. "So my arm doesn't work so well. Like, right now, my hand's kind of numb.
"I just have to be realistic. My body isn't working very well. I do still train. I train every day, I teach every day. I still beat up on everybody. I just have to take it slow. I don't know if my body can handle another training camp, because I train hard. Like everybody else, I train really hard. I also train very smart, but I just have a tendency to break. I've made peace with it – that I might never fight again – (but) do I want to fight? Of course. I want to fight. I would like nothing more than to fight, but I have to be realistic about it."
"I have a child. I have a life. My brain still works, so I'm just, you know, taking my time. If it takes until summer, if it takes until next year, if I never fight again, whatever. I've accomplished a lot. That's a drug that is hard to come by, is performing in front of an audience like that. I want nothing more than that, but if it doesn't happen, it doesn't happen."
"My whole UFC career doesn't settle well with me. I've had a lot of ups and downs and injuries and mental screw-ups and whatever. Myself, along with the people close to me, know how good I am, and I just haven't been able to show the world, really, besides my first fight in the UFC. That still wasn't, obviously that fight doesn't sit well with me."