Zu Anyanwu turns tables, defends title via knockout at CFFC 37
Zu Anyanwu turns tables, defends title via knockout at CFFC 37
PHILADELPHIA –Revenge might be a dish best served cold, but in the world of MMA, it also helps to possess a thunderous right cross.
Heavyweight champion Azunna "The Eighth Wonder of the World" Anyanwu earned his redemption Saturday night at Cage Fury Fighting Championships 37, landing a perfectly timed right hand to knock out challenger Keith "Bad Newz" Bell midway through the first round in front of a raucous crowd at 2300 Arena.
It was the second fight between the big men. Just 14 months ago, Bell knocked out Anyanwu with a head kick in only 12 seconds.
"Last time, it wasn't a fight really," Anyanwu said. "So I said, 'Just let me fight this guy, let me pick my spots, just play my game and come back in better shape. Zu 2.0 came out tonight. Everybody knows I'm coming for people right now. I'm on a streak."
Though this fight also ended in fireworks, it started off slowly, with both fighters very cautious and respectful of each other's power. Anyanwu, especially, seemed content to let the first few minutes tick away, perhaps to ensure there wouldn't be a repeat of the first fight, but certainly in an effort to pick the right moment to strike.
When the opportunity came, the champion made the most of it.
As Bell, who had landed several good punches and kicks as he stalked the champion, attempted a low kick, Anyanwu unleashed a right hand that caught the Virginian flush and knocked him to the ground. The champion pounced, landing a slew of hammerfists before referee Dan Miragliotta jumped in to stop to the assault.
"I wanted to counter him," Anyanwu said. "My corner said to be patient. He's going to come to the right hand, they all do. I hit him clean and he went down. I knew I had him and he was done."
The end officially came at 2:22, and left the fighters headed in different directions.
Anyanwu, who fights out of Renzo Gracie Philly, earned his third consecutive victory and second straight first-round knockout. Anyanwu (7-2) also stopped Joe Stripling with a thunderous right to win the title in February.
Bell (5-4-1) has now lost two in a row – both in the first round — though his other defeat came by submission against Biagoi Ivanov at Bellator 109. The resident of Newport News, Virginia, was philosophical about his latest loss and had a suggestion as to whom he should fight next.
"Everything I was throwing was landing," he said. "I guess I got too anxious and tried to push the pace for just a fraction of a second, and a fraction of a second is all it takes in this sport. Then the ref was pulling him off me. That's all I remember. It's the nature of the beast. If we could fight again, that would be perfect."
The co-main event featured a battle between up-and-coming prospects Bill "Mr. Perfect" Algeo (6-1) and Mike Pope (2-1). Pope, a former world champion in jiu jitsu, was relentless in his takedown attempts, though he never was able to put his opponent in any real danger. Eventually, Algeo secured his own takedown and locked up a rear-naked choke at 2:51 of the first round.
"I knew he was going to take me down," said Algeo, who has won five in a row, with all six of his victories coming via a stoppage. "I anticipated it and tried to prevent it, but it's a takedown. Takedowns don't hurt, Elbows hurt. Rear-naked chokes hurt. You can't tell from my skinny legs, but I'm an awesome wrestler."
Julio Rosario, who served multiple tours of duty in Iraq while with the United States Marine Corps, enjoyed a successful return to the cage after more than a year, defeating Brandon Inskeep by arm triangle choke at 4:43 of the first round. Rosario (3-4) looked impressive both on the feet and the ground, punishing Inskeep (7-9) with strikes before patiently working his way into position for the choke.
"Once I had control of the arm, I was able to move from half guard to mount, to side control, and I just worked the finish," he said. "That's something that (coach) Daniel Gracie's been catching me with all the time. It stuck with me and it just worked out."
In a battle of unbeaten 115-pound women, highly-rated Katlyn Chookagian proved too big and strong for Rebecca Heintzman, mixing her kicks and punches while dominating on the ground to earn the unanimous decision in her pro debut. Heintzman (2-1), who says she would ideally like to fight at 105 pounds, had no answers for the physically larger Chookagian (1-0), who landed strikes at will and attempted numerous submissions as Heintzman was reduced to survival mode.
"I'm just really excited," said Chookagian, who went 7-0 as an amateur. "This is my dream, to become a professional MMA fighter, and tonight I finally got to do that."
Jay Haas and Evan Chmieleski fought at a catchweight of 140 pounds. Haas (12-14) finished Chmieleski (5-6) with a barrage of punches at 3:13 of round one.
Shelby Graham and Vladimir Cerbadji fought one of the most entertaining rounds of the night as they traded hard punches and kicks throughout the opening stanza of their 150-pound bout. In the end, Graham (6-5) got the nod over Cerbadji (3-2) by split decision, 29-28, 29-28, 27-30.
Ricky Bandejas improved to 2-0 as a professional while handing Chris Piriz his first loss against two victories at 135 pounds. Bandejas, a former prep wrestling standout, was able to take down Piriz numerous times in the fight. The scores were 30-27, 30-27, and 29-28.
Phil Doig (1-2) picked up his first pro victory, working his way onto the back of Pat White (2-7) before setting up a nasty neck crank to end their featherweight fight at 4:47 of the opening round.
In the opening professional fight of the evening, fleet-footed featherweight Jayro Martinez won his pro debut with short punches and quick, measured kicks against Robert Jimenez (1-1). Martinez, who also caught Jimenez in a crucifix and landed a number of short elbows that left his opponent bleeding, took the decision, 30-27, 30-27, 29-28.
Four amateur bouts were also held:
Brian Jones dropped Josh O'Reilly with a left hook en route to a TKO just 42 seconds into their bout.
Mariano Vidro-Rivera won a unanimous decision against Michael Macauley. All three judges scored it 29-28.
Jonathan Romero cruised to a unanimous decision against Keifer Flemming, winning on all three scorecards, 30-27.
And Scott Krampetz used his superior wrestling skills to outlast Alex Sinprasith over three rounds, with all scorecards reading 30-27.
Cage Fury Fighting Championships returns to the Borgata Hotel Casino and Spa in Atlantic City on Aug. 9. CFFC 38 will feature a stacked fight card, including several title fights.
For information, visit cffc.tv.
About Cage Fury Fighting Championships
Cage Fury Fighting Championships (www.cffc.tv) is a pioneer in bringing prominent and elite MMA talent to the East Coast. Since CFFC's debut, past, and current champions have competed at the highest level. Before they were in the UFC, Jim and Dan Miller were both CFFC champions. That legacy remains the same today. Three current CFFC champions, George Sullivan, Aljamain Sterling, and Charlie Brenneman are currently on the UFC roster. Current UFC fighters Zach Makovsky, Nick Catone, Nah-Shon Burrell, and John Howard have also competed in CFFC prior to their entry to the UFC. Also, CFFC helped jumpstart the career of Internet fighting sensation Kimbo Slice, whose first foray into MMA came in the CFFC cage when he fought former boxing champion Ray "Merciless" Mercer. CFFC continues to thrive as one of the best regional promotions in the world while focusing on treating fighters with respect and giving the fans the ultimate MMA experience.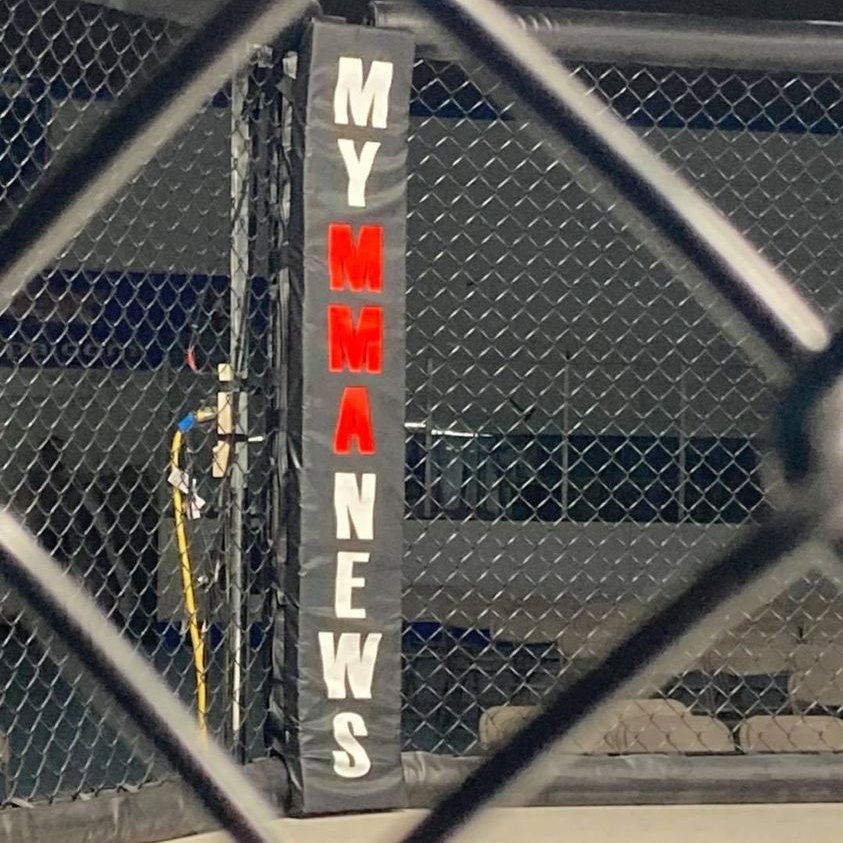 MyMMANews.com – We cover everything from MMA, BJJ, Bare Knuckle, Wrestling, Boxing, Kickboxing, and Judo
News, Opinions, Videos, Radio Shows, Photos and more.