Aggressive Combat Championships 14 results – Solecki crowned King of New York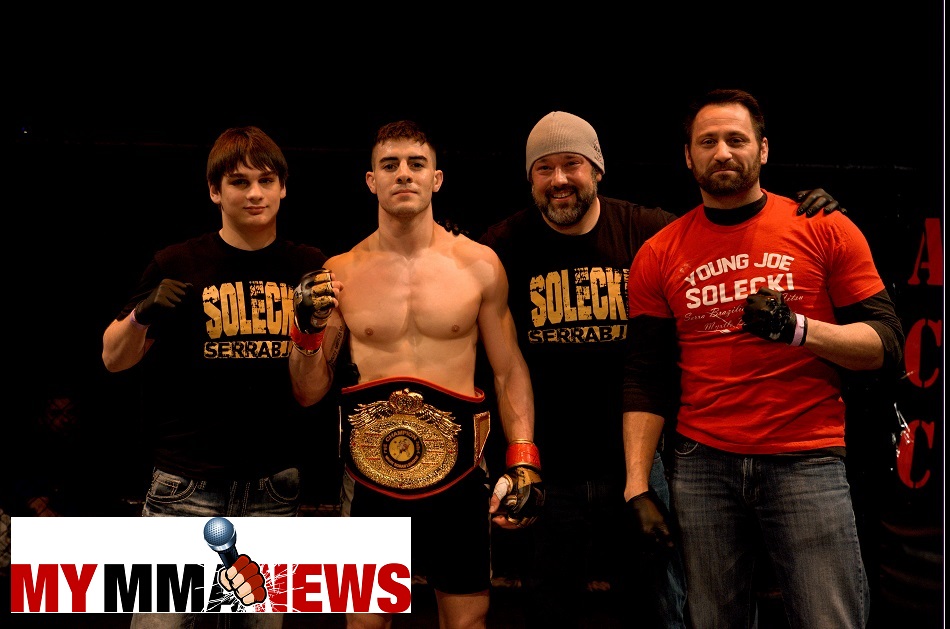 Aggressive Combat Championships 14 was held Saturday, February 27 at the Queens Theater at Flushing Meadow Park, Corona, New York.
UFC middleweight Oluwale Bamgbose was in the house.  Bamgbose earned his first UFC win last Sunday in Pittsburgh over Daniel Sarafian.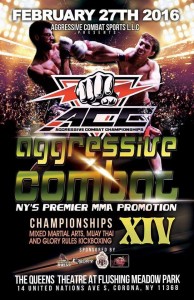 In the main event the New York State lightweight title would be determined between Codie Payne and Joe Solecki.
Muay Thai
The first two bouts of the evening featured highly entertaining Muay Thai contests.  Both fights were back and forth slugfests with none of the four combatants backing down from their opponents.
Steve Inoshima defeated Diego Jagasar via split decision to be crowned the new bantamweight Muay Thai champion.
MMA
In the first mixed martial arts contest of the evening Rene Pereyra defeated Kenny Vasquez via unanimous decision.  Pereyra worked the ground game flawlessly gaining control in each and every single round, outscoring his opponent on the judges' scorecards.
Josh Boneau defeated Sanjeev Singh in the very first round of their three round affair via armbar. Boneau came out swinging and put Singh in danger early on, followed up by a big throw.  Singh was able to get a reversal and land a few strikes from mount however Boneau positioned his hips correctly and was able to slap on an armbar and defeat his opponent.
Paul Thimont used his size and power to deliver some heavy bombs to the head and body of Kenneth Rayside who put on a gutsy performance and showed some great skill from the mount and guard positions however the Kai Next Level MMA figher to tap from kimura submission in the second round.
Anthony Wolter earned the biggest pop of the night from the audience at the Queens Theater.  Wolter would fight and defeat Tommy Doyle via unanimous decision to be crowned the USMTA New York State welterweight champion.
BIG KNOCKOUT
Noah Donawa completely devastated Steve Sierra and in just 19 seconds the fight was stopped and declared a TKO although Sierra was completely knocked out.  Huge win for Kai Next Level Mixed Martial Arts.
NEW CHAMPION
In the main event Joe Solecki defeated Codie Payne via rear naked choke at just 1:29 in round number one to be crowned the USMTA New York State lightweight champion.
Below are the official Aggressive Combat Championships 14 results:
USMTA NYS Title- Lightweight Title
Joe Solecki defeated Codie Payne via submission (rear-naked choke) – Round 1, 1:29
Noah Donawa defeated Steve Siera via TKO – Round 1, 0:19
USMTA NYS Title – Welterweight Title
Anthony Wolter defeated Tommy Doyle via unanimous decision (30-27, 29-28, 29-28)
Paul Thimont defeated Kenneth Rayside via submission (kimura) Round 2, 1:14
Josh Boneau defeated Sanjeev Singh via submission (armbar) Round 1, 0:53
Rene Pereyra defeated Kenny Vasquez via unanimous decision (30-27, 30-27, 30-27)
Muay Thai Bantamweight Title Match
Steve Inoshima defeated Diego Jagasar via split decision (29-28, 29-28, 29-28)
Jamal Kataw defeated Arik Tahveez via unanimous decision (29-28, 29-28, 29-28)
NEXT SHOW: Saturday June 25th, 2016 at Queens Theater