Fight Club Champion Series 6 Results: Stars Are Born
Fight Club Champion Series 6 Results: Stars Are Born

Fight Club Champion Series 6 was held Friday, June 17 at the Robert Treat Hotel in Newark, New Jersey and showcased 12 bouts of amateur mixed martial arts action.
Two title bouts highlighted the evening with one of the fighters in the main event unfortunately being submitted after sustaining an injury.
Main Event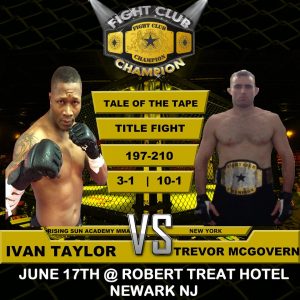 Ivan Taylor who challenged for the organization's light heavyweight title against Trevor McGovern was submitted in the third round via rear-naked choke.  Immediately as the round started you could see that something happened as Taylor's face demonstrated great anguish as he winced in pain.
McGovern, who had not lost a fight since 2013, applied the choke and the fight was stopped at 0:50 in the final round.  With the win McGovern moved to 12-1 as an amateur and he retains his title.
As medical professionals attended to Taylor, the fighter while still laying on the canvas, shouted for a rematch.
"Trevor, you better give me a rematch.  I was winning that fight.  You ain't gonna win like that.  Give me a rematch," Taylor shouted.
Co-Main Event
In the evening's first title bout, Ryan Rizco earned gold by defeated Daniel Pereira via unanimous decision.  Pereira virtually had no answer for the wrestling and smothering takedown and ground and pound style that Rizco brought into the fight.
Stars are Born
Rocco Giambrone came into his fight against Ryan Kelly with an 0-0 amateur record.  He had absolutely no fight experience on paper, yet you would have thought UFC star Conor McGregor was in the building.  I have never seen or heard an amateur fighter with no experience receive the pop that this kid did.  We had no way of telling exactly what to expect but we found out in under 25 seconds as Giambrone quickly knocked Kelly down with a big punch, and then submitted him via rear-naked choke, just 22 seconds into the fight.
Patrick Mulligan put his opponent to sleep as he submitted Chris Weinstein with a Von Flue choke just 25 seconds into the first round.
Although the two are in slightly different weight classes, it surely would be a treat to see Mulligan and Giambrone come together inside Fight Club Champion cage.
Full Fight Club Champion Series 6 Official Results:
Trevor McGovern defeated Ivan Taylor via submission (rear-naked choke) – Round 3, 0:50 to retain the 210 pound title
Ryan Rizco defeated Daniel Pereira via unanimous decision (30-27, 30-27, 30-27) for the 168-pound title
Marcus Chin defeated Louis Weber via unanimous decision (29-28, 29-28, 29-28)
Rocco Giambrone defeated Ryan Kelly via submission (rear-naked choke) – Round 1, 0:22
Aaron Gondola defeated Ernesto Anazco via submission (kimura) – Round 3, 2:08
Patrick Mulligan defeated Chris Weinstein via submission (Von Flue choke) – Round 1, 0:25
Tenzin Ngawang defeated Miguel Lopez via unanimous decision (30-27, 29-28, 29-28)
Jalen Torres defeated Felipe Ramirez via submission (armbar) – Round 3, 0:47
Peter Nascimento defeated Besiki Svanidze via Doctor Stoppage due to a cut – Round 2, 0:23
Sheldon Smith defeated Paul Vargas via submission (guillotine choke) – Round 1, 0:45
Robert Cerabona defeated Charles La Mantia via submission (guillotine choke) – Round 3, 2:28
Anthony Rosamillia defeated Josue Del Rios via unanimous decision (30-26, 30-27, 30-27)