Hellfire Hot Sauce – Burning Desire for Pleasure and Pain
There's something about tearing up and living with a burning sensation for hours on end that just brings a smile to my face.  Not long ago I was formally introduced to the Hellfire Hot Sauce family, and while I would like to say I wish I hadn't, I consistently find myself reaching for a bottle with most every meal.
There is literally a Hellfire Hot Sauce that pairs with most any food item…. even ice cream believe it or not.
Hellfire Hot Sauce Inc. was established in 2009 by Diana (The "Sauceress") and Merle (The "Chilimaster") in Lake Geneva, Wisconsin.
They have been creating sauces utilizing various ingredients including mangoes, pineapples, papayas, watermelon, prickly pear cactus, Mandarin oranges, peaches, pears, apples, vanilla beans, chocolate, ginger, beets, tomatillos, sun dried tomatoes, red thai curry and other spices. They have infused some of their sauces with liquors such as Caribbean spiced rum, Cinnamon Whisky and Bourbon.
They also have a lineup of spice rubs ranging from mild to XXX hot, featuring Hatch, Bhut Jolokia, Trinidad Scorpion and Carolina Reaper chile powders.
I was sent a package that included eight amazing sauces, as well as a bunch of pens, and stickers.  First, let me say, I was thoroughly impressed with the presentation.  You can tell that the folks at Hellfire Hot Sauce truly have a passion for what they do.  They say first impressions matter, and believe me, upon first impression I knew I would fall in love with this company.
The next thing I did, as likely anyone would do, is give them a taste test.  I'm a big chicken wing fan, particularly hot wings, so I test a lot of my sauces on chicken.
I didn't want to start with the hottest of the hot, but I also didn't want to start at the bottom either.  I wanted to know exactly what I was getting myself into.
Here the breakdown of the order I tried them in and exactly what I thought about each.
Anung Un Rama – I am glad that I picked this one to try first.  It's not the mildest, and it's not the hottest, but it's right there towards the top of the list in those that sizzle, but also deliver on taste. Anung Un Rama is a Hellish blend of Bhut Jolokia, Trinidad Scorpion, 7-Pot Primo, Red Habanero, range Habanero, Red Jalapeno and Cayenne Peppers. It is thicker than most sauces, almost like a paste, but man is it good.
Legendary AF – I haven't messed too much with this one yet but from smelling it and looking at it, it appears to be very similar to Anung Un Rama and the Extreme Hot Sauce.  Maybe a hybrid of sorts.
Extreme Hot Sauce – According to the Hellfire Hot Sauce website, this sauce is the HOTTEST non-extract sauce in the world! It contains 85% straight up pepper mash.
Ritual Habitual – If I am being honest, this was my least favorite sauce of the group, but I mean no disrespect to the product. This is more of a marinade it appears.  It's kind of a fruitier hot sauce.  Plenty of flavor but not much burn.  There are hints of mango, pineapple, papaya, and other fruits in the mix.  If you are looking for a torcher, this is isn't it.
Devil's Gold – This is a more mild sauce (well… when you compare to the others).  It's more of a creamy yellow sauce.  It's something that I would put on tacos or chicken.  It's more of a sweet heat but it can sneak up on you if you are not careful.
Zombie Snot – If you can get past being grossed out by the name, Zombie Snot, is an amazing sauce for Mexican food.  I use it on tacos, burritos, everything. There is just so much flavor to this one that I had to look it up. It includes Carolina Reaper, Trinidad and Moruga Scorpions and Bhut Jolokia rounded out with the delicious flavor of the Jalapeno and Seranno peppers, roasted garlic, Granny Smith Apples, Tomatillos, Cilantro, Scallions and Lime Juice. AMAZING!
Blueberry Hell – Ok, so remember when I said that you could put hot sauce on ice cream?  You didn't believe me right?  Well, the Blueberry Hell hot sauce is so damn flavorful that you can do just that.  When I say it is flavorful, don't be fooled into thinking there's no heat.  It still packs a punch as it is made with Carolina Reaper peppers, but there is also a nice blueberry tart taste to it as well.  Like I said earlier, I'm a big fan of wings, and this one added a very unique flavor to the crispiness of the skin.
Right Hand of Doom – Ok, so…. let me tell you about this one.  No fun trying this one. A Demon sleeps inside this bottle. It is spiked with a 6.66 Million Scoville Heat Unit.  The smell alone is enough to reduce a man to tears.  Be careful with this one.  It will change you forever.
If you have a few minutes and want to see a real-life reaction to how hot these sauces truly are, take a look at the below YouTube video where basketball legend Shaquille O'Neal gives them a try.  The ninth sauce Shaq tries is the Fear the Reaper sauce.  Unfortunately I did not receive that one in my package so I can't compare but judging my Shaq's reaction, that may have been a good thing.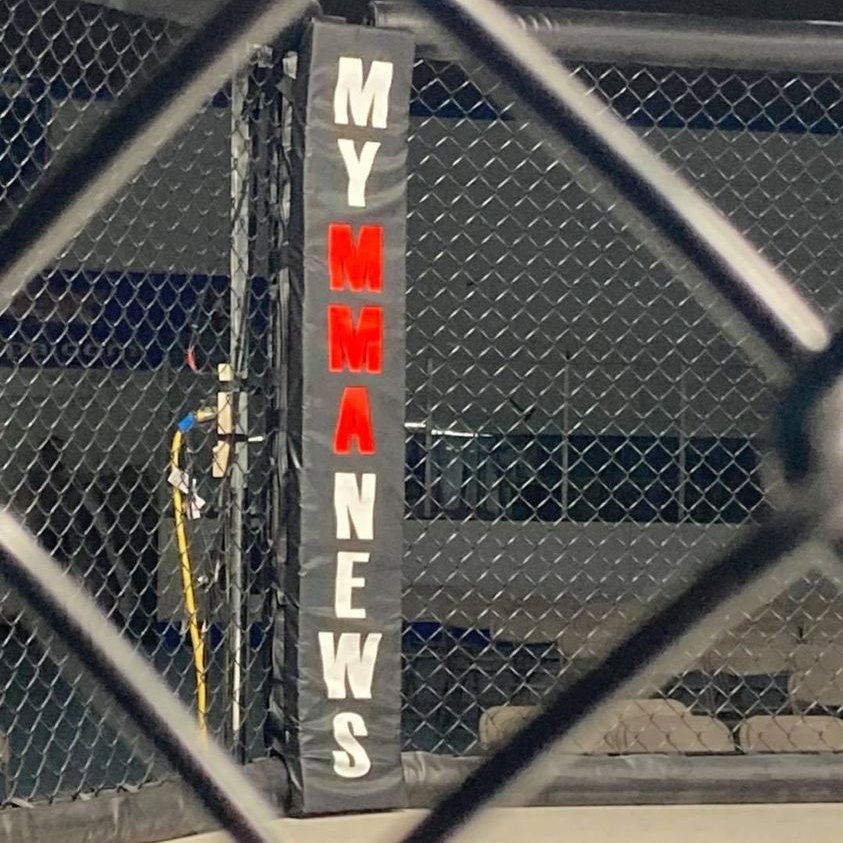 MyMMANews.com – We cover everything from MMA, BJJ, Bare Knuckle, Wrestling, Boxing, Kickboxing, and Judo
News, Opinions, Videos, Radio Shows, Photos and more.