Jessica Aguilar: A strawweight pioneer seeking one last run
The flip of a coin provides one of two options as an end result. Essentially, that leads to what is wanted vs. what is not wanted, the classic tale of good or bad. When it comes to spontaneity in life, the variety of outcomes is unlimited. However, at their cores, those outcomes will always have a certain balance, or lack thereof, of positives and negatives.
For many, the year 2020 started off as what looked to be a new and exciting beginning. Which, to be honest, is how most of us feel when the calendar begins anew. That's what New Year's resolutions are all about, right? Starting fresh with a positive mindset. 2020 had that same feel – but it quickly reminded us that not everything in this world is entirely under our control and that the unexpected should always be the contrary.
Sometimes, things are left out of one's control, but what is always controllable is the reaction. After being released from the UFC in May 2019, former top strawweight Jessica Aguilar had plotted two more fights to close out her career. Inevitably, COVID-19 left its impact and changed those plans.
The downtime allowed the 28-fight veteran to recover her body even more than she could have hoped. Working on a self-defense program and doing some gun training in the meantime, Aguilar was allowed to further expand her repertoire and create a beneficial opportunity out of a global nightmare.
Ultimately, this wouldn't be the first time that the former World Series of Fighting (WSOF) champion capitalized on an occurrence that wasn't quite on her mind prior to its happening.
Today, Florida's American Top Team (ATT) gym is widely regarded as one of the very best places in the world to become a top-tier MMA fighter. With their help, Aguilar would become exactly that to the highest degree. But getting into the sport that she made her name off of wasn't at all by design. With five days' notice and the offer on the table, it just sounded like too much of "Sure, why not?" type of venture to pass up.
"When I moved to South Florida, I actually wanted to get into acting," Aguilar told MyMMANews, "I actually moved to South Florida for acting and my friend called me, and I was living in Oregon at the time… And I was doing some small extra [work] shows. It wasn't paying my bills. So I had to look for something different. I also worked for corrections, I worked for the state of Oregon. I was working corrections and then I was doing that on the side. A buddy of mine called me from Miami. They were like, 'Hey, you know, there's a lot of opportunity for Latina actresses out here.' I was 23 at the time, so hey why not move there? I found a gym where I was living, where my job was. It was a boxing gym and I started training and then one day I showed up late to a class. It was like an anaerobic class I'd done and I started Jiu-Jitsu two months later. I went to my second tournament, and that's where I was offered [my debut] fight. And I didn't know a lot. I didn't even know what to ask.
"He said, 'Are you interested in fighting?' Yeah, I'm interested. He's like, 'It's gonna be another girl at 115 pounds.' I grew up with two brothers so I was all 'whatever' about it. Then I realized after I fought Lisa Ellis, I found out who she was. She was a wrestler in college and high school, you know, so she had all this experience and I had five days – I was running on the treadmill for five days. So yeah, it's pretty cool how I started my career, but you know, that fight became a fight of the night, it was a good time. It was a good start. For me, I like starting that way. I like to just go for it."
Lisa Ellis submitted Mexico's Aguilar with a rear-naked choke in the second round of their February 18, 2006 encounter. Five years later and redemption would be achieved when Aguilar earned a unanimous decision win in their rematch. A win that stood as the third in a streak that would establish the once aspiring actress as one of the world's best mixed martial artists.
In the late 2000s, the women of MMA would start to really make progress and become more accepted. With weight divisions being sparse, the heavier ones such as 135 and 145-pounds would start out as the most spotlighted before any others caught wind.
The more south in the weight you went and even more disparity was evident. There just didn't seem to be enough pieces to put together the puzzle that eventually became the 115-pound strawweight division. A division that has truly become the greatest in MMA among the women in 2020.
To be in a position that Aguilar was in, firstly, one that saw her jumping in relatively blindly, that wasn't too big of a deal. But while she was at it, she figured that she might as well go out and be the very best. And there's always someone that's sitting on top of the mountain before whoever is currently holding down that throne.
Before there was Weili Zhang, there was Joanna Jedrzejczyk. Before her, there was Jessica Aguilar. And the first to climb before them all, that was Japan's Megumi Fujii – a role model and idol to many, Aguilar included.
"Megumi was my idol when I started the sport," she shared, "When I started the sport I said, 'Who is the best in my weight class?' And back then there weren't any weight classes. We were fighting at like 115, 118, '20, '25, all over the place. So I was like, 'Okay, this is my weight class, who's the best?' I Googled and she came up. It was Megumi Fujii. And the place for me, my goal was to get to Japan. It was Smackgirl. That was my plan and she was fighting in Japan. There were a lot of smaller females there, so she was the best. I read up on her, I saw her films. She was like, amazing. She was a savage, she would go in there and go for the heel hooks and finish people and I was like, 'Wow, I gotta learn how to do that.'"
To rebound off of a career-starting loss, "JAG" won her next four fights and managed to finish three of them. By 2010, a record of 8-3 was compiled which led to a big chance for a divisional showcasing.
Aguilar earned the opportunity to be a part of the very first batch of female fighters to ever compete in Bellator. At the time, the promotion was known for its tournament-based format. When few else would, they decided to give the strawweights a chance with their own tournament.
Unfortunately for the rising ATT representative, her hopes of capturing her first world title were cut short in the semifinals by the eventual champion, Zoila Frausto.
Immediately following her historic victory, Frausto left the title and the division behind as she went up to the 125-pound flyweight class. Leaving the rest of the tournament's entrants on limited time. Had she won in the semifinals, Aguilar would have gotten her dream fight with her inspiration that was Fujii. In turn, she would have been able to potentially become the very best by beating the best – all while saving the division.
"I think the strawweight division would have stayed," Aguilar responded to if she had won the tournament, "It would have continued to be a part of the Bellator women's division because I would have asked for it. That was what I wanted, that was the plan. To win the tournament and then still continue to grow the strawweight division. So I really think Bellator would have had the strawweight division until the UFC did its thing, but yeah, I do think so. And it would have been amazing. I mean, Bellator has been an amazing promotion since I fought for them.
"They weren't really focused on females, though. That was our division. The strawweight tournament, they really didn't have future plans for the division. [Bellator founder] Bjorn [Rebney], he didn't have any plans but I was telling him I'd like to keep the strawweight division growing and that was the plan you know, but things changed and everyone went their separate ways."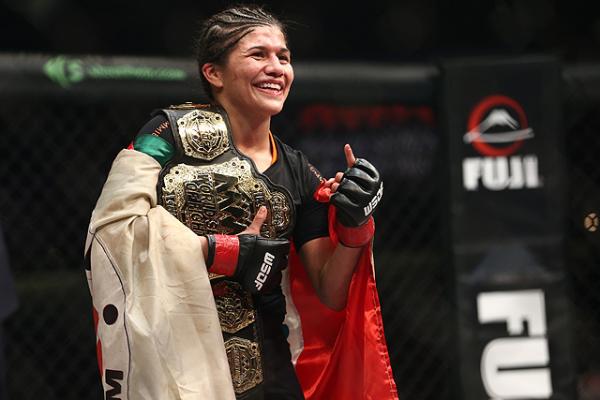 Even though the scenario didn't play out perfectly for Aguilar, the Etch A Sketch of her career still shook out a pretty damn good picture.
The conclusion of the Bellator strawweight tournament wasn't the very last we saw of the division. Aguilar scored a win in her then-home state of Florida with G-Force Fights before stepping back in the Bellator cage for the first time post-Frausto.
In doing so, Aguilar was paired with the future inaugural UFC and Invicta FC champion, Carla Esparza. In a battle of two of the division's most influential fighters, it would be Aguilar that came away as the victor. Mexico's finest was starting to really build herself to the point where she could no longer be denied by spectators around the globe.
With Bellator realizing what they missed out on matchup-wise, they decided to take matters into their own hands. Thus providing fans with Aguilar vs. Fujii at Bellator 69.
At the time, Fujii was a staggering 25-1 with her lone career loss coming in controversial fashion to Frausto. The Japanese superstar's legacy was cemented by this point and she was still viewed as one of the very best in the world. Aguilar being of that belief, in her mind, Bellator 69 would be the night she joined that conversation.
In preparation for what went down as a thrilling back and forth contest, Aguilar trained harder than she ever had before. It was treated as exactly what it was; everything she had imagined from the impromptu start of her career. Even when the control is in a competitor's hands like in the form of the tournament format, it doesn't guarantee the desired outcome. And if that isn't achieved, adapting, adjusting, and reacting properly is a necessity just as if the situation was uncontrollable.
Using that first sidetracking on top of the looming clash that Aguilar always envisioned was all the fuel needed. She came in at her absolute best and couldn't have prepared any better. Well, it paid off as she became only the second fighter to defeat Fujii as she earned a unanimous decision win.
Now on an incredibly solid five-fight winning streak, Aguilar had made all the noise she could and found herself as the strawweight division's worldwide No. 1 ranked fighter. But if getting to become such by dispatching of her idol wasn't enough, she actually was granted the honor of being the one to retire the legend.
Aguilar fought once more for Bellator after the massive Fujii win in a rematch with Patricia Vidonic. Defeating Vidonic once again, she was left waiting for what would be next.
Not much of a Facebook user, one day the former corrections officer had the odd feeling to get online and give it a peek. To her surprise, Aguilar stumbled across a random direct message offering her a rematch with Fujii in Japan. Initially believing it was fake, that was quickly realized as not the case.
At Vale Tudo Japan 2013, Aguilar fulfilled the Japanese tradition as per Fujii's request for the hardest challenge in her final fight. Once again, Fujii couldn't overcome her adversary. The dream-like story was just further extended for "JAG". Although, she admittedly would have cut out the eye pokes landed in the bout which played their role.
Regardless, the respect between the two is still very much there and they remain in contact to this day. With Fujii happily retired, Aguilar has yet to hang up her gloves… but maybe there's one final collaboration to be figured out between the two.
"I still have this plan and I haven't reached out to her yet, but I plan to go out and train with her in Japan and have her in my corner for one of my last fights," Aguilar revealed, "If we're talking about talent. The hardest opponent was Megumi if we're talking talent. That was the toughest of my opponents. In UFC I would probably say Claudia Gadelha. Maybe just because she was heavy. But no, I'm talking about skill, strategy…
"If I'm talking about how I set my camp up, it would have to be Megumi. Because there was so much that we had to train for. Takedown defense, heel hooks, there were just so many things to think about. And for my run in the UFC, Claudia, I mean, they were all tough opponents. But I really didn't get to focus on that. I was already… when I went into the UFC, I lost all my fights before I had got into the cage. That was just the issue. And there's no excuses whatsoever. It was just who was better that day and it was my mind, it was my body, I wasn't there. But yeah, so toughest opponent skill-wise, Megumi Fujii. And I'm proud to say that I became the best by beating the best."
If her seven-fight winning streak and two wins over one of the greatest fighters of all time wasn't enough to prove she was now the best 115-pounder on the planet, Aguilar would make sure that we knew she was by taking her talents to WSOF.
In 2014, the now BJJ black belt would win the WSOF title and defend it twice, therefore, extending her string of wins to a lengthy 10 in a row. Clearly one of the best fighters outside of the UFC, there was only one thing left for her to do and that was to join and win her way through their newly added strawweight division.
"I think that if I would have done it I would have been better welcomed," Aguilar said of her passing up on The Ultimate Fighter season 20, "Better welcome and I would have been better taken care of.
"Coming into the UFC being a champion from another organization, it felt different. Yeah, I'm being honest and there's nothing wrong. I'm not saying anything bad. It was just the way they handle things, the way that the fights that they offer, the way that they were offered. I feel like if I would have done the house and been a part of the whole strawweight division, the startup of the strawweight division – which I was but not in the UFC – I would have been treated differently. You see Carla Esparza, Claudia Gadelha, Rose [Namajunas], I mean, they took care of them and they molded their careers and they're still at the highest level. Which is amazing and I'm happy for them, but I think that yeah if I would have done it, I would have been treated differently. They did respect me coming in because I was the best in the world but then after that, it's just the business. That's how it is."
Rather than go the route of isolation surrounded by 15 other fighters in her weight class for several weeks, Aguilar waited and added to her resume. In the end, the denial towards the offer to be on the reality series didn't harm her status initially.
Entering in as a champion who was unbeaten for five years, Aguilar kicked off her UFC tenure in a near-perfect slot. She would meet Claudia Gadelha in Brazil at UFC 190 with a UFC title shot hanging in the balance – when it comes to opportunities, this was definitely a rare one for those coming right in to the Octagon.
The ATT staple, unfortunately, wouldn't be able to get the job done as her double-digit win streak was snapped. From there, things didn't get much better as her run with the organization finished seeing her going 1-4 with several notable injuries stacking up along the way.
"I do feel that I did come into [the UFC] a little bit too late and I say that only because of my injuries," she began, "I had my first shoulder surgery in January of 2015 and then in August 2015, I accepted the fight with Claudia Gadelha. So that was five months after my surgery, which was like, no.
"This was the No. 1 seed fighting their No. 1 seed so it was whoever won that fight – it was a title contention fight. So for me, it was a little late only because of my injuries and I started making bad decisions getting into the UFC. Because I shouldn't have taken that fight five months after my shoulder surgery. And then a month into that – and there's no excuse, it is what it is, right? A month into that camp, I remember breaking my [right foot]. I had a fracture in my right foot. And I was going in with that.
"I had a few things going on and it was a big fight," Aguilar continued, "Then after that my body just kept breaking down. So I don't know if that was an accumulation of like years of just, you know, the training that goes on. The training is what kills. It's harder than the fight. The fights for me is – that's like my desert. That's my fun. The training is the hard part and I used to just train with the guys, which was amazing. I loved it. It's what made me. My teammates helped me become the best in the world. Without them, I wouldn't have been able to achieve that. But it is what it is. I can't change the past."
Despite things turning out less than ideal for the strawweight icon, "JAG" has no regrets. She has since come to the realization that she didn't have fun during that stretch as her body didn't allow her to perform the way she knew and had proved she could. Leaving her to get over some mental humps as she stayed busy outside of fighting.
Though, perhaps the overall juggling was too much in itself.
"I was stuck there for a little bit," Aguilar expressed, "It was hard on me for a little bit. Actually, for a while, it was really hard. But the good thing is that I had my business and I was doing other things, but then again, now that I think of it, I was doing too much and I wasn't taking care of myself and still focusing 100 percent on my body and my training. There was just other things happening that I thought I could do. But hey, you live and learn, right?"
About a year ago, Aguilar made the shift from Florida to California leaving ATT behind to find a new home. Forever grateful for the time and experiences had and gained there, everyone is on good terms. Aguilar just felt it was her time to make the move as her life was beginning to change in a big way.
After her release from the UFC in May 2019, the idea was to settle with a promotion for two final fights to hit 30 total in her career. The end of the road in her MMA journey was making itself more and more visible for the now 38-year old. But life is unquestionably full of surprises and 2020 has shown us that in spades…
A blessing in disguise of sorts, recovering through this additional time in quarantine, Aguilar has hit a second wind and isn't committing to any set numbers. She'll go out when she wants to go out and on her terms.
"With this downtime, my body healing, having time to do that… I've been training and staying active," she said, "Not as much as I wanted to due to all this that is going on, but I've stayed a little active. My cardio is always there. My body is healed, which is amazing. I hadn't been feeling that way in some time now. So that's good. But I do plan on giving it one last run. So not one fight. I said my goal was to hit 30 fights, I have 28 right now. And I wanted to get two more in but my management is working on something. So I feel like right now, every fighter, we want to keep fighting. It's my passion. It's what I love to do. I'm ready for the next chapter in my life but I want to go out the way I want to go out and whether it's two fights, four fights, five fights, whatever it is, I'm gonna give it one last run.
"Now I'm more mature. I understand that everything runs its course. I've been there, I'm proud of what I've done in my career. I've accomplished a lot with getting into the sport with only five days' notice. And then becoming the best in the world and just traveling and meeting people and just meeting amazing people all around the world and getting the opportunity to fight."
Instead of looking to please those around her or do what feels like the "right" thing, Jessica Aguilar is making this final run all for herself.
As a top athlete in any sport, with more success comes more pressure. Certain expectations arise and make that already tough avenue all the more testing. After so long, what was once a dream come true type of profession always has that possibility to revert to your everyday job. A fearful reality that slowly crept in for Aguilar
New ways to grow and continually spice up that thing that has become the centerpiece of your life is crucial to avoid resenting it or any complacency. As time does, it heals all wounds. And in "JAG's" case, this career-long layoff has done that literally and figuratively.
"Before, there was a lot of pressure on me," she stated, "'I'm the best in the world, I have to continue that.' Now, it's just like, the last couple of years I haven't had fun with it. I hadn't been loving it. In the beginning, it was a passion. I was like, 'Okay, I'm so into this and I'm focused,' and the last couple of years, it wasn't that. And now with this little time off, whether I win or lose, I just want to do this for myself and I want to be happy doing it. If that makes sense.
"A lot of the times you lose that because you've done it for so long it's just kind of like work. And so I want to change that around for this last run. And just go for it. Just go for it, have fun and enjoy it. I've done all this work and I've been very fortunate to have great trainers and people around me that led me to here. They still believe in me and they still root me on so yeah, I want to have fun with this."
Even with all that has gone on in 2020, MMA has managed for the most part to keep itself active. Primarily in the UFC that is, but more and more promotions are starting to get back into the new swing of procedures as the year carries on. The point is, options are there and present again.
Aguilar isn't looking at the big names or considering anywhere specifically for her final landing spot. It's just about finding the right fit with a promotion that values what she has to offer. And that's a talent in the form of a once top strawweight.
Obviously, when looking at the most likely places for Aguilar to wrap up her career, an old home at first glance might make more sense than some others. Though logically, you can't help but look a little deeper when it comes to Bellator.
The promotion has yet to revisit any semblance of a strawweight division since the tournament days that Aguilar competed in. Aside from the random bouts here and there featuring certain competitors… But if she was to go back at this stage, Aguilar sees plenty of fun possibilities. And at this point, just having fun with it is all it's about for her anyway.
"Yes, they don't have a strawweight division but that was the first division that they did have and I used to fight for them," Aguilar said, "However, also, [Keri Melendez has] been wanting to kind of get a challenge. She's been calling out for a challenging fight so you know… that's something that I probably would be interested in, too. And Bellator does stay pretty consistent and they treat their fighters well. So that could be a good matchup.
"I can't go to the flyweight division, but maybe if I gain a little weight, but probably not. I would probably look into going to atomweight, actually. Atomweight would be a better choice for my body than going up to flyweight. Only because my miles are high. And I've had a handful of surgeries, maybe two handfuls (laughs). So probably it's more likely for atomweight. Staying at strawweight or atomweight. Would I take a fight at flyweight if it was offered to me and it was a right opportunity? Of course, I would.
"I'm easy to work with just as long – like I said, I really want to make the best choice for myself," she reiterated, "It's not about me feeling like, 'Oh my gosh, they're calling me and I can't say no. Like, I have to say yes, I can't turn down this opportunity.' And that's what I've been doing. So I want to make better decisions for myself."
There are always going to be "what ifs?" to any decision made. It just comes down to remembering that not everything is under your control. But for the things that are, the easiest, and perhaps the best choice is the one that is most readily available. And that's to take care of the only thing you can 100 percent promise that you can, and that is yourself.
For Jessica Aguilar, that's how she intends to finish off a career that helped build one of today's most talent-rich divisions.
"The best piece of advice that I would tell myself is make the right choices for yourself," the former titlist told, "Whether you're going to make people happy or not, it has to be about making the best choice for yourself. So that's what I would do just think about it more and make the best choice for yourself. Whether it, like I said, if you're gonna make other people happy or not.
"Just make better choices for yourself, for your career. Without thinking like, 'Oh, well, I can't say no to this opportunity,' Or I have to do this because there's… no. So to anyone, yeah, I would just say no. Stick to your guns and do what's best for you."
Drake is an MMA writer based out of Brush Prairie, Washington, USA who specializes in feature pieces, the women's fight scene, lists, news coverage, and rankings. He has been a passionate fan of MMA ever since 2009. Drake has most notably written for BJPenn.com, FanSided, The Body Lock, South China Morning Post, MyMMANews, WhatCulture, Cageside Press, Sherdog, The Scrap, and MMA Today. He has also written for and created video content for RT Sport. As for other sports, Drake is a longtime fan of the NFL's Green Bay Packers and Jacksonville Jaguars.
You can follow him on Twitter and Instagram: @DrakeRiggs_ . Also check out all of his video content on YouTube at YouTube.com/DrakeRiggs where he uploads fighter interviews, podshows, and various other types of content.