Jessica "Evil" Eye grappling to stamp out domestic violence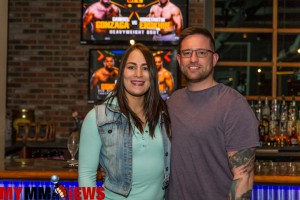 Number nine ranked UFC women's bantamweight Jessica "Evil" Eye was in Pennsylvania and New Jersey over the weekend doing autograph sessions and training seminars with MMA Signatures, the leading collector of mixed martial arts autographs and memorabilia on the internet today.
MyMMANews.com caught up with Jessica at the Trackside Grill and Bar in East Stroudsburg, Pennsylvania, during the TUF 22 Finale, where she discussed the possibility of fighting on the UFC Pittsburgh card, her reaction to Holly Holm knocking out Ronda Rousey, doing a good deed, and more.
MyMMANews – Jessica, recently the UFC announced an upcoming fight card for Pittsburgh, Pennsylvania and you had put out on social media that you would love for an opportunity to have a spot on that show.  Has anyone from the UFC reached out to you yet about possibly fighting on that show?
Jessica Eye – "I think that the UFC was doing a really good job of allowing me to get my head straight.  Obviously, I took two losses; decision losses which are different because when you take a decision loss it is a matter of opinion, so the UFC is allowing me to take some time off and they are allowing me to figure out what I want to do.  So, for me saying I want a February card, I feel like it's a no-brainer for them.  I had a couple months off, and it's a no-brainer for the fans.  It's right here in our backyard.  I have not heard anything yet but there's always some rumblings that you hear down the line."
MyMMANews – Is there anyone in particular that you are looking at?
Jessica Eye – "You know, I've always been the type of person where I say 'yes' to any fight.  It didn't matter who it was.  There's a couple good names out there.  You've got Bethe Correia, you've got Ashlee Evans-Smith.  You got girls like Raquel Pennington.  I'd love to fight Nunes but I think they have other plans for her right now."
MyMMANews – Earlier tonight you told us about training up your fight game a little bit, including a some more Muay Thai.  Can you give us some more insight into that?
Jessica Eye – "Obviously in my fights, I feel like I haven't been fighting to the best of my abilities and I feel like I've been fighting to not lose instead of fighting to win and I've not used all my tools.  I've used my hands a little bit and in the Pena fight people got to see that I have a lot better grappling ground than they like to give me credit for.  I think that I'm not utilizing some of my best tools and that's my kicks.  I broke my foot a couple years ago and I was never the same, and now we've been working my kicks in my off season, and I can't even say my 'off season' because right after the last loss I was right back in the gym.  But I've been working my kicks.  I almost want to be like Jose Aldo was against Urijah Faber. That's my favorite fight in the world and it's one of the most amazing striking fights I think I've ever seen.  I'm getting ready to work with Dorian Price and Dorian Price was Matt Brown's coach before Matt decided to move up to Elevation.  Dorian was on the Ultimate Fighter.  He's got a great background in Dutch style kickboxing which I think will be perfect for my style.  Dutch and Holland use their striking to set up their kicks and I think that will be something that is good for me."
MyMMANews – We just saw Holly Holm knock out the long time champion in your division, Ronda Rousey.  As a fan, what was your reaction on the outside looking int watching that fight?
Jessica Eye – "You know that morning I went and did a grappling tournament, and I haven't done a grappling tournament in a long time.  I had a great day in the tournament, so I was all amped up for that fight.  I think Ronda Rousey is amazing.  I would never discredit her and I would never say anything negative about her but I always knew a striker would beat her.  I could see the holes in her game as a striker.  And Holly is a lefty and I think a lot of times fighters forget how hard it is to fight a lefty and unless you train against another lefty, you are not gonna know on fight day how to fight them. There is a certain stance you need to have.  You need to stay outside of their lead leg and I think going into that fight I knew that Holly was mentally in a better state and physically seemed like she wanted it more.  As a fan… nobody in this sport goes untouched.  That means Holly too.  Nobody goes out without an 'L.'  I don't care who you are, you will get an 'L' at some point and unfortunately Ronda was given it in the most devastating way."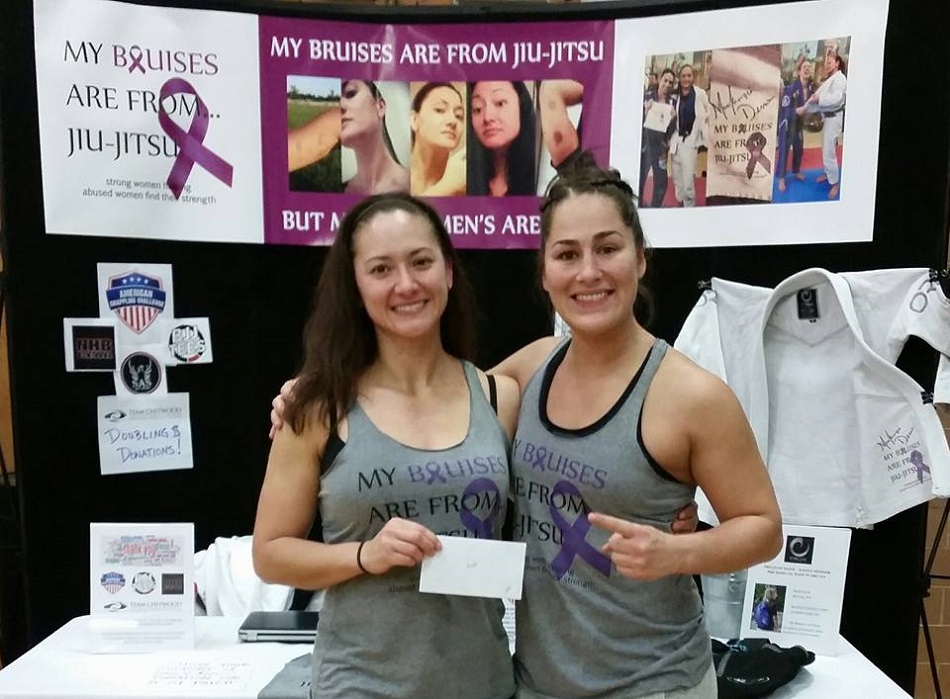 MyMMANews – You talked about the grappling tournament.  Didn't you donate your winnings to charity that day?  That's a very honorable thing to do.
Jessica Eye – "There's a new organization called 'My Bruises Are From…' and then it's blank for Jiu Jitsu.  I didn't even know that I was going to win anything for the tournament, and then when they told me that day that I won money for winning the tournament I didn't want it.  I wanted to give it back to Dustin Ware. Instead he said he was working with an amazing organization and I felt like it was the right thing to do. I didn't pay to get into the tournament because Dustin invited me.  How could I take that money?  It felt like it was the right thing to do.  I had never been given the opportunity to do something right then and there.  A lot of times you hear about people winning and later donating but I got to do it right there and it was special.  The woman was right there and she was all teared up and I thought 'Wow, I'm glad I could do this and make someone smile.'"
My Bruises Are From… was created to raise awareness & funds for victims of domestic violence and abuse. My bruises are from training, but many are not…
Jess donating her winnings from the grappling tournament to a organization that is against domestic violence against women! What a classy move by Jess to give back to a worthy cause. It was her idea too.

Posted by Jessica "Evil" Eye on Monday, November 23, 2015
MyMMANews – You have been with A.J. Hiller and MMA Signatures for the last year or so.  How has that been going and what have you two been working on together?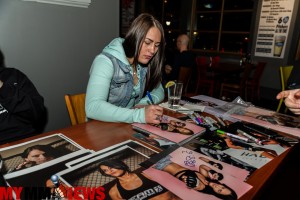 Jessica Eye – "It's only been a year that I've been working with A.J. but it feels longer than that.  I feel like when I met him at the Boston card, I got a chance to know who he was and his company.  I feel like I'm working with a friend and it's not a business partner.  That's how I like all my sponsorship deals and any type of business.  I worked hard for my name and every bit of it.  So to share it with someone as more than just a business or numbers, we're creating an alliance.  We're giving back to the fans."
Jessica also visited Nick Catone's MMA & Fitness in Brick, New Jersey, and Rivoli's Grill and Chill in Howell, New Jersey.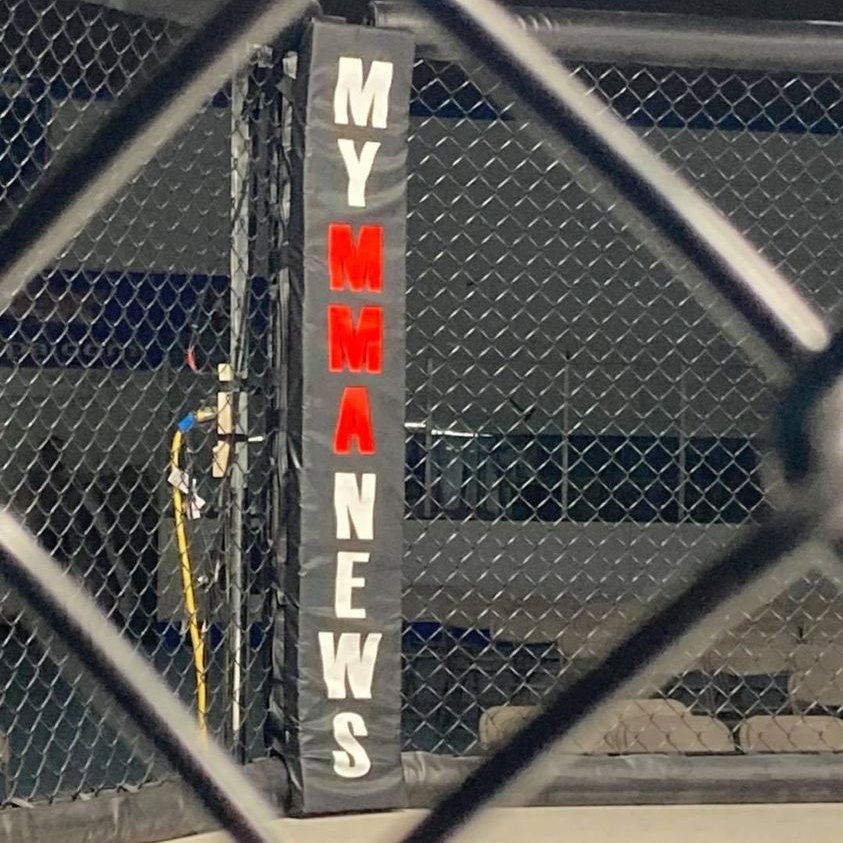 MyMMANews.com – We cover everything from MMA, BJJ, Bare Knuckle, Wrestling, Boxing, Kickboxing, and Judo
News, Opinions, Videos, Radio Shows, Photos and more.