Mauro Ranallo to join WWE Smackdown team
Today, the WWE will announce that Showtime boxing announcer Mauro Ranallo will become the new voice of WWE SmackDown when the show moves to the USA Network on Jan. 7 (at 8 p.m. ET.)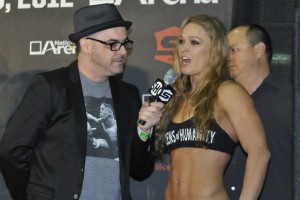 Ranallo called the international feed for the Floyd Mayweather-Manny Pacquiao fight and has called boxing, kickboxing and MMA for national outlets. He has also called New Japan Pro-Wrestling for AXS TV. USA Network will air SmackDown every Thursday night beginning Jan. 7. USA also airs Monday Night Raw live 52 weeks a year.
From SI.com
"In an interview with SI.com on Friday, Ranallo said Michael Cole, who handles broadcast talent development for the WWE in addition to on-air work, emailed him about a month ago to inquire about his interest in working with the company. Ranallo then sent the WWE some of his broadcast work, including a promotional vehicle he did for Berkshire Hathaway shareholders where Ranallo called a mock fight between billionaire Warren Buffett and Floyd Mayweather. (This was no low-end production: The video was directed by Animal House director John Landis.) The WWE brass, including chairman Vince McMahon, was impressed. 'This was an opportunity I did not think I would get at this point of my career and I jumped on it,' Ranallo said. 'I have been a lifelong fan of the product. Michael said that when Vince saw the Warren Buffet video, it seemed to cinch it. They believed I could sell the entertainment part.'"
Ranallo will still call boxing for Showtime and do GLORY kickboxing as part of his WWE deal.