Liam McGeary Retains His Title at Historic 'Bellator MMA: Dynamite 1'
COMPLETE 'BELLATOR MMA: DYNAMITE 1' RESULTS & PHOTOS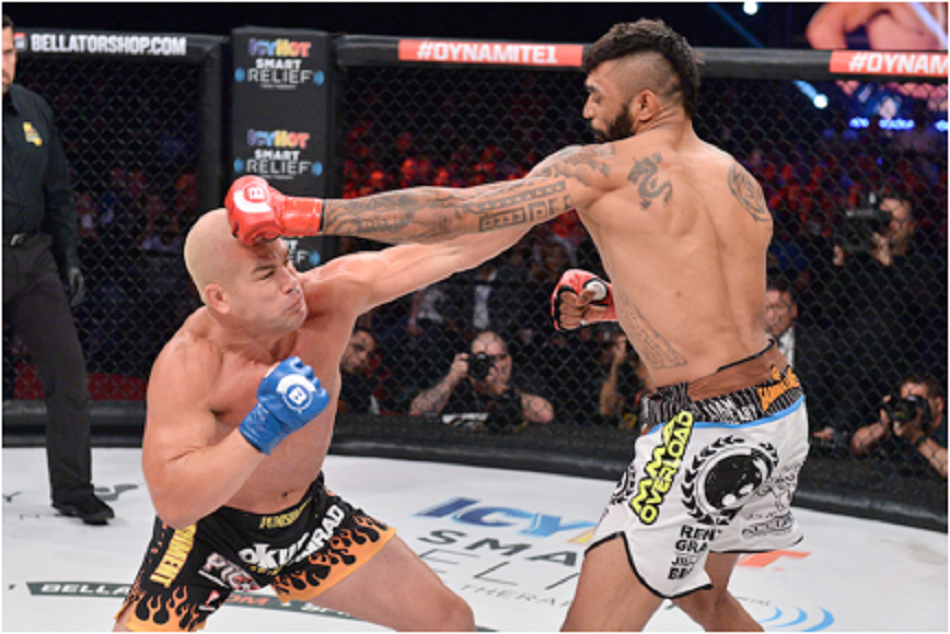 SAN JOSE, Calif. (September 19, 2015) – Liam McGeary retained his Bellator MMA Light Heavyweight title in front of a sellout crowd at The SAP Center in San Jose at "Bellator MMA: Dynamite 1."

Tito Ortiz was taking the fight to the Englishman, utilizing his world-renowned ground game to nullify the reach of McGeary, but in the end, it was the slick jiu-jitsu of the 32-year-old that signaled the end of the night for "The People's Champion."
After the fight, McGeary had plenty to say about submitting Ortiz for the first time in his career.
"The victory was amazing," said McGeary. "Tito has never been submitted before, so that was definitely an achievement for me. This is my house. You can't come into my house and try to take things away from me. I got this belt with hard work and anyone that comes in here will have a fight on their hands. That goes for anyone who steps in to fight me."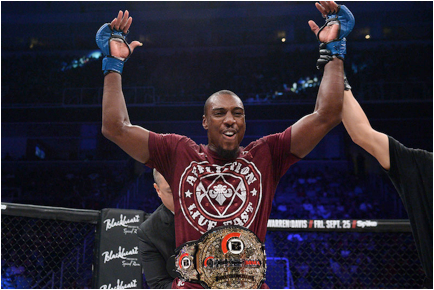 Phil Davis had a night to remember, earning his second finish of the evening to officially become the No. 1 contender at 205-pounds.
"Mr. Wonderful" caught Francis Carmont with a perfectly placed hook to the chin that sent the French Canadian to the canvas, which saw Davis promptly follow up and throw unanswered punches that forced the referee's hand and resulted in the stoppage.
"I don't know what just happened," said Davis. "I just want to thank God. I had the best training camp. I have the best coaches, teammates and people around me. You know what, I'd want to fight Liam McGeary. He's young, fresh and he's long."
The victory for Davis also meant that the Alliance MMA product received a brand-new belt to commemorate his tournament victory.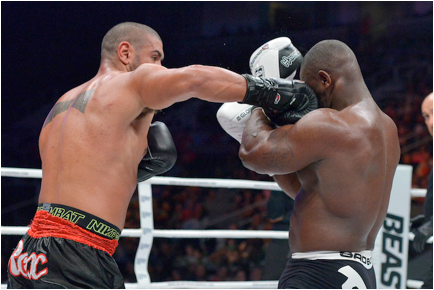 In the main event on the Glory kickboxing portion of the card, Saulo Cavalari bested Zack Mwekassa via majority decision on Saturday night at "Bellator MMA: Dynamite 1."

Cavalari managed to bounce back from a point deduction to get the judges' nod, and now owns two victories over Mwekassa in two meetings. The Brazilian now returns home with a fancy piece of hardware, the Glory light heavyweight championship of the world in tow.
Not only was "Bellator MMA: Dynamite 1" a homecoming for Scott Coker, but it also was a successful one for Josh Thomson, (21-8, 1 NC) who finished Mike Bronzoulis (18-9-1) in the second round with an arm-triangle choke.
"It feels amazing, thank you Scott Coker for making this happen," Thomson said. "Tonight was different for me, I had the jitters like I don't normally have. I wanted to perform for you guys. This may be the last time you see me in this arena."
With the win, Thomson will take a perfect Bellator MMA record into his next bout and further solidifies his roll as one of the top lightweights on the planet.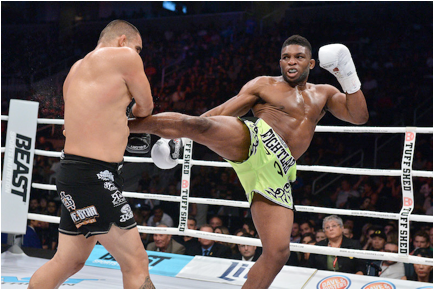 Two of Bellator MMA's top welterweights traded in the eight-ounce gloves and put on Glory kickboxing gloves and went to war inside the ring instead of the cage. In the end though, Paul Daley took home the unanimous decision victory over Fernando Gonzalez, receiving the nod from all three judges at ringside.
With the win, Daley continues to add wins to his resume, improving his kickboxing record to 21-3, while his mixed martial arts is 37-13-2. "The Menifee Maniac" doesn't lose much in defeat and will likely request a rematch inside the ring at a later date.
If you ask "Semtex" though, everything went as planned and he would not be against taking a kickboxing bout again, "This was the exact fight I expected. I knew he was tough and I knew he was a good boxer," Daley said. "I am just happy that I was able to go out there and throw shots. I wanted to throw some punches, combinations and not get too wild. I think I did just that. I'm open to kickboxing again as often as Bellator gives me the opportunity to."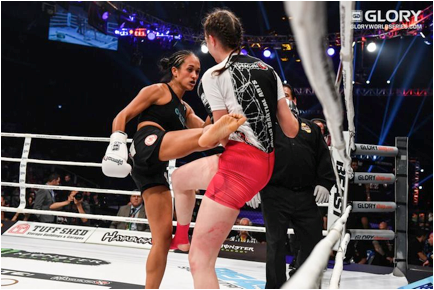 In the first Glory kickboxing fight on the main card of "Bellator MMA: Dynamite 1," Keri Anne Taylor-Melendez defeated Hadley Griffith via unanimous decision (30-27, 30-27, 30-26).
The wife of former Strikeforce Champion Gilbert Melendez, Keri didn't allow Griffith to get off much in the way of offense, keeping the pressure on the debuting kickboxer and giving the large contingent of Melendez fans a great deal to cheer about.
After the fight Keri made it clear that while she hopes to eventually transition to mixed martial arts, another kickboxing bout is not out of the question, "I'm happy I got the victory. I felt a little ring rust, but I'm happy," Melendez said. "I'm not against kickboxing, it's my first love and I'm down to do it again."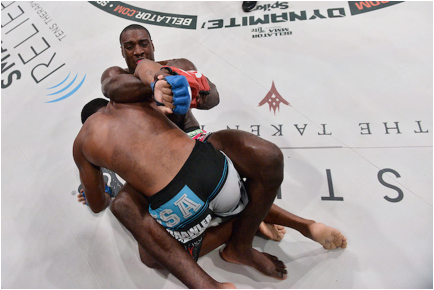 On the opposite side of the one-night, four-man tournament, Phil Davis (14-3, 1 NC) utilized a kimura to force the tap out from his opponent and former Bellator MMA 205-pound champion Emanuel Newton (25-9-1).
Davis, who was making his Bellator debut, immediately took Newton to the ground, using his superior wrestling ability to his advantage. The former NCAA D1 National Champion wrestler out of Penn State moves on to the co-main event of the evening against Carmont who beat Anthony Ruiz earlier on in the evening.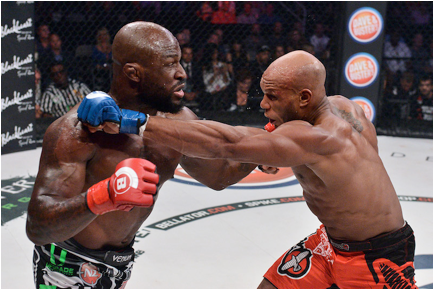 The inaugural Dynamite lived up its name with an explosive start. In the opening bout of "Bellator MMA: Dynamite 1's" four-night light heavyweight tournament, Muhammed "King Mo" Lawal (16-4, 1 NC) advanced past Linton Vassell (15-5) in a tightly contested bout that featured exciting punching exchanges and two huge slams that brought the sellout crowd inside The SAP Center to their feet. With the win, the American Top Team-product was supposed to move on to the second round of the tournament bracket, but a rib injury derailed those plans.
About Bellator MMA
Bellator MMA is a leading Mixed Martial Arts organization featuring many of the best fighters in the world. Under the direction of veteran fight promoter Scott Coker, Bellator is available to nearly 500 million homes worldwide in over 140 countries. In the United States, Bellator can be seen on Spike TV, the MMA television leader.  Bellator MMA is comprised of an executive team that includes top industry professionals in television production, live event orchestration, fighter development/relations, venue procurement, sponsorship creation/development, international licensing, marketing, advertising, publicity and commission relations.  Bellator is based in Santa Monica, California and owned by entertainment giant Viacom, home to the world's premier entertainment brands that connect with audiences through compelling content across television, motion picture, online and mobile platforms.
About Spike:
Spike is available in 98.7 million homes and is a division of Viacom Media Networks.  A unit of Viacom (NASDAQ: VIA, VIAB), Viacom Media Networks is one of the world's leading creators of programming and content across all media platforms.  Spike's Internet address is www.spike.com and for up-to-the-minute and archival press information and photographs, visit Spike's press site at http://www.spike.com/press.  Follow us on Twitter @spiketvpr for the latest in breaking news updates, behind-the-scenes information and photos.
About GLORY:
Founded in 2012, GLORY is owned and operated by GLORY Sports International (GSI), a professional martial arts organization and television content provider that maintains offices in New York, Denver, London, Amsterdam, and Singapore. GLORY programming is seen in over 170 territories. GLORY kickboxing rules are comprised of a mix of several combat disciplines including Karate, Muay Thai, Tae Kwon Do and traditional Boxing. Like us on Facebook, follow us on Twitter @GLORY_WS, and visit us online at gloryworldseries.com.
About SAP Center in San Jose
Located in the heart of Silicon Valley, SAP Center at San Jose is the premier sports and entertainment venue in Northern California.  Each year, SAP Center hosts approximately 175 events featuring professional and amateur athletes, Olympic athletes, Grammy award-winners, international recording artists, and a variety of performers who appeal to children and families alike.  SAP Center at San Jose is home to the San Jose Sharks of the National Hockey League as well as the San Jose SaberCats of the Arena Football League.  For more information about SAP Center at San Jose and for a list of upcoming events, visit the SAP Center home page at www.sapcenter.com.