The Division-1 college wrestling coaches' panel rankings have been released. The Big Ten claims five of the top Ten No. 1 ranked wrestlers in the nation. Five of the ten No. 1 wrestlers in the nation are former national champions. Nathan Tomasello of Ohio State (125 pounds), Isaiah Martinez of Illinois (157), Alex Dieringer of Oklahoma State (165), Gabriel Dean of Cornell (184) and Nick Gwiazdowski of North Carolina State (heavyweight).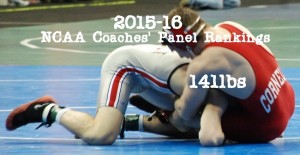 The additional top-ranked wrestlers at each weight class in the inaugural rankings are: Nahshon Garrett, Cornell (133 pounds); Dean Heil, Oklahoma State (141); Zain Retherford, Penn State (149); Bo Nickal, Penn State (174) and Morgan McIntosh, Penn State (197).
Wrestlers in each weight class will be measured by winning percentage, rating percentage index (RPI) and coaches' rankings to earn spots in their qualifying tournaments for the 2016 NCAA Division I Wrestling Championships. The coaches' rankings are compiled by a vote of coaches representing each qualifying tournament. For ranking purposes, coaches may only consider a wrestler that has been designated as a starter at a respective weight class. In order to be eligible for the rankings, wrestlers must have participated in at least five matches against Division I opponents in the weight class and have wrestled within the last 30 days.
The first of four coaches' panel rankings for the 2015-16 wrestling season were released Thursday out of Indianapolis. The final rankings will be one of the components used as part of the selection process to determine the qualifiers for the 2016 NCAA Division I Wrestling Championships. This year's event is March 17-19 at Madison Square Garden in New York City.
Rankings are through matches of Jan. 17th, 2016.
| | | | | | |
| --- | --- | --- | --- | --- | --- |
| 141 | 1 | Dean | Heil | Oklahoma St. | Big 12 |
| 141 | 2 | Joey | McKenna | Stanford | Pac 12 |
| 141 | 3 | Kevin | Jack | North Carolina St. | ACC |
| 141 | 4 | Micah | Jordan | Ohio St. | Big Ten |
| 141 | 5 | Anthony | Ashnault | Rutgers | Big Ten |
| 141 | 6 | Matt | Manley | Missouri | MAC |
| 141 | 7 | Todd | Preston | Harvard | EIWA |
| 141 | 8 | Solomon | Chishko | Virginia Tech | ACC |
| 141 | 9 | Thomas | Thorn | Minnesota | Big Ten |
| 141 | 10 | Mike | Racciato | Pittsburgh | ACC |
| 141 | 11 | Joseph | Ward | North Carolina | ACC |
| 141 | 12 | Bryce | Meredith | Wyoming | Big 12 |
| 141 | 13 | Chris | Mecate | Old Dominion | MAC |
| 141 | 14 | Rick | Durso | Frank. & Marsh. | EIWA |
| 141 | 15 | Steve | Bleise | Northern Ill. | MAC |
| 141 | 16 | Zachary | Horan | Central Mich. | MAC |
| 141 | 17 | Anthony | Abidin | Nebraska | Big Ten |
| 141 | 18 | Randy | Cruz | Lehigh | EIWA |
| 141 | 19 | Brock | Zacherl | Clarion | EWL |
| 141 | 20 | Javier | Gasca III | Michigan St. | Big Ten |
| 141 | 21 | James | Gulibon | Penn St. | Big Ten |
| 141 | 22 | Mike | Pongracz | Chattanooga | SoCon |
| 141 | 23 | Tyler | Smith | Bucknell | EIWA |
| 141 | 24 | Brock | Ervin | Illinois | Big Ten |
| 141 | 25 | Ian | Nickell | CSU Bakersfield | Pac 12 |
| 141 | 26 | Jamel | Hudson | Hofstra | EIWA |
| 141 | 27 | Danny | Sabatello | Purdue | Big Ten |
| 141 | 28 | Trevor | Jauch | UNI | MAC |
| 141 | 29 | Jordan | Laster | Princeton | EIWA |
| 141 | 30 | Jameson | Oster | Northwestern | Big Ten |
| 141 | 31 | Robert | Mathers | Arizona St. | Pac 12 |
| 141 | 32 | Zach | Finesilver | Duke | ACC |
| 141 | 32 | Nicholas | Gil | Navy | EIWA |