PA Cage Fight 35 results – Fitzpatrick vs. Piriz for featherweight title
PA Cage Fight 35 will be held Saturday, March 23, from Genetti's Hotel and Conference Center in Wilkes-Barre, Pennsylvania, and the promotion's professional featherweight title will be on the line.
The winner of the headlining bout between Jim Fitzpatrick (2-0) and Chris Piriz (6-6) will be the new 145-pound champion.
Quick sub
The first fight of the night, a heavyweight amateur bout, was short-lived as Johnny Vann was able to work his way down to the mat along with opponent Mike Grybos.  Vann submits Grybos by way of rear-naked choke just 87-seconds into the contest.
Ladies bring the fight
A women's atomweight contest followed the big men as a pair of 105-pounders in Lauren Strausser and Amy Golding entered the cage.  The ladies are bringing the heat, first on the feet, and then they go to the canvas.  Strausser locks up and armbar and is working to flip her opponent over to complete the submission when Golding works her way free.  Now, with just seconds left in the first frame, Golding snaps on her own armbar and nearly forces the tap before time expires.  We move to round two. Strausser places her opponent in a tight triangle choke, but Golding is posturing just right to avoid being put to sleep and is able to stay in the fight.  Round three starts and the ladies decide to stand and trade.  Fists are flying before they are exchanging knees in the clinch.  This one goes to the judges.  Hell of a fight, likely the best women's amateur atomweight fight I have seen in the Keystone State.  Strausser wins a split decision victory.
Second time for Santos
The third fight on the night was for the promotion's amateur featherweight title.  Cristian Santos of Miller Brothers MMA went toe-to-toe with Mike "Maniac" Lorenz.  Santos is piecing apart the leg of Lorenz.  The inside kicks are taking their toll.  Lorenz realizes this and lets his hands fly.  He backs Santos up into the corner.  Santos working for a guillotine as Lorenz drops his  head.  They begin to tee off on each other's heads and as they work towards the canvas, the corner padding falls off and the fight is temporarily halted as officials work to fix it.  The fight continues and the men are now well-rested and exchange leather at a high-rate of speed to close out the final 20-seconds of the first round.  Round two starts and Lorenz is on a mission.  He's trying to knock the Santos' head in to the third row.  Santos quick to spot the danger, quickly turns up the heat and lands an uppercut of his own.  He goes back to working the inside leg.  Santos lands a kick to the body that echoes throughout the ballroom.  We have a fight ladies and gentlemen.  Lorenz trying to drag Santos down to the canvas with a trip in the final frame.  Santos not having it, doing everything he can to maintain his balance.  Santos wins a unanimous decision after time expires and reclaims the title.
Carter continues to improve
Justin Carter wasted little time to take the fight to Josh Jones.  Carter's hands are relentless and he immediately gets the fight to the mat where he works for a rear-naked choke.  They stand, Jones presses forward.  The two men let the leather fly.  Carter takes it back down, listens to cornerman Sean "Shorty Rock" Santella, and is apply pressure to ensure the judges score the first round in his favor.  Carter comes out blazing again in the second, lands three shots, and slams his opponent down hard.  Jones comes to life and finishes the round with ground and pound on top of Carter.  Will be interesting to see how this round is scored but it should go in Carter's favor.  Carter slams Jones in the final round, gets back control, but loses it with 10-seconds left in the fight.  Jones punches his way to the bell.  They stand as the fight is now over and blood is dripping from the nose of Jones.  Carter wins unanimously.
Swoyer Slam
Austin Swoyer swooped big man Kevin Ranski up over his head, slamming him down hard to the canvas and it looks as if Ranski is injured.  He is trying to grab what appears to be his shoulder, grimacing in pain.  Swoyer swoops in and forces a tap.  This fight is over almost as soon as it started.  Medical officials enter the cage and tend to Ranski who is carried away on a stretcher.  Unfortunate accident but he will be back.  Swoyer retains the title by way of head and arm choke.
Harnish wins by disqualification
Dylan Harnish of Bloomsburg MMA is making his MMA debut tonight.  His opponent, Miller Brothers MMA prospect Josue Santos.  The fighters feel each other out with a few powerful leg kicks before Santos throws a kick to the head and knocks Harnish down.  The kick is illegal due to the fighters being amateur competitors.  Harnish wins by disqualification.
And New
Bad blood enters the cage as Luis Rivera and Omar Kellom lock horns in the final amateur fight of the night.  Kellom coming on strong, knocks Rivera down and plays out of the guard, working shots to the body.  Rivera throws with bad intensions here in the second.  Kellom gets him down and starts to throw knees to the body.  As Rivera tries to rise up, Kellom pushes forward and knocks him back down.  In the third and final round, Kellom catches a kick and throws Rivera down.  Rivera throwing hammer fists to the body. This goes to the judges and Kellom wins a decision and the amateur lightweight title.
Ledesma victorious
The flyweights kick off the professional portion of the card.  Claudio Ledesma is pressed up against the cage almost immediately by Michigan Top Team's Jesse Bazzi.  Ledesma works out of it and lands a head kick.  He swoops in for a double leg and puts Bazzi on his butt.  They stand, Ledesma works to the back, but noting there.  They break, Bazzi lands a body kick.  The two feel each other out with jabs and leg kicks before the heavy hands start to flow.  With 10 seconds left in the round Ledesma sends Bazzi across the cage with a takedown.  Bazzi pressing Ledesma up against the cage after a brief exchange at the center.  They break, return center, circle, and trade shot for shot.  Bazzi slips after a low leg kick but immediately pops back up.  We head to the final round.  Each fighter finding success with their shots before the fight is dragged down to the canvas.  Bazzi working off his back.  Ledesma not letting him up, throwing elbows, pushing his opponent back down at every chance.  Ledesma win unanimously.
Leonard gets KO and title
Jimmy Jordan throws a leg kick that sets Christian Leonard back and makes him think twice about coming forward.  Leonard lands a kick, Jordan lands a kick, Leonard lands a kick.  Leonard throws and Jordan grabs his own hand, winces in pain, and appears to have put his own finger back in places.  Jordan comes forward with a takedown.  They stand, Jordan connects with a big right.  Leonard gets the takedown and begins brutal ground and pound.  Referee Bill Bookwalter calls an end to the contest.
Fitz Fight
Jim Fitzpatrick came in to the night's main event as the fan favorite in his featherweight title bout against New York's Chris Piriz.  Piriz having more success on the feet than Fitz who shoots in to get the fight to the floor.  Piriz, standing over Fitz, throws shows down to the body.  Fitz, the BJJ black belt out of Miller Brothers MMA, locks up and armbar from bottom but Piriz slams him down three times to shake him free.  Piriz gets back in control and continues his assault before time expires.  Fitz throws a head kick to open the third round, grabs a thai clinch and lands two big knees to the head.  Piriz breaks free and asks for more.  They lock, and Piriz throws Fitz against the cage.  Fitz drags him down and works for a kimura.  The crowd goes nuts.  Piriz survives.  Fitz works elbows and punches to the head.  Fitz gets back control with hooks in.  Piriz trying to shake him off.  Fitz slides down, locks up a triangle, Piriz gets out.  They get to feet, and Fitz may have gotten hit, stumbling a bit as he throws a punch and shoots in.  Piriz lands an elbow to the side of the head.  Fitz on his back with 10 seconds left.  Whoever wins this third and final round will walk away with the title.  So far Piriz is controlling as he seems to be slightly stronger than Fitz and is able to push him where he wants.  Fitz gets a huge reversal and the crowd erupts.  They stand and Piriz again pushes Fitz up against the cage.  Fitz throws two knees to the body and spins him.  The separate, move to the center and exchange big shots.  This goes the distance and Jim Fitzpatrick is your champion by way of unanimous decision.
PA Cage Fight 35 results below:
Pro Card
Jim Fitzpatrick defeated Cris Piriz via unanimous decision (29-28, 29-28, 29-28) for pro featherweight title
Christian Leonard vs. Jimmy Jordan via KO – Round 1, 3:40 for pro welterweight title
Claudio Ledesma defeated Jesse Bazzi via unanimous decision (29-28, 29-28, 29-28)
Amateur Card
Omar Kellom defeated Luis Rivera via unanimous decision (30-27, 29-28, 30-27) – for amateur lightweight title
Dylan Harnish defeated Josue Santos via disqualification (illegal kick) – Round 1,  0:27
Austin Swoyer defeated Kevin Ranski via submission (hear and arm choke) – Round 1, 0:25 – for amateur heavyweight title
Justin Carter defeated Josh Jones via unanimous decision (30-27, 30-27, 30-27)
Cristian Santos defeated Mike Lorenz via unanimous decision (29-28, 30-27, 29-28) – for advanced amateur featherweight title
Lauren Strausser defeated Amy Golding via split decision (29-28, 28-29, 30-27)
Johnny Vann defeated Mike Grybos via submission (rear-naked choke) – Round 1, 1:27
Photo gallery by MyMMANews photographer William McKee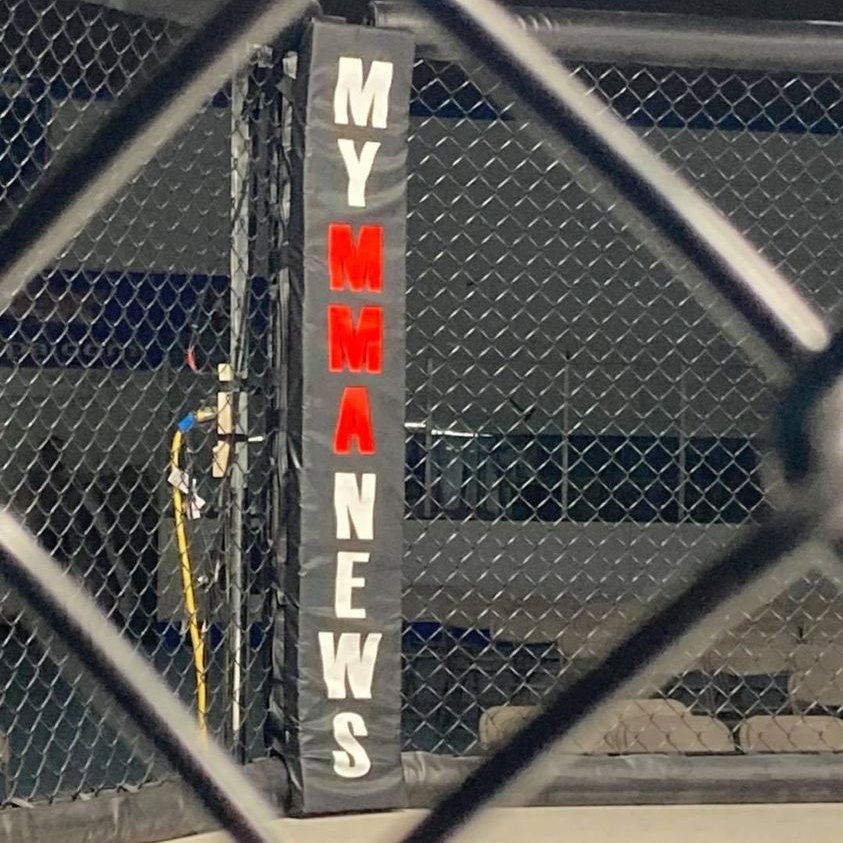 MyMMANews.com – We cover everything from MMA, BJJ, Bare Knuckle, Wrestling, Boxing, Kickboxing, and Judo
News, Opinions, Videos, Radio Shows, Photos and more.