The career of TJ Dillashaw has been surrounded with controversy over the last few years for obvious reasons, but the heights he reached at 135 lbs were only ever paralleled by one person, Dominick Cruz.
The two former champions are the two greatest bantamweight cage fighters of all-time, and they fought once, Cruz winning the heavily disputed split decision in their five round title fight.
But let's get into what Dillashaw did throughout his MMA career, because it was nothing short of legendary:
We first got notice of TJ Dillashaw on the set of The Ultimate Fighter 14 where he handily went 3-0 on the show,
securing two finishes en route to becoming one of his seasons two finalists. He debuted in the UFC with a record of 4-0 opposing fellow finalist and future two-time flyweight title challenger John Dodson, who TKO'd him in just under two minutes to win the TUF 14 trophy.
Some could say the stoppage was early, and it was, though Dillashaw was clearly hurt. It didn't hinder his trajectory however, as he returned to pick up his first promotional win just two months later.
We mentioned how he went 3-0 on the show and was 4-0 as a professional going into his UFC debut; he also went 1-0 as an amateur, meaning Dillashaw was unofficially 8-0 in MMA before losing for the first time.
Nonetheless, Dillashaw would rebound from his first defeat with four-straight victories, absolutely mauling Walel Watson in his sophomore effort with the promotion. He secured three takedowns, one in each round, and out-struck Watson 154-19 in total strikes throughout.
It was a truly dominant performance.
Dillashaw then submitted (rear naked choke) high level grappler Vaughan Lee in his next outing, a fight he was being out-struck in. But that all changed in his next fight, his first fight under the tutelage of Duane Ludwig, where he picked up a KO victory (head kick & punches) at :26 of round two over Issei Tamura. He'd pick up another knockout victory in his next fight, this one coming in the latter stages of the opening round over Hugo Viana.
Dillashaw would then lose a razor-thin split decision to longtime bantamweight staple Raphael Assuncao, before out-striking a highly touted prospect in Mike Easton to a unanimous decision victory in his next outing.
Raphael Assuncao was expected to get the next shot at the title against Renan Barao following his next victory over Pedro Munhoz. However, the Brazilian suffered a rib injury, forcing him out of his title bout with the pound-for-pound king.
In his absence, Dillashaw was granted the title fight on three weeks' notice, and the result of it shocked us all.
Going into this fight, as mentioned above, Barao was ranked as the no. 1 pound-for-pound fighter on the planet. He was unbeaten in 33-straight fights, coming in with a record of 32-1 (1 NC), his only defeat coming in his professional debut via unanimous decision.

This included a 9-0 (six finishes) run in the WEC and UFC, seeing him go 4-0 in world title fights up until that point.
Barao was a high level BJJ black belt with nasty Muay Thai and finishing instincts like no other, he really was the full package.
Dillashaw was such a massive underdog going into this fight, and considering the result, it remains to this day one of the biggest upsets in MMA history. Dillashaw nearly KO'd Barao in the opening round with a vicious overhand, before absolutely dominating him with his kickboxing en route to a fifth round TKO (head kick & punches) victory, as he out-struck Barao 169-68 in total strikes throughout.
This was perhaps the most impressive performance we'd ever seen out of any fighter, ever, he truly rose to the occasion on this night.
An immediate rematch was expected to take place, with Barao falling ill at the weigh ins, where he was replaced by former Bellator featherweight champion and TPF bantamweight champion Joe Soto.
Soto held his own for a time, as the opponent change certainly threw Dillashaw off. However, Dillashaw would secure another fifth round KO victory (head kick & punches) to make the first defense of his newly claimed title.
By this point, Dillashaw was 2-0 in world title fights, both wins stemming from head kicks in the fifth and final rounds. Now it was time for him to rematch the Brazilian phenom, who had since gotten back on the winning track with a submission win of his own.
Dillashaw ended up TKO'ing Barao in round four this time around, making the second successful defense of his UFC bantamweight championship.
Next, he'd be facing the returning Dominick Cruz, who'd competed in, and won just one fight in over four years due to a multitude of injuries he sustained as champion (Barao took Cruz' place in his absence, up until Dillashaw beat him).
After an incredible back-and-forth war, Cruz walked away as champion, and it left a sour taste in Dillashaw's mouth.
Instead of an immediate rematch, which probably should have happened, Dillashaw was forced to take two more fights, non-title fights, against the likes of Raphael Assuncao in their rematch, and then John Lineker.
Assuncao, at his best, was 11-1 in the UFC as a bantamweight, only losing to Dillashaw, someone he also had a win over. Then we have Lineker, who was 10-2 in the UFC at the time the former champion fought him. And, Lineker was 4-0 in the UFC at 135 lbs.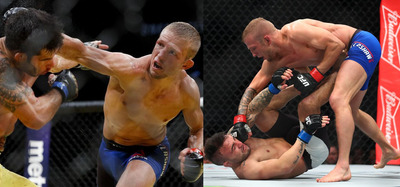 Dillashaw handily out-struck Assuncao this time around, and he just as handily out-wrestled Lineker, winning both fights via unanimous decision.
Assuncao went on to win four more fights in a row, defeating the likes of Aljamain Sterling, Marlon Moraes, and Rob Font, while Lineker went 2-1 over his next three UFC bouts. He defeated Marlon Vera and Brian Kelleher, lost a split decision to Cory Sandhagen, and then moved over to ONE Championship, where he's since gone undefeated, capturing the 145 lb championship.
Now it was finally time for Dillashaw to fight for the belt again, this time against former teammate Cody Garbrandt, who'd since taken the title from Cruz in his own performance of a lifetime.
Following a scare at the end of round one where Dillashaw was knocked down courtesy of a vicious overhand from Garbrandt, Dillashaw would land a head kick in round two that had Garbrandt badly hurt.
Some follow up punches later and Dillashaw was now a two-time UFC bantamweight champion, ending Garbrandt's undefeated reign.
Dillashaw would KO Garbrandt in round one of their immediate rematch, but this was the last time we'd ever see him win a title fight.
The California native decided next to drop down to 125 lbs to challenge Henry Cejudo for the flyweight crown in his attempt to become a two-division world champion, a fight he lost via TKO just 32 seconds into round one. Again, many viewed this as an early stoppage.
But, following this fight, Dillashaw would be suspended for two years after failing a post-fight drug test.
Dillashaw tested positive for EPO, and he was stripped of his title and forced to sit on the sidelines for two and a half years. He'd just turned 33 years old at this time, and considering he'd be out for two-plus years, there was a reason for concern regarding his career.
Not only was his legacy now tainted, but he would be at least 35 years old upon return. Considering Dillashaw competed in a lighter weight division, that age, and that extended amount of time off was detrimental to his career.
This did however give him the time needed to get surgery on both of his shoulders, something he'd needed to do for a couple years at that point.
Dillashaw returned two and a half years later to face then no. 2 ranked Cory Sandhagen, who was coming off back-to-back knockout victories over multi-time world champions in Marlon Moraes (WSOF bantamweight) and Frankie Edgar (UFC lightweight).
After five rounds were completed, Dillashaw was awarded the split decision victory, the first non-decisive win of his entire career. Some believed he won, and some believed Sandhagen won. You'd have to go back and watch it to form your own opinion, it was a close one.
This win granted him a shot at the UFC bantamweight championship against current champion Aljamain Sterling.
The only thing is, Dillashaw suffered a knee injury in his fight with Sandhagen, and it'd be another year and a half before he could return to face Sterling. Quite reminiscent of Dominick Cruz aye?
However, Dillashaw went into this fight with another shoulder injury, and he was absolutely mauled throughout en route to a second round TKO defeat. It was hard to watch for Dillashaw fans, but whether you like it or not, Sterling is much better than we once gave him credit for.
Unfortunate for Dillashaw and his fans, he'd retire one month following the bout, as he needs more surgeries that'll take another year or two to fully heal.
At 36 years of age, turning 37 in February of 2023, Dillashaw decided it was time to hang up his gloves, as a second return would more than likely not result in another title reign in his late 30's.
It's unfortunate he abused PED's and had over two years taken away from his prime.
Had that not happened, we would've seen him fight Marlon Moraes back when Moraes was at his best. And at his best, Moraes was one of the most dangerous fighters of all-time out of any weight class. We would've seen him fight Jose Aldo, we may had seen him rematch Dominick Cruz, we may have seen him face Petr Yan.
Instead, sadly, we got none of those fights.
At the time of his failed drug test, Dillashaw was 16-4 as a professional, and not one of those defeats was convincing; the TKO defeats to John Dodson and Henry Cejudo, in many peoples opinion as mentioned above, were both stopped early, and the only other two defeats of his career both came via
split decision against Raphael Assuncao, a loss he avenged, and Dominick Cruz, both fights of which many believe he won.
But, father time defeats us all, as he was unable to become a three-time UFC bantamweight champion. Retiring with a record of 17-5 in November of 2022, Dillashaw could easily be 18-4, 19-3, or even 20-2 as a professional.
Nonetheless, his overall MMA record is 21-5, counting his amateur and TUF bouts.
Again, that record could easily be 23-3 or 24-2.
At his best, he knocked both Renan Barao and Cody Garbrandt out twice. He broke them both, and neither have been the same since. Barao went from 32-1 to 34-9, while Garbrandt went from 11-0 to 12-5.
Both of their careers were completely ruined courtesy of TJ Dillashaw.
What's more, Barao was just 27 years old at the time of their first fight, while Garbrandt was only 26. They were both expected to be in their prime for at least another five years, if not longer. Instead, neither ever recovered from that first defeat.
Duane Ludwig becoming Dillashaw's head coach was the best thing that ever happened to his career; the way he could switch stances in the middle of his striking combinations led
to so many impressive performances for him.
Dillashaw was a true pioneer in that regard, it was something we'd never really seen anyone do before, not the way he did it. He kind of took Dominick Cruz' style, mixed it with Ludwig's coaching, and became a much more dangerous version of Cruz.
It was a spectacular thing to witness when Dillashaw was on top.
Regardless of how you feel about his suspension, one thing is for certain: TJ Dillashaw is one of the two, if not the number one greatest bantamweight to ever live.
What's your favorite TJ Dillashaw moment?
TJ Dillashaw Career Accomplishments:
Two-time UFC bantamweight champion (two defenses during first reign, one during second)
Three successful title defenses in total
Tied with Dominick Cruz & Aljamain Sterling for most consecutive title defenses in UFC bantamweight history (2) – tied for second with Sterling if you count Cruz' WEC title fights, in which case he had four straight defenses
First fighter to finish back-to-back title fights in round five
Second-most finishes in UFC bantamweight history (8)
Most knockouts in UFC bantamweight history (7)
Tied with Aljamain Sterling for most wins in UFC bantamweight history (13)
Most wins in UFC bantamweight title bouts (5) – second most if you count Dominick Cruz' WEC fights (7)
Retired at age 36 with record of 17-5 (8 knockouts, 3 submissions, 6 decisions) – last seven finishes via knockout
Thank you, TJ Dillashaw, for your illustrious and evolutionary career, it was incredibly fun to watch.
If you enjoyed this piece, feel free to share it on social media!
I became a fan of combat sports when I was 12 years old. I was scrolling through the channels and landed upon versus, where WEC was televised. Urijah Faber fought Jens Pulver for the second time that night. That's the first fight I saw, and the fight that got me hooked on the sport. Since then, the sport has grown so rapidly, and my goal is to enlighten everyone on what's going on in the sport today.