Every sport has its champions. With the majority being team-oriented, most leagues just celebrate the one who rises to the top above all others at their season's conclusion. But in an individual endeavor like fighting in MMA, weight classes and various promotions come into play. Thus creating a multitude of possibilities.
In the current landscape, there are fighters aplenty who are holding big gold belts all around the world. For some, they are the first holders of their titles but they sure won't be the last.
It takes two fighters to make a fight. Recently, MyMMANews took a look at the 20 greatest fights of all-time that featured the women of the sport. As a necessary follow-up, we decided to look at the 15 best female champions MMA has ever seen.
In totality, MMA is still a rather young sport and the women who compete came along more recently than the men. However, they've still managed to leave their respective marks throughout history so far and continue to do so with each new year.
To make this list, a criterion of having at least one title defense or titles in multiple organizations was required. Because as the old saying goes, it's easy to become a champion – but it's even harder to stay a champion.
With that in mind, let's take a look at the 15 greatest women's champions in MMA history.
Note: The * marks that the fighter is currently the champion
Honorable Mentions:
Ariane Lipski, Miesha Tate, Weili Zhang, Michelle Waterson, Carla Esparza
15. Tonya "Triple Threat" Evinger – Invicta FC bantamweight champion (2 title defenses)
For the first portion of her career from 2006 to mid-2011, Tonya Evinger was viewed as nothing more than a gatekeeping pioneer. She was good enough to hang and be competitive with some of the best but she never quite got the job done. That was until she lost to Sara McMann.
After starting her career with a 9-5 record, Evinger would go on a stunning nine-fight winning streak. She would win the first three before heading to Invicta FC where three more great performances would earn her a crack at the vacant title.
Standing in Evinger's way was the rising Mexican prospect, Irene Aldana. Known for her crisp boxing and great finishing ability wherever the fight went, this was an opportunity for Aldana to show if she was ready to take that next step.
Unfortunately for her, the seasoned vet in Evinger came in and dominated her way to a fourth-round TKO. Evinger's gritty in-your-face style was the perfect kryptonite to the ever-dangerous Aldana.
Evinger's first title defense would end up being a non-title bout after her challenger, Pannie Kianzad, missed weight. Regardless, Evinger still styled on her undefeated opponent and got the finish with strikes in round two. Each time out was proving more and more that "Triple Threat" deserved to be in the UFC where she had seemingly been rejected from in the past.
Her first official defense came over Colleen Schneider via unanimous decision before some controversy struck.
At Invicta 20, Evinger welcomed Russia's Yana Kunitskaya to the Invicta cage. Initially, we would see Evinger's reign of terror end as Kunitskaya pulled off the massive upset with an armbar in only a minute and 59 seconds. However, Kunitskaya would only be able to celebrate for so long.
Evinger appealed her loss and to the surprise of many, actually won it. She was once again the champion. Her appeal stated that referee Mike Englund told her to adjust her foot which she placed on Kunitskaya's face while the challenger attempted to secure the armbar. The defense from Evinger was that she did nothing wrong as she wasn't stomping or striking Kunitskaya's head with her foot.
In the end, the controversy was solved in their rematch where the Russian put up another valiant effort and got close with some submissions. Ultimately, Evinger survived and got a submission of her own as Kunitskaya tapped to a rear-naked choke in the second round.
Evinger remains the most dominant 135-pound champion that Invicta has seen to this point and her overall resurgence was unexpected yet very entertaining, to say the least.
14. Sarah Kaufman – Strikeforce bantamweight champion (1 title defense) and Invicta FC bantamweight champion
Strikeforce's 135-pound title was first held by Canada's own Sarah Kaufman.
At the time, the JacksonWink MMA product was as good as any champion as she boasted a perfect 10-0 record going into her title bout with Takayo Hashi in 2010. While her reign would begin and end in 2010, Kaufman would score a successful defense with a slam over Roxanne Modafferi in the third round of their tilt.
Dethroned by another pioneer in Marloes Coenen, Kaufman would get another title shot before Strikeforce was eventually absorbed by the UFC.
In 2018, Kaufman made her way to Invicta after her four-fight stint in the UFC. Putting on a vintage performance against Pannie Kianzad, a vacant title shot against Katharina Lehner would follow.
Kaufman always had the skills and talent of a top 10 bantamweight and she just continued to prove that there was more to her game against Lehner.
Picking her opponent apart with her striking for the majority of the fight, Kaufman secured a takedown that led to a rear-naked choke in the third to capture the gold. She was now only the second fighter to hold titles in Strikeforce and Invicta.
After a unique stint in the PFL lightweight division, it will be interesting to see how Kaufman will close out her underappreciated career.
13. Julia "The Jewel" Budd – Bellator featherweight champion (3 title defenses)
Until the start of 2020, there was only one female featherweight champion in Bellator's history.
Similarly to Sarah Kaufman, her fellow Canadian in Julia Budd has put together one hell of an underrated career. With a 13-3 record overall, her losses all are coming to fighters who we'll be talking about as this list goes on.
Aside from that, Budd has dispatched of everyone that's been put in her way and shown championship resolve and developments as her career carried on.
In 2017, two years after Bellator introduced their 145-pound weight class, Budd would face off with Marloes Coenen for the inaugural title and dominate the legend en route to a fourth-round TKO. She was now officially the face of their division.
Three successful title defenses followed with the latter two being her two most impressive performances. Budd was a solid champion and has cemented herself as the second greatest female featherweight champion we've seen in MMA to this point. Unfortunately, the problem with featherweight has always been its lack of depth which hurts Budd's placement on the all-time list.
12. "The Panda" Xiong JingNan – ONE Championship strawweight champion (3 title defenses)*
The back end of this list features some of the more underrated fighters we've seen in the sport. But perhaps none fall under that label more than China's "Fighting Panda" Xiong JingNan.
Of course, most MMA fans, especially in the Western world will think of current UFC champion Zhang Weili when they think of China and MMA champions. While Zhang was the first Chinese UFC champion, she wasn't the very first major MMA champion from her country. That little piece of history was made by Xiong a year and a half prior.
Similarly to Zhang, the majority of Xiong's early career began in China's Kunlun Fights promotion. Debuting in 2014, Xiong would enter into ONE Championship in 2017 and get a good win over April Osenio which earned her the opportunity to become ONE's first strawweight queen.
Standing in her way was the unbeaten Tiffany Teo who put up a good fight before eventually succumbing to "The Panda's" fists in the fourth round. Xiong is still the only person to have bested Teo in MMA.
Now China's first champion, two successful title defenses followed in excellent fashions for the Jining, Shandong native. It would be Xiong's third attempt to retain her title which ended up being the biggest and most impressive.
In the division directly below Xiong, atomweight champion Angela Lee was busy making history of her own. Now, it was time to try and make even more in what has wound up going down as the second super fight pitting female MMA champions from different divisions against one another.
Lee came up to Xiong's division of strawweight and the two put on one of the greatest fights you'll ever see. With Lee being the superstar, Xiong was wrongfully overlooked but thrived under pressure in what was a back and forth fight that played out as a classic striker vs. grappler match. Ultimately, Xiong played spoiler to Lee's hopes of holding two titles when she put her opponent away in the fifth round with an onslaught of shots to the body.
The two would rematch a matter of months later and they put on yet another instant classic. They were a match made in MMA heaven it seemed. This time around, however, Xiong was getting her turn to try and become double champ as she went down to atomweight. Unfortunately for her, Lee held her off just like she was held off in their first encounter.
Regardless, the Chinese warrior has left a unique mark in the sport and continues to thrive and represent her country with pride.
11. Jennifer Maia – Invicta FC flyweight champion (2 title defenses)
There was once a time where the flyweight division was arguably the most talent-rich across the globe out of all women's divisions. In totality, it's still up there … but it's not quite the same as it used to be. During that time, Brazil's Jennifer Maia was reigning supreme as the top dog.
For the first 14 fights of her career and her initial Invicta stint, Maia had yet to seem like a fighter with the potential to become the champion. When facing off with notable names in key fights was when she came up short. With the exceptions of a young Jessica Andrade and Zoila Frausto – two fighters that were future and former champions.
Maia found her stride in 2015 and put together a good three-fight winning streak that earned her a crack at the interim Invicta flyweight title upon her return to the promotion. It would be a rematch for Maia against an old foe that had beaten her earlier in her career, Vanessa Porto.
Like Maia, Porto has been a pioneer of the division and a staple among the elites who compete within it. Both fighters had gotten close to the title in the past, but now they were vying for it against one another.
In the end, Maia would get her redemption as she earned a unanimous decision over her fellow Brazilian. Heading into her first title defense against Roxanne Modafferi, Maia would end up getting promoted to the undisputed champion after the prior titleholder was stripped.
Putting on a Fight of the Night winning showing, Maia came out with the split decision and earned Fight of the Night once again in her follow-up defense which was her last. In that bout, she handed the surging undefeated Aga Niedzwiedz her first career loss.
Maia never lost the Invicta title and carried over her label as best flyweight in the world over to the UFC.
10. "Little Warrior" Barb Honchak – Invicta FC flyweight champion (2 title defenses)
Before there was Jennifer Maia, there was Barb Honchak. And that's meant literally. The Washington state resident held the undisputed Invicta flyweight crown before being stripped due to inactivity. Thus leading to Maia's coronation.
Prior to that, however, Honchak had established herself as one of the best fighters on the planet and the clear best at 125-pounds.
The "Little Warrior" would go down as the first flyweight champion in Invicta's history and she achieved that feat in April 2013 with a win over the aforementioned Vanessa Porto.
Winning pretty convincingly, as she generally did with her solid striking and dominant wrestling game, Honchak defended her title twice in her bouts that followed. Falling victim were the likes of Takayo Hashi and Leslie Smith.
For Honchak, there was a lot left to be desired as she suffered an injury after her three title bouts that put her out of action and what in hindsight ended up being an unintentional first retirement. A matter of years later and Honchak returned to MMA as part of The Ultimate Fighter season 26.
Before that, she was seemingly an unbeatable force atop her division.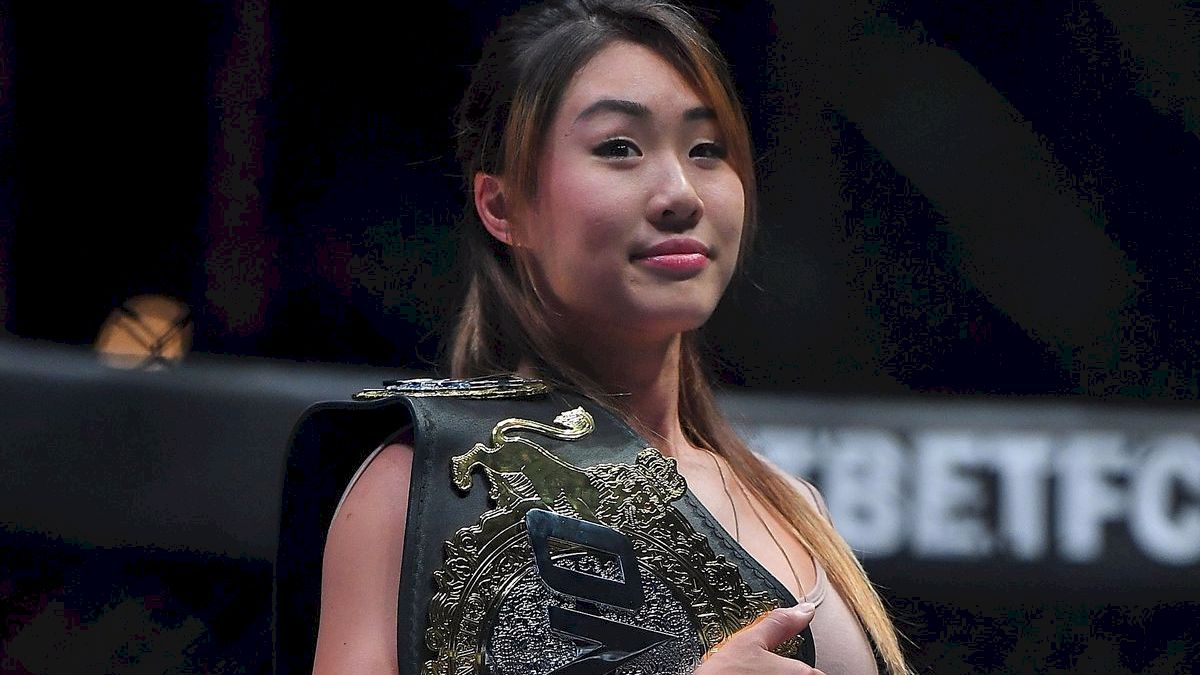 9. "Unstoppable" Angela Lee – ONE Championship atomweight champion (4 title defenses)*
For most of her still very young career, Angela Lee has indeed lived up to her nickname. And along with being "Unstoppable", she's done the unthinkable by becoming the youngest major world champion in MMA history. Sorry, Jon Jones and Maycee Barber…
Heading into her first shot at gold Lee was 5-0 with all of her wins coming by ultra-impressive submission victories. For her attempt to make history at just 19 years old, the atomweight with only a year and a half of professional MMA experience took on the most seasoned opponent she could ask for.
That woman being none other than "V.V" Mei Yamaguchi who boasted a record of 15-8-1 and having never been finished. That remains true to this day.
Lee and Yamaguchi took each other to the limit in one of the wildest and greatest fights of all time with several near fight-ending moments whether it be from strikes or submissions. Ultimately, it would be the Singaporean in Lee who did enough to earn the title in an instant classic.
Jenny Huang and Istela Nunes acted as Lee's first title defenses and the champion took them both out before the final bell. Therefore setting up a rematch with Yamaguchi who had by this time re-earned another shot. Lee took care of the veteran once again and just continued to add to her legacy.
Three straight defenses in the books and Lee chose to try her hand up a weight class at strawweight where she challenged the champion Xiong JingNan. The "Unstoppable" would finally be stopped in that bout before taking a second loss in a row to Michelle Nicolini.
Upon returning to atomweight, her true home, Lee rebounded in stellar fashion by getting redemption on Xiong in their second of two champ vs. champ clashes. It was another all-time great of a fight and continued to solidify Lee as an anomaly of a champion.
Still just age 23, it's crazy to imagine how much more she can achieve.
8. Seo Hee Ham – RIZIN super atomweight champion*, Road FC atomweight champion (2 title defenses), and Deep Jewels atomweight champion (2 title defenses)
Holding world titles in three different organizations is quite an achievement. For South Korea's Seo Hee Ham, she happens to be one of the three in this category.
In Japan, their regional circuit isn't much of a regional circuit if we're to compare to over in North America. Perhaps the reason for that being the overall size difference of the locations. Regardless, the point is that fighters competing in Asia are arguably thrown into higher stakes situations much quicker and forced to sink or swim. Ham being no exception as her pro debut came against the 22-fight veteran Hisae Watanabe.
In a big upset, Ham ended up knocking off Watanabe and getting a unanimous decision victory. Three fights later and she was competing for the Smackgirl lightweight crown. This coming against yet another very seasoned and highly touted fighter in Yuka Tsuji.
The 115-pound division at the time in Smackgirl and Deep Jewels was known as lightweight but soon became what is recognized around the globe as strawweight. The first six years of Ham's career would be spent in this weight class before she made the inevitable drop to the 105-pound atomweight division where she truly shined.
In Ham's divisional debut she captured the Deep Jewels title by defeating Naho Sugiyama. Later in that same year of 2013, she successfully defended the title against Sudae Numata. The champion made her promotional debut in Road FC following the bout and pick up two wins under that umbrella before securing her second Deep Jewels title defense with an armbar over Saori Ishioka in November 2014.
From late 2014 to 2016 Ham would try her hand in the UFC back at strawweight where she went 1-3. Upon her release, she returned to atomweight as well as Road FC where she picked up right where she left off.
Matched with the perennial top 10 ranked worldwide champion in Mina Kurobe, Ham displayed a new ferocity to her game and claimed the title with strikes in the third round. The first defense of her new gold belt came against one of the division's all-time most notable figures in the Invicta staple, Jinh Yu Frey. Unfortunately for Frey, Ham took her out in an even more impressive fashion than she did Kurobe with a first-round knockout.
Now with her first Road FC defense under her belt, Ham defended once more against Jeong-Eun Park and then took her talents to the RIZIN ring.
For their big year-end show on December 31, 2019, RIZIN had matched the two consensus best atomweights in the world against each other. Ham was challenging her old rival, the division's greatest ever and defending champion, Ayaka Hamasaki.
The two were both unbeaten 10-0s below 115-pounds and Hamasaki had already defeated Ham twice prior. Hamasaki happened to be the only fighter outside of the UFC to defeat Ham in the past ten years at the time.
In their trilogy bout, the two came in as good as they've ever been and put on as good of a fight as we could have asked for. Incredibly close, wildly entertaining, and dramatic, Ham got her redemption via split decision. Thus making her only the second titleholder in RIZIN's division and further cementing her legacy. A legacy that can still be added on to.
7. "The Ilimanator" Ilima-Lei Macfarlane – Bellator flyweight champion (4 title defenses)*
In a way, Ilima-Lei Macfarlane has been Bellator's version of Angela Lee. A homegrown champion that quickly blossomed into a superstar.
Only one of the Hawaiian's 11 professional bouts has taken place outside of the Bellator cage and that was for her debut. After that, it was off to the races, and "The Ilimanator" put together a very solid six-fight winning streak to earn her a shot at the inaugural flyweight title in Bellator.
In the said bout, Macfarlane rematched an opponent from a fight ago in Emily Ducote. Having won by unanimous decision the first time, the second time around Ducote remained a tough opponent. But Macfarlane forced the tap with a triangle choke late in the fifth and final round. If she wasn't a star already, "The Pineapple Princess" was well on her way now.
Macfarlane has remained perfect since then and has been the definition of a champion with four consecutive title defenses. The first three of which she finished impressively with two submissions and one TKO.
Her title reign appears never-ending at the moment, but the flyweight division in Bellator is only getting deeper while the champion only continues to get better herself.
6. Valentina "The Bullet" Shevchenko – UFC flyweight champion (3 title defenses)*
When it comes to who is the best flyweight champion ever between Macfarlane and Valentina Shevchenko, it's essentially a coin flip. It can be broken down into overall skill and strength of schedule as their title defenses are only separated by one. Though Shevchenko has accumulated hers at a slightly faster pace.
For "The Bullet", she began her career as a bantamweight with only one 125-pound contest from 2003 to 2017. Along the way, she would challenge for the UFC bantamweight title but come up short in her lone attempt. Shortly after the loss, the UFC had introduced their flyweight division and Shevchenko was ready to change things up.
In a questionable matchup against Priscila Cachoeira, Shevchenko destroyed her opponent before getting to vie for the vacant title opposite a former champion in Joanna Jedrzejczyk.
Shevchenko made relatively easy work of her old Muay Thai rival en route to a unanimous decision and her first MMA world title.
That was immediately followed up with a highlight reel knockout for the ages as she head kicked Jessica Eye in her first title defense. Liz Carmouche and Katlyn Chookagian have been added to Shevchenko's resume since.
The Kyrgyzstan native has proven to be somewhat of the ultimate Swiss army knife in MMA and there's no telling how long she could rule over her division for.
5. Ayaka Hamasaki – RIZIN super atomweight champion (1 title defense), Invicta FC atomweight champion (2 title defenses), Jewels lightweight champion (3 title defenses)
Like her rival in Seo Hee Ham, Ayaka Hamasaki is also one of those three champions to hold titles in three different organizations.
For clarity's sake once again, the Jewels lightweight title evolved into the Deep Jewels strawweight title – the weight always being the same at 115-pounds.
Hamasaki just like Ham was thrown right into the deep waters of Japanese MMA upon her career's start as she and Ham's first encounter was only Hamasaki's fourth pro bout. It would be where she received her first of three world titles.
Hamasaki successfully defended the belt in her rematch with Ham which came after a non-title win over Mizuki Inoue. Having beaten Ham via TKO due to doctor's stoppage in the rematch, she would then score a huge win in her second defense of the belt by locking a kimura onto Yuka Tsuji in the very first round. Hamasaki would go down as only the third and final person to defeat Tsuji in her illustrious 27 fight career.
Having appeared to reach the top of the mountain in her home of Japan as an MMA fighter, Hamasaki took her talent to the US after her big win. At Invicta 2, Hamasaki submitted Lacey Schuckman in the third round of their contest with an armbar. Still the champion in Jewels, Hamasaki would return right after her US debut to defend against Emi Fujino.
Heading back to Invicta after what would be the final defense of her title, the 9-0 Hamasaki would taste defeat in her sophomore Invicta appearance thanks to Claudia Gadelha. The loss prompted her to move down to the division she'd historically claim hers at 105-pounds.
Rebounding with two solid wins over Naho Sugiyama and Mei Yamaguchi, Hamasaki was granted an atomweight title shot in Invicta against the new champion, Herica Tiburcio. Picking up the split decision win, Hamasaki had made history as now the first Japanese MMA champion in a major promotion.
Once again a titleholder, Hamasaki reigned dominantly in Invicta's atomweight division with two finishes in her defenses against Amber Brown and Jinh Yu Frey. Teasing an attempt at going for two titles at once, Hamasaki would return to strawweight against Livia Renata Souza only to fall short against the former Invicta champion.
With the loss, Hamasaki made her way to RIZIN and back to atomweight where she continued her winning ways.
Dispatching of Alyssa Garcia and Mina Kurobe, Hamasaki was matched with divisional staple Kanna Asakura in the inaugural RIZIN super atomweight title bout. It was the rising superstar vs. the tried and true veteran. And the latter would be the one to come out on top as Hamasaki stifled her young opponent's game early and often. She found the armbar for the win in round two.
By this point, RIZIN and Bellator had already been working on cross-promotional fights and to a great effect. Therefore, Invicta got in on the action as there now champion, Jinh Yu Frey, was looking for redemption against Hamasaki.
Hamasaki's first RIZIN title defense would be a champion vs. champion affair and prior to her Ham trilogy, it was arguably the biggest atomweight fight ever. It played out as a rather technical chess match of sorts through the first two rounds but Hamasaki dominated the third to get the win and her fifth career title defense overall.
The Yamaguchi Prefecture native has won and defended world titles in every organization that she's fought in and it's all been against the divisions' very best wherever it was. If that doesn't define the word "champion" then what does?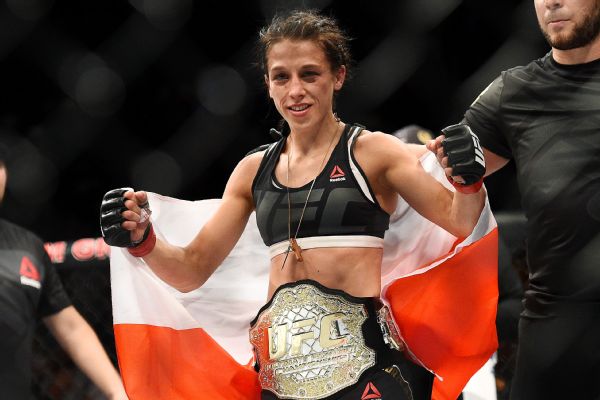 4. Joanna Jedrzejczyk – UFC strawweight champion (5 title defenses)
Joanna Jedrzejczyk became so synonymous with the label of champion that it became her nickname to an extent. Yep, "Joanna Champion" is set to defend her title once again.
With a successful Muay Thai background like Shevchenko, Jedrzejczyk started her pro MMA career in 2012 and the rest was effectively history.
Beginning her MMA career as a flyweight, once Jedrzejczyk was picked up by the UFC at 6-0, she had to choose between the 115-pound strawweight division or the 135-pound bantamweight class. She went with the former.
After adding two wins to her unbeaten streak, Jedrzejczyk had earned herself the opportunity to be the first challenger to the inaugural champion Carla Esparza. What went down would be one of the most one-sided beatings that a challenger ever put on a champion.
Jedrzejczyk had one of the most dominantly impressive starts to a title reign that we'd ever seen and it took her until her third title defense to be remotely tested once again. Yet, she still came through to overcome adversity and it was arguably more impressive that she was able to do so.
The Poland native accumulated five total defenses before being knocked off by Rose Namajunas. A challenger who at the time was questioned about getting the shot. Something none of those put in Jedrzejczyk's way prior were.
She handled all top contenders in queen-like fashion every time out. Simply put – because she was the queen. For that, she's solidified her as the greatest fighter her division has ever seen.
3. "Rowdy" Ronda Rousey – Strikeforce bantamweight champion (1 title defense), UFC bantamweight champion (6 title defenses)
When most think of female MMA champions, Ronda Rousey is very likely to be one of the first images that pops to mind, if not the first.
Destined for superstardom, Rousey was an Olympic bronze medalist Judoka turned MMA fighter. But not just any MMA fighter, one that was dominant beyond comprehension.
Her first seven MMA bouts (three amateur, four pro) all resulted in the same fashion; armbar in under a minute. It would be enough to earn her a title shot as she dropped from featherweight to bantamweight in her fifth pro fight.
At the time, the Strikeforce 135-pound titleholder was Rousey's soon to be bitter rival, Miesha Tate. The fight would be critical for the popularity of the women of the sport as Rousey fought through her toughest opponent yet but still found a first-round armbar. The only difference was that she was now a bonafide star with some MMA hardware to go with her Olympic medal.
Rousey defended her Strikeforce crown once against the former champion Sarah Kaufman before the promotion was bought out by the UFC. Thus leading to Rousey being made the inaugural champion in her new fighting home.
It was business as usual for Rousey as her first two UFC defenses saw her force her opponents to tap. The first being Liz Carmouche before Tate got a chance at redemption against Rousey. The fight lasted longer than the first as they went to round three with Tate finding moments of success like the first fight, but ultimately Rousey was just too much yet again.
In her two bouts that followed, Rousey scored her first wins via TKO and showed perhaps some new wrinkles to her game. She now had amassed five straight title defenses overall. Cat Zingano would mark No. 6 as Rousey scored the quickest submission win in UFC history, again with an armbar. Zingano started the fight with a wreckless flying knee that cost her her undefeated record and chance at gold.
A trip to Brazil for a showdown with Bethe Correia would be Rousey's last win before eventually retiring and it came in the typically quick fashion – but this time as a clean one-punch knockout.
She was a true dominator during her run and had performances all incredibly unique in their own ways. Love her or hate her, it's hard to imagine there ever being another Ronda Rousey type figure as champion.
2. Cris "Cyborg" Justino – Strikeforce featherweight champion (2 title defenses), Invicta FC featherweight champion (3 title defenses), UFC featherweight champion (2 title defenses), Bellator featherweight champion*
And here we are. The last of the three champions to hold belts in at least three different promotions … but the only to have done so in four; Cris Cyborg.
When it comes to dominant and feared champions, few if any have been on the level of Cyborg and for all but one night during these past 15 years, she's been unstoppable.
Known as one of the hardest hitters out there, 18 of her 22 wins have ended via knockout or TKO. Her black belt in Muay Thai goes with her black belt in BJJ quite nicely … although the latter has never been needed in her career.
The biggest knock on the Curitiba native has always been her level of competition. But that notion has faded more and more as her career has gone on and as of late she's fought the best fighters available. And obviously, that's resulted in world titles being added to the collection.
Cyborg's first title came in Strikeforce when she took out the unbeaten superstar in Gina Carano before defending the belt twice against Marloes Coenen and Jan Finney. What was originally Cyborg's third Strikeforce title defense was overturned to a no-contest when she tested positive for stanozolol. The initial outcome was a 16 second TKO against Hiroko Yamanaka.
After that fight, Cyborg was suspended for a year and returned to action for Invicta FC after Strikeforce was absorbed by the UFC.
Picking right back up where she left off, Cyborg debuted for Invicta and destroyed Fiona Muxlow which set up a rematch against Coenen. Once again, Cyborg would defeat her fellow former Strikeforce titlist before defending her title three straight times.
With every fan now dying for Cyborg to compete in the UFC at this point, it finally happened in late 2016.
The UFC-Cyborg tenure started as a bit of an odd one as she had to compete in two 140-pound catchweight contests before an official featherweight class would be created. And once that came into play, she wasn't even in the inaugural title bout.
It was only a matter of time until she got her hands on the belt though and it happened at UFC 214 in the Summer of 2017. Cyborg took on Tonya Evinger who was finally getting her shot in the UFC after her recent resurgence – it just came at featherweight as opposed to her home of 135.
Cyborg did what she does and put it on Evinger for nearly 12 minutes before getting the finish. She would go on to defend her crown twice over the likes of Holly Holm and Yana Kunitskaya.
Now with Bellator, Cyborg made history directly upon arrival by halting Julia Budd in the fourth round of their featherweight clash. It was a "grand slam" of sorts as Cyborg has proven to be the ultimate gold collector in MMA.
1. Amanda "The Lioness" Nunes – UFC bantamweight champion (5 title defenses)* and UFC featherweight champion*
To be the best you've got to beat the best. Well, Amanda Nunes has done just that and then some.
Throughout her career, "The Lioness" has earned 10 wins over current, former, or future champions. She has defeated every bantamweight and featherweight UFC champion and holds two wins over only the second flyweight champion, Valentina Shevchenko. She's truly done it all.
Out of the top three champions on this list, all have been dominant in their own ways. For Nunes, her reign came the latest in her career comparatively speaking.
After putting together a three-fight winning streak, Nunes earned her first career crack at gold as she took on Miesha Tate at UFC 200. It was a fierce performance and true changing of the guard as the champion had no success. Nunes battered Tate into submission on the grandest stage possible.
To follow it up, her first title defense saw her pummel the aforementioned dominator in Rousey in a flawless 48-second victory. If that wasn't enough, two more title defenses later and Nunes went up to featherweight and became the first female dual division champion to hold titles at the same time. The only other to hold two divisional titles at any point was the No. 5 on our list, Ayaka Hamasaki.
Nunes would be the one to dethrone Cyborg and like Rousey, it was without wasting any time. The bantamweight ruler needed only 51 seconds to knockout Cyborg and make history. It was right then that her status as the greatest of all-time was cemented. But she's only further added to her legacy since with two more title defenses at bantamweight and her next time out looks to be an attempt at getting her first at featherweight.
Drake is an MMA writer based out of Brush Prairie, Washington, USA who specializes in feature pieces, the women's fight scene, lists, news coverage, and rankings. He has been a passionate fan of MMA ever since 2009. Drake has most notably written for BJPenn.com, FanSided, The Body Lock, South China Morning Post, MyMMANews, WhatCulture, Cageside Press, Sherdog, The Scrap, and MMA Today. He has also written for and created video content for RT Sport. As for other sports, Drake is a longtime fan of the NFL's Green Bay Packers and Jacksonville Jaguars.
You can follow him on Twitter and Instagram: @DrakeRiggs_ . Also check out all of his video content on YouTube at YouTube.com/DrakeRiggs where he uploads fighter interviews, podshows, and various other types of content.