USKA Night of Champions results from Allentown, Pennsylvania
USKA Fights will hold USKA Night of Champions from the Econo Lodge in Allentown, Pennsylvania, October 21.
The even is headlined by 'The Son of Palestine' Rami Ibrahim taking on Nelson Fortes Moreira. Ibrahim will be competing in his 186th fight when the bell tolls tonight in Allentown. His opponent Moreira flew in from Portugal. He is ranked number 18 in the world with WBC and trains out of Team Dynamite.
As always, USKA is holding raffles for a charitable cause. Tonight they will be asking fans to wear pink in support of breast cancer awareness.
Nate Kinard was informed earlier this week that he would have an opponent change after Lewis Rumsey withdrew from the event. Kindard talked with MyMMANews about now taking on Cole Fetzner who is coming in from Canada.
In the opening bout of the night Omar Principe proved to have a serious chin after a series of hard shots landed at the hands of Gracie 717's Ty Shovlin in the second round.  Principe's head did a near 180 degree turn after a hook from Shovlin, followed by a few well placed jabs.
In the third and final round Shovlin connected with a few shots that caused referee Keith Peterson to temporarily pause the fight for a standing eight count.  The fight then resumed and Shovlin ended the round and the fight with a flurry of punches.  This contest goes to the judges with Shovlin getting the nod.
Early disqualification
Nosir Ochilov and Sev Cardenas was entertaining until Cardenas tried several times for takedowns in a Muay Thai fight.  Referee Keith Peterson warned Cardenas several times about the infraction.  That's when Cardenas spit out his mouthpiece and said, "I'm done."  Peterson stopped the fight.  It was initially declared a TKO at 1:42 in round one, but then changed to a disqualification.
Countless knees
Juli Keller dominated in the clinch tonight landing what seemed to be more than 100 knees en route to a unanimous decision win over Noemi Perez.
Close Contest
Amer Mustafa of Rami Elite met Raymundo Chavez of Algeo MMA in an exciting bout that displayed a lot of talent between two hard hitting amateur fighters.  This was an extremely close split decision that went in favor of Mustafa.  Great fight.
Emotions run wild
John Fox knocked David Harr down with a huge head kick in the opening frame of their scheduled three round bout.  The slugfest continued into the second round and it seemed as if everything but the kitchen sink was thrown by both competitors.  Harr was knocked down by a knee in the second round and when stood up referee Keith Peterson began an eight count.  The fight was waved off in favor of Fox and Harr shoved the official following the loss.  Greg Sirb, Executive Director of the Pennsylvania State Athletic Commission then entered the ring to confirm that Harr did indeed put his hands on the referee.  No word yet as to if Harr will face punishment for the infraction that happened during the heat of the moment.
He put hands on him
You could tell that Jesse Burke has a high level of boxing experience as he lit Daniel Inch up all over the ring.  Burke's boxing skills were evident with his fancy footwork, head movement and thunderous body shots.  The fight had to be stopped twice in the third round for the referee to look at Inch.  The fight was called off upon the second look and Burke won the fight by technical knockout.
Superman punches
Jeff Castagne landed two superman punches on Frank Trovato in the very first round.  These two men are the largest fighters that have appeared in the ring yet tonight and their power is evident.
The superman punches continued over to the second round. The move is obviously something Castagne practices in the gym at Hybrid Kickboxing.
Trovato landed a heavy footed head kick in the third and final round but it did not seem to faze Castagne much.  Castagne pushes forward and Trovato throws the kick again and it lands once more.  Now Castagne appears to have something wrong with his leg as he is limping a little bit around the ring.  Referee Keith Peterson is keeping a watchful eye.  The two competitors slug it out til the end of the bell and the fight goes to a decision in favor of Castagne.
Sean Morgan is a monster
Last time Sean Morgan fought I approached his coach Bill Algeo to ask if his fighter had ever competed in MMA.  I was extremely impressed with Morgan that night and told Algeo that if his prospect went into mixed martial arts he would be a monster.
In the opening frame tonight against Aaron Kennelly, Morgan stumbled a bit and didn't come out quite as strong as last time but that appears to be because Kennelly is a step up in competition.  Kennelly landed quite a few kicks and likely won the first round, but Morgan did not disappoint.  He landed several impressive push kicks and big strikes to the head and body.  The action continued over to the second round where both fighters scored points on the scorecards but it will be tough to judge.  We now move to the third and final round where Morgan is visibly tired but relentless.  He landed two big head kicks and is clobbering Kennelly with strikes.  Morgan knocks Kennelly down with a push kick.  The fight resumes but is ended by the sound of the bell just seconds later.  Morgan definitely should win the last frame.
Beau Bradley not satisfied with unanimous decision win
Beau Bradley of Five Points Academy took on Joe Byers in a highly entertaining back and forth contest.  These two warriors displayed a high level of speed that would have been easier to watch in slow motion.  Bradley closed out the second and third rounds with a high head kick landing flush to side of of Byers' head.  The fight is ruled in favor of Bradley.
Another Algeo MMA win
Henry Nyanti Jr. of Maisonets Muay Thai collided with Alfonso Monturano of Algeo MMA in the final amateur bout before the night's pro fights would begin.  Nyanti has a lot of power in those tree trunk size legs and ham sized fists. Nyanti opened up the third round with a big flying knee before both competitors nearly toppled over the top rope onto Gary Grant Jr. and Mark Krumrine Jr. who were both providing commentary for Future of the Game. Monturano came on strong to get the split decision win and was appreciative of his opponent and praised his talent.  "You couldn't tell that this was his first fight," Monturano said.
Four national anthems were played before the pro fights would get underway.  Fans stood for anthems of the United States, Canada, Portugal and Palestine.
Pro Fights
Cole Fetzner makes case for middleweight title shot
Nate Kinard and Cole Fetzner met in the first professional fight of the night.  Fetzner of Canada took the fight on short notice and had the height and reach over his opponent.  That short notice did not have any impact in the fight. That height advantage would come into play as he cut Kinard open and bloodied him with knee in the clinch.  A ringside physician would look at the cut that was under the eye and allowed the fight to continue.  Kinard will need stitches tonight.  Fetzner made a statement and said "I know the two guys are fighting next for the title, but they are babysitting it for me."  Matchmaker Jen Heffentrager has an easy choice here for the next middleweight title fight.
Davis Oracio Jr. retains title
Matt Coleman hugs his son before he enters the ring for his title fight against champion Davis Oracio Jr.   The backstory there is one that needs to be told.  We interviewed Coleman earlier this week and he told us that he adopted his son 11 years ago and doctor's were not giving very many chances to live a healthy life.  Coleman opened up the fight with a kick so loud it echoed throughout the Econo Lodge but that is when the champion began to implement his game and take over.  Coleman was knocked down three times and referee Keith Peterson called an end to the fight.  Fans in attendance felt the fight was stopped prematurely as did Coleman.  Oracio Jr. retains title.
Main event
The intensity and build up to tonight's main event was incredible.  Rami Ibrahim and Nelson Moreira both respected and admired in the sport put on something special tonight in Allentown.  Moreira opened the fight with a push kick.  Moments later Ibrahim trips Moreira to the mat.  Moreira stands back up and delivers a kick to the lower left leg of Ibrahim who smiles and shrugs it off. A chant of "Rami" begins before Ibrahim is almost sent down to the mat.  Ibrahim is staring down his opponent and smiling as he continues to pour on the pressure. The first round ends with the two fighters locked up in the clinch.
The fight would see a temporary pause in the second round as Moreira received a blow below the belt and had to adjust his cup.  Once the action resumed the kicks were flying between both competitors.  What a fight we have here.
The sweat is flying now in the third round with each and every moment.  Ibrahim is knocked down but immediately springs back up to the sounds of the few fans in attendance cheering on the foreigner Moreira.  The crowd is pro Ibrahim and loving every moment of this highly energetic headlining bout.
We move to the championship rounds.  Moreira is pouring it on here now in the fourth round.  Ibrahim begins to chop down the leg of his opponent.  The smack talk begins after every strike.  Ibrahim is taunting Moreira with a verbal assault. Ibrahim ends the round with a high kick.  This fight is extremely close.
The two fighters embrace in the center of the ring to start the fifth and final round.  A "Let's Go Rami" chant grows in intensity.  Rami asks the crowd to turn it up even more.  The chant turns to "Rami Elite."  Rami lands a kick followed by a spinning back fist before another inadvertent low blow.  When the action resumes Rami throws a wheelkick that misses.  Now Moreira lands a spinning backfist of his own and Rami smiles.  The fighters continue to throw and land combos to the bell.  Everyone is on their feet and the smiles on the faces of Irv Althouse and Jen Heffentrager are ear to ear.  What a fight that goes all five rounds.  The crowd is going crazy as the decision is read.  Ibrahim wins via split decision and claims the vacant title.
"I've been fighting for my country.  I have represented my country my entire career," Ibrahim said.  "I fight for my people."
Complete USKA Night of Champions results below:
Rami Ibrahim defeated Nelson Fortes Moreira via split decision (48-47, 48-47, 48-47)
Davis Oracio Jr. defeated Matt Coleman via TKO – Round 1, 1:53
Cole Fetzner defeated Nate Kinard via unanimous decision (30-27, 30-27, 30-27)
Alfonso Monturano defeated Henry Nyanti Jr. via split decision (30-27, 29-28, 29-28)
Beau Bradley defeated Joe Byers via unanimous decision (30-27, 30-27, 30-27)
Sean Morgan defeated Aaron Kennelly via unanimous decision (29-27, 29-27, 29-28)
Jeff Castagne defeated Frank Trovato via unanimous decision (29-28, 30-27, 30-27)
Jesse Burke defeated Daniel Inch via TKO – Round 3, 1:37
Jonathan Fox defeated David Harr via TKO – Round 2, 1:59
Amer Mustafa defeated Raymundo Chavez via split decision (29-28, 29-28, 29-28)
Juli Keller defeate Noemi Perez via unanimous decision  (29-28, 30-27, 29-28)
Nosir Ochilov defeated Sev Cardenas via disqualification – Round 1, 1:42
Ty Shovlin defeated Omar Principe via unanimous decision (30-26, 29-27, 29-27)
COMPLETE PHOTO GALLERY BELOW:
All photo by MyMMANews photographer William McKee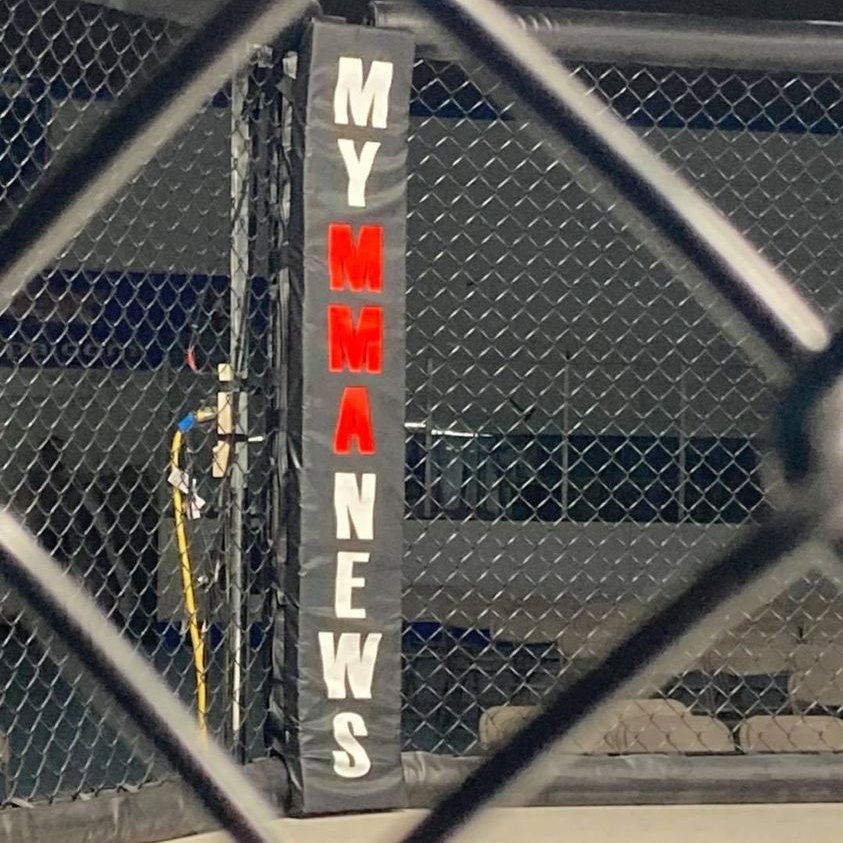 MyMMANews.com – We cover everything from MMA, BJJ, Bare Knuckle, Wrestling, Boxing, Kickboxing, and Judo
News, Opinions, Videos, Radio Shows, Photos and more.