Freedom 15 – Watch Muay Thai Live From New York City
Are you ready for an exhilarating night of heart-pounding Muay Thai action? Look no further! Freedom Fighter Promotions presents Freedom 15, a live event that promises to leave you at the edge of your seat. Prepare to witness the ultimate clash of fighters in a showcase of skill, determination, and raw talent.
Unleashing the Thrills
Freedom 15 brings together some of the most talented and fearless fighters in the Muay Thai world. With a stacked bout card featuring intense matchups, every moment is bound to be filled with excitement. From explosive knockouts to technical masterclasses, each bout is a journey through the art of Muay Thai.
Championship Showdowns
The highlight of Freedom 15 is the series of title fights that will define the future of the sport. Watch in awe as warriors compete for prestigious titles, vying for recognition and honor. Witness the crowning of champions and the rise of new contenders, as they give their all, in pursuit of greatness.
From the Comfort of Your Home
Don't worry about missing any of the action! With Fight Club Live TV, you can catch Freedom 15 from the comfort of your own home. Tune in live on the event day or catch up on-demand at your convenience. Never miss a knockout, a decisive moment, or a legendary upset – the choice is yours!
An Unforgettable Experience
Freedom 15 is not just a fight night; it's an unforgettable experience that will leave you in awe of the incredible athleticism and determination of these fighters. Share the excitement with friends and family as you immerse yourselves in the electrifying atmosphere of Muay Thai.
FREEDOM 15 AUGUST 5TH 2023

Red Corner

Blue Corner

1
Andrew Ventura
4W-0L
#REF!
3W-3L
Damian Snyder
#REF!
Rami Elite
#REF!
Saratoga Muay Thai
Philadelphia PA
#REF!
Greenfield Center, NY
4/3/2012
174-458
2/10/2012
2
Ezekiel Ponce
0W-1L
57.3lbs/ 26kg
3W-2L
Izaiah Bahsous
3×2
Hills Training
No Elbows
Rentap Muay Thai
San Jose, CA
Full Gear
12/19/2013
9/24/2014
3
Rex Augustin
0W-0L
179.8lbs/81.6kg
1W-0L
Thomas Sawicki
3×2
Rami Elite
Full Rules
Kings New Jersey
Philadelphia PA
Full Gear
East Rutherford, NJ
2/8/2001
173-874
173-874
7/19/2004
4
Trevon Edwards-Scales
2W-2L
119.9lbs/ 54.4kg
1W-1L
Jonathan Narvaez
3×2
North Star MMA
Full Rules
Rose Muay Thai
Philadelphia, PA
Elbow Pads
Brooklyn, NY
4/9/2004
174-613
170-011
5
Matthew Shivecharan
1W-0
134.4lbs/ 61kg
4W-1L
Jacob Sweitzer
3×2
Raktan Muay Thai
Full Rules
Nomad
Long Island City, NY
Elbow Pads
Oakland, MD
11/23/2002
173-142
172-566
6/14/1999
6
Ryan Persaud
5W-2L
130lbs/ 59kg
2W-2L
Erik Cordova
3×2
Juniper Muay Thai
Full Rules
Rose Muay Thai
Philadelphia, PA
Elbow Pads
Brooklyn, NY
12/12/1995
174-750
170-881
DOB 5/14/1987
7
Elmer Recinos
4W-6L
134.4lb/ 61kg
2W-1L
Bryant Pasato
3×2
Lil Bomb Muay Thai
Full Rules
Raktan Muay Thai
Full Gear
Long Island City, NY
5/18/1993
169-676
174-442
12/2/1998
8
Ben Collins
7W-2L
168.6lbs/ 76.5kg
12W-10L
Matthew Pinkney
3×2
Full Rules
8 Limbs Academy
Elbow Pads
Philadelphia, PA
11/27/1990
175-331
157-866
10/3/1985

Professional Main Event

9
Jhalani Battle-Williams
2W-0L
147.7lbs/ 67kg
5W-3L
Leon Trujillo
3×3
Rami Elite
Full Rules
Tulum Muay Thai
Philadelphia, PA
No Gear
Tulum Mexico
9/2/1996
170-675
8/24/1997
Title: 36kg Jr Welterweight Freedom World Championship
10
Aubrey Armas
7W-2L
79.3lbs/ 36kg
Olivia Bahsous
5×2
Hills Training
Full Rules
Rentap Muay Thai
San Jose, CA
Elbow Pads
3/29/2010
Title: 57kg Featherweight Freedom USA Championship
11
Sarah London
4W-3L
125.6lbs/ 57kg
6W-0L
Gianna  Vadino
5×2
Chonburi Muay Thai
Full Rules
North Star MMA
Nashville, TN
Elbow Pads
Philadelphia, PA
3/30/1986
169-462
11/29/1990
Title: 54kg Super Flyweight Freedom USA Championship
12
Christian Rodriguez
18W-6L
119lbs/ 54kg
6W-1L
Farzod Raufov
Full Rules
El Cajon, CA
Full Rules
Brooklyn, NY
Pure Heart Muay Thai
Elbow Pads
Fight Factory
8/9/2006
174-569
174-525
5/7/2008
Title: 52kg Super Flyweight Freedom USA Championship
13
Michael Hernandez
10W-2L
114.6lbs/ 52kg
18W-5L
Peter Anagnostidis
5×2
Lions Roar Muay Thai
No Elbows
Sitan Gym
Bronx, NY
Full Gear
Astoria, NY
4/1/2009
169-468
170-604
5/20/2009
Title: 63.5 Super Lightweight Freedom World Championship
14
Ahmad Alatmah
18W-2L
140lb/ 63.5kg
10W-2L
Juan Vasquez
5×2
Philadelphia, PA
Full Rules
Matador Muay Thai
Rami Elite
Elbow Pads
Corona, NY
7/7/2005
174-408
175-118
7/8/1997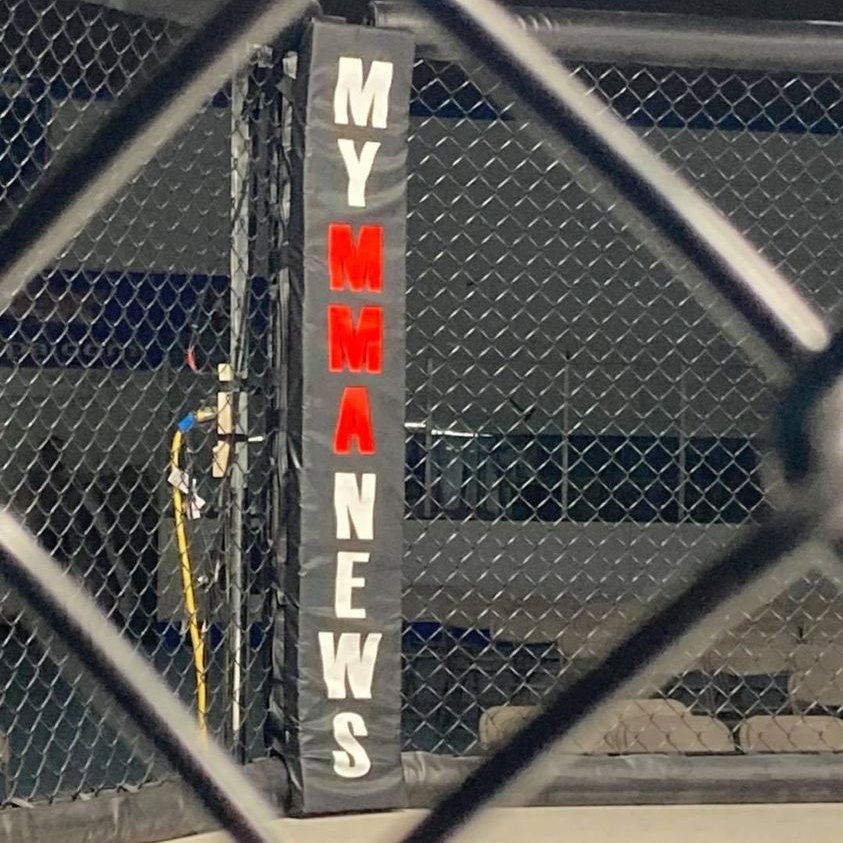 MyMMANews.com – We cover everything from MMA, BJJ, Bare Knuckle, Wrestling, Boxing, Kickboxing, and Judo
News, Opinions, Videos, Radio Shows, Photos and more.