New York Open Judo Championship – Team Israel Takes First Place, Photos, Video
New York Open Judo Championship – Team Israel Takes First Place, Photos, Video
The 2017 New York Open Judo Championship was held at the Historic New York Athletic Club, located steps away from equally historic Central Park, Sunday, March 26.
This prestigious event has seen many Olympic athletes compete, plus countless other high level Judo tournament participant; the New York Open being in the heart of Manhattan is undoubtedly the best, just because of its location.
In a Round Robin tournament that was grueling and amazing to watch, men's teams from France, Germany, Israel, and the USA started the tournament, with teams France, Israel, and USA all advancing to the finals.
Oren Smadga coached Team Israel to win first place and an MVP award, Tal Flicker 66 KG, Golan Pollack 73 KG, Asaf Chen 81 KG, Lee Kochman 90 KG, and the men's MVP Almmog Louzon +90 KG.
Team USA fought hard for second place with their coach Jason Morris,USA Olympic Judo coach 2008. Quentin Cook 66 KG, Brad Bolen 73 KG, Jack Hatton 81 KG, Colton Brown 90 KG, and Tokuzo Takahashi +90 KG.
Team France came as close as it gets coming in third place with their coaches Maxime Nouchy and Sauveur Chris Soriano, and manager Vincent Massimino. Clement Czukiewycz 66 KG, Alexandre le Boucher 66 KG, Tristan Avaliani 73 KG, Guillaume Chaine 81 KG, Dimitri Gomez-Tavares 90 KG, and Jean-Sébastien Bonvoisin +90 KG.
The women's teams were on fire the entire tournament; these ladies showed heart and strength unparalleled to any competition I've seen.
Shany Hershko coached these women of team Israel to a first place win with an MVP award, well deserved. Shira Rishony 48 KG took the days MVP award, Gili Cohen 52 KG, Timma Nelson Levy 57 KG, Noa Snir 63 KG, and Linda Bolder 78 KG.
Team USA took second place. They went toe-to-toe all day giving their opponents some fantastic competition, coached by Jimmy Pedro, USA Olympic JUDO coach 2012 and 2016. Katelyn Bouyssou 48 KG, Angelica Delgado 52 KG, Marti Malloy 57 KG, Hannah Martin 63 KG, and Kaelin O'Sullivan 78 Kg.
Team France took third, they fought tough and hard with their coaches Maxime Nouchy, Sauveur Chris Soriano, and manager Nordine Goudjil. Marine Lhenry 48 KG, Aurélia Issoumalia 52 KG, Morgane Arthuis 57 KG, Alice Fioretti 63 KG, and Lucie Perrot 78 KG.
The competition was amazing and there were several surprises along the way.
MMA Personality Phoenix Carnivale was there, to do some great corresponding, and introduce a beautiful Judo demo that she narrated for the fans, attached is the video of that demo.
There were past NYAC alumni and Olympians Kayla Harrison who was the first American women to win gold in the Olympics in 2012 in London and defending her medal in 2016 Rio,  again winning gold, and Travis Stevens, three time Olympian and silver medalist in 2016 Rio.
UFC fighter Aljamain Sterling sat front row for all of the action. Also, the well-known and legendary Renzo Gracie was in attendance.
NYAC mentioned their athlete Ronda Rousey who had done so much for the sport of Judo and women's MMA.
Be on the look out for alumni Kayla Harrison's possible MMA career with World Series of Fighting, that I cannot wait for.
Photos below by Kerry Stellar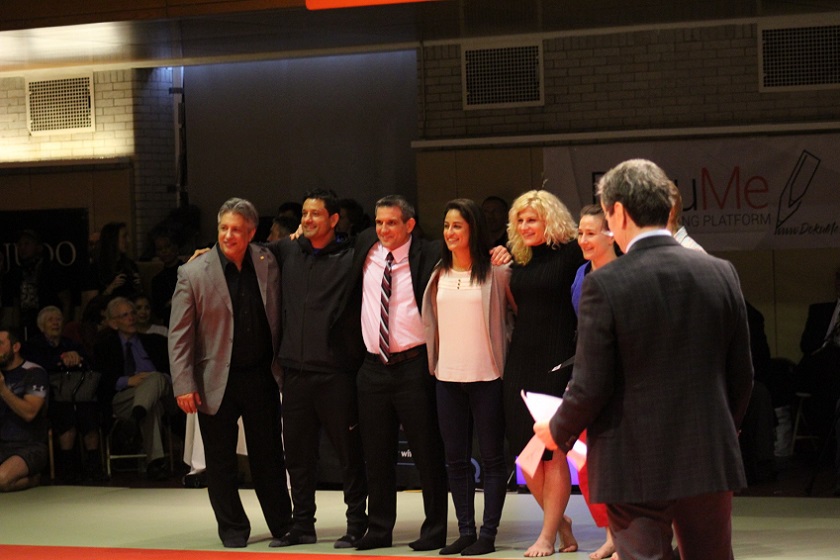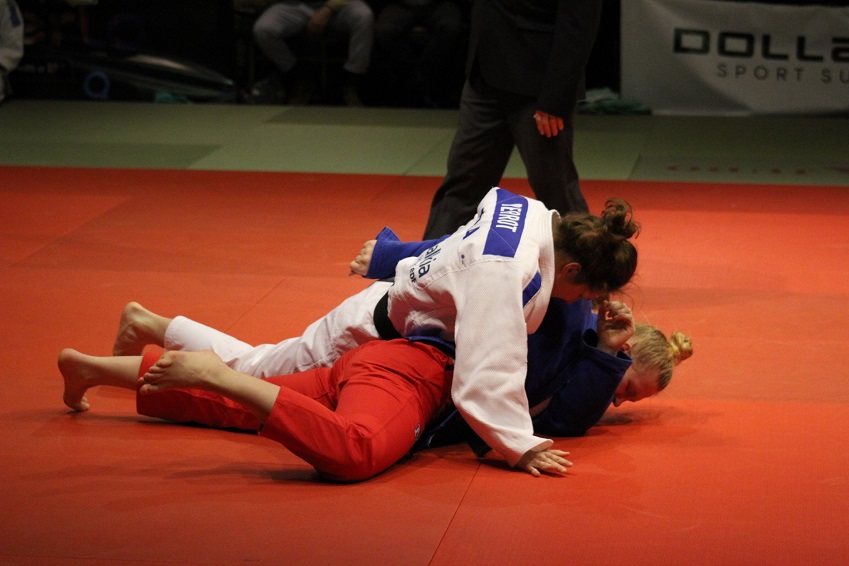 Follow MyMMANews.com on Social Media
The following two tabs change content below.
Hello my name is Kerry Stellar, I am the host and owner of In The Girls Corner, blog, podcast, and reporter... WHERE MMA MEETS BEAUTY AND A LITTLE OF EVERYTHING ELSE. I cover live events, and recorded as well, my passion is the wonderful world of Mixed Martial Arts, amateur events, to pro fights and anything in between is where you'll find me. I fell in love with MMA and WMMA at a young age, and decided to take a different avenue apart from actually fighting, so now I get to talk about it, write about it, and see some of the best fights LIVE, from the best seat in the house, cage side. Check out IN THE GIRLS CORNER for your UFC, BELLATOR, INVICTA, WORLD SERIES OF FIGHTING, and countless local amateur and professional fights. See you guys on fight night.
Latest posts by Kerry Stellar (see all)