BOTH 'PITBULL BROTHERS' RECEIVE NEW OPPONENTS AHEAD OF BELLATOR 152 & BELLATOR 153
SANTA MONICA, CA. (April 11, 2016) – Injuries to both Derek Campos and John Teixeira have forced Bellator MMA to find replacements to compete against brothers Patricky "Pitbull" Freire (15-7) and Patricio "Pitbull" Freire (24-3) on April 16 and 22 respectively.
As a result, the Scott Coker-led promotion has put its newest free agent acquisition to work immediately, with the news that Kevin Souza (15-4) will compete against Patricky at 155-pounds, in the first fight of his freshly inked multi-fight contract during the main event of "Bellator 152: Pitbull vs. Souza."
Meanwhile, in the co-main event of "Bellator 153: Henderson vs. Koreshkov," Patricio will now fight the tenacious Henry Corrales (12-2), who agreed to face the former Bellator MMA Featherweight Champion on less than two weeks notice.
"Bellator 152: Pitbull vs. Souza" will also include the promotional debut of Italian fan-favorite Alessio Sakara (17-11), who faces Brian Rogers (12-8) in a light heavyweight matchup, while one of MMA's most promising young prospects, A.J. McKee (3-0), fights Danilo Belluardo (5-1) at 145-pounds. Also, Anastasia Yankova (2-0) will make her promotional debut against Anjela Pink in MMA flyweight action and Oktagon competitors Daniele Miceli (2-0) and Daniele Scatizzi (6-2) will round out the MMA card with a featherweight showdown.
"Bellator 153: Henderson vs. Koreshkov" is also brimming with must-see mixed martial arts action as well, with the promotional debut of Benson Henderson (23-5), who challenges Andrey Koreshkov (18-1) for the 170-pound strap, Brennan Ward (13-3) goes to battle against "Cyborg" Santos (20-16), Michael "Venom" Page (9-0) faces Jeremie Holloway (7-1), and Brent Primus (6-0) meets "Toninho Furia" (27-5).
"Bellator 152: Pitbull vs. Souza" airs on SPIKE Saturday, April 16 at 10 p.m. ET/PT, while "Bellator 153: Henderson vs. Koreshkov" airs at a special start time of 8 p.m. ET/7 p.m. CT, which is immediately followed by the debut of "Bellator Kickboxing: Torino" at 11:00 p.m. ET/PT.
Fresh off an emphatic knockout of Ryan Couture at "Bellator 148: Daley vs. Uhrich" to kickoff 2016, Patricky "Pitbull" will look to extend his current winning streak when he takes on the debuting Kevin Souza.
A member of the Blackzilians, the 31-year-old has been victorious in 10 of his last 11 fights as a professional and put together an impressive 3-1 run with the UFC. The multi-time, post-fight bonus award winner has a knack for the spectacular, with 10 finishes coming in the opening round and 13 out of 15 victories ending before reaching the judges' scorecards. The Salvador native has competed exclusively at 145-pounds, but due to the fight being on short notice, Souza will step up and compete against "Pitbull" at lightweight.
Henry Corrales continues his run of never turning down a fight in Bellator MMA, after agreeing to fight Patricio "Pitbull." The fight will be Corrales' third in the Viacom-owned promotion, after bouts against current featherweight titlist Daniel Straus and newly re-signed contender Emanuel Sanchez. A former King of the Cage bantamweight champion, "OK" has finished 10 of his 12 wins as a pro.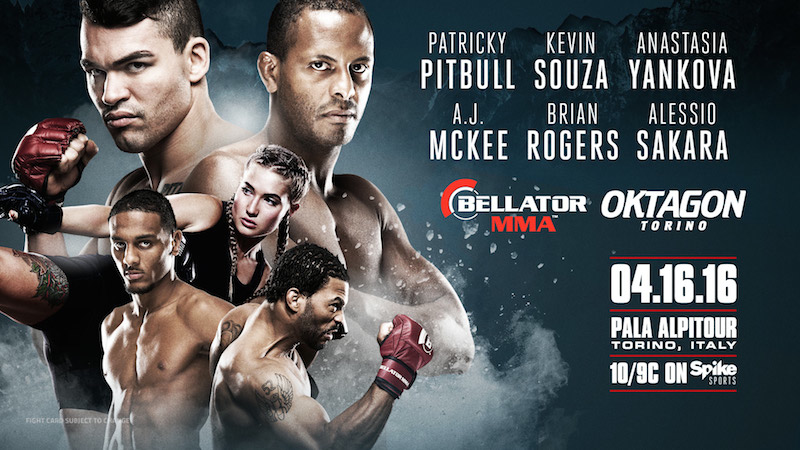 Complete "Bellator 152: Pitbull vs. Souza" Main Card:
Bellator MMA Lightweight Main Event: Patricky "Pitbull" Freire (15-7) vs. Edimilson "Kevin" Souza (15-4)
Bellator MMA Light Heavyweight Co-Main Event: Alessio Sakara (17-11) vs. Brian Rogers (12-8)
Bellator MMA Featherweight Feature Bout: A.J. McKee (3-0) vs. Danilo Belluardo (5-1)
Bellator MMA Flyweight Feature Bout: Anastasia Yankova (2-0) vs. Anjela Pink (Debut)
Bellator MMA Featherweight Feature Bout: Daniele Miceli (2-0) vs. Daniele Scatizzi (6-2)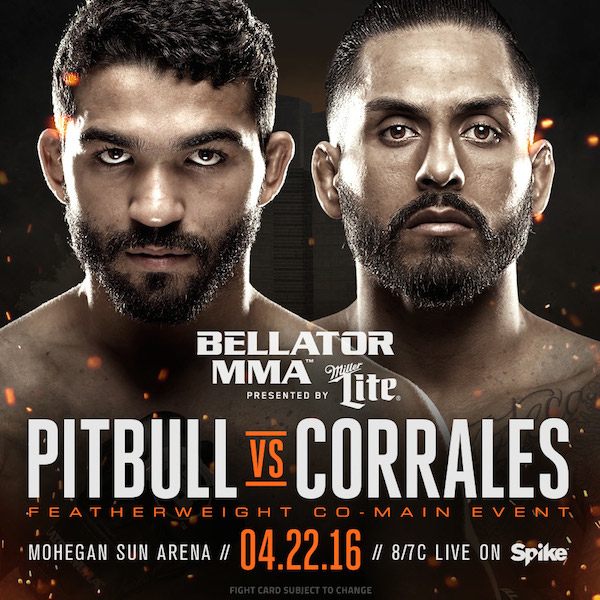 Complete "Bellator 153: Koreshkov vs. Henderson" Main Card:
Bellator MMA Welterweight World Title Bout: Andrey Koreshkov (18-1) vs. Benson Henderson (23-5)
Bellator MMA Featherweight Co-Main Event: Patricio "Pitbull" Freire (24-3) vs. Henry Corrales (12-2)
Bellator MMA Welterweight Feature Bout: Brennan Ward (13-3) vs. Evangelista "Cyborg" Santos (20-16)
Bellator MMA Welterweight Feature Bout: Michael Page (9-0) vs. Jeremie Holloway (7-1)
Bellator MMA Lightweight Feature Bout: Brent Primus (6-0) vs. Gleristone "Toninho Furia" Santos (27-5)