Podcast: Vincent DeRiso of Bellmore Kickboxing Joins Kyle Carroll Live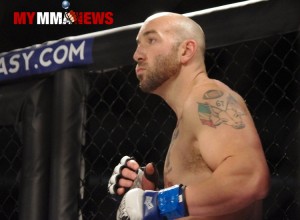 On the second episode, of MMA Sports Talk with Kyle Carroll, which aired December 21, 2015 – amateur middleweight champion, Vincent DeRiso, joined My MMA News reporter Kyle Carroll live on the air waves. DeRiso is the MMA Platinum Gloves middleweight champion, owning a record of 7-1.
DeRiso has shown great character both, inside and out of the cage. After losing his mother in a tragic car accident five years ago, he has turned his grief into motivation. Whether it's inside the cage or outside of the cage, the champion showed his championship spirit as he has persevered. DeRiso didn't allow sorrow to swallow him like it does to so many people. He is currently a business owner of a successful gym as well, "Revolution Fitness", located in East Northport, New York. They offer a variety of different classes and instructors that fit your health needs. Visit their website for more information by Clicking Here.
While the MMA Platinum Gloves MW champion was live on the air we talked about Long Island MMA, his journey through his mixed martial arts career, and what his future holds for him next.
Be sure to tune into MMA Sports Talk with Kyle Carroll on Monday nights at 6:30 p.m. EST. on Blog Talk Radio.
Listen to his interview by following the link below-
This Monday Night we will be joined by Vincent DeRiso of Bellmore Kickboxing & The MMA Platinum Gloves middleweight champion. He finishes 2015 with a 5-1 record and Looks to knock off the remainding contendars in 2016, before turning pro.
Kyle Carroll is a Long Island, N.Y. native and avid MMA and amateur wrestling fan. He has been a part of the wrestling community for nearly 20 years. Carroll has six years of experience coaching high school wrestling. His father coached high school wrestling over 35 years, passing on his strong knowledge. Carroll has been reporting MMA news since January 2011. The former wrestler's coverage includes the 2012 U.S. Olympic Wrestling Team Trials, 2013 & 2016 NCAA D1 Wrestling Championship, and numerous MMA events (Bellator MMA, King of the Cage, North American Fighting Championship, and Glory).