UFC bound Luana Pinheiro aims to bring more gold back to Brazil
A generally somewhat hard to please Dana White did his best Oprah Winfrey impression on the most recent season of Contender Series. The UFC boss handed out a record-high 37 total contracts throughout the season's 10 weeks. As a result of those 37 being brought in, four were members of the strawweight division. Out of the select four, only one scored a highlight-reel finish and that belonged to Brazil's Luana Pinheiro.
"It's the feeling of a job well done," Pinheiro told MyMMANews about making it to the UFC. "Ever since I migrated to MMA that was my goal. I'm really happy that I was able to achieve it and begin my journey now. I thought that the Helen Harper fight would definitely bring me some visibility. But I didn't think it would be that quick, actually. I thought that I would need to have some more fights, some more victories before having this shot [in the UFC]."
In week 9 of Dana White's Contender Series season 4, Pinheiro walked through Stephanie Frausto with a powerful left hook that preceded a plethora of follow-up shots on the ground. The Judo black belt extender her current winning streak to six, the first four coming by submission with the recent two by TKO. The Nova Uniao representative now gets prepared to head into the UFC with a near-pristine 8-1 record to display.
Pinheiro's win over The Ultimate Fighter season 23 veteran, Helen Harper, came in November 2019 and she started training for whatever was on the horizon at 2020's start. Having to go through the Contender Series to get to the UFC was something that was already in mind, therefore the target was a date in the summer like August.
Essentially in a camp for four months awaiting that timeframe, things got pushed back this November for the 27-year old. But in the end, things couldn't have worked out any better.
"It's an incredible opportunity," Luana Pinheiro said of Contender Series. "I was really looking at this fight as if it were the fight of my life. I was thinking a lot about what I could do to be able to get this victory. Focusing on my work and it was really nice to have the idea of if I did a good job that I would be rewarded for that. That was really cool having that idea. I just focused on that and getting the win.
"I didn't expect at all to win it like that. I knew that Frausto was a good striker and I discovered how great of a striker I was after the fight, I didn't know that. Her experience in Muay Thai before, and I also knew of her experience in Jiu-Jitsu, she was a black belt so I knew that if the fight went to the ground I would have to work a lot. But I was ready for it, and I didn't expect [the finish], and that's why I reacted the way I reacted. I felt I might have overreacted a little bit but I was so happy I couldn't control my emotions."
Pega a caneta @danawhite!

Vitória esmagadora da brasileira @luanapinheiromma no Contender Series diante da experiente Stephanie Frausto no primeiro round por nocaute técnico. pic.twitter.com/ZoGKUDqTbs

— Dama de Ferro MMA (@damadeferromma) November 11, 2020
As for when we can expect to see Luana Pinheiro inside the Octagon as an official member of the UFC roster, that likely won't be until 2021. With 2020 coming to a close, she'll look to spend some time with her family after a consistent year of training and aim for a debut around February.
Being from Brazil, Pinheiro finds herself automatically a part of the rich history of fighters that her country has produced in the sport. At strawweight, in particular, we've only seen one Brazilian champion in the UFC but names such as Claudia Gadelha have been perennial elites. Meanwhile, the likes of Virna Jandiroba, Amanda Ribas, and Marina Rodriguez are making their presence felt as the new wave. And Pinheiro looks to do the same.
Unlike what we normally expect from her home, Pinheiro's background and base martial art isn't that of the famed Brazilian Jiu-Jitsu. Instead, she honed her skills as a Judoka to develop into the fighter she is today.
Initially, the Belo Horizonte native had aspirations of making it to the Olympics to compete just like her idol, Ronda Rousey. Although she never made it, the perfecting of techniques and preparations for tournament-style matches where you have to climb the ranks was an invaluable experience.
For many, the overall transition from Judo to MMA has historically been quite seamless. And it's been so far so good for Pinheiro as well, but she quickly learned that it wasn't ever as easy as those before her made it look.
"In the beginning, watching Ronda Rousey's fights, which inspired me to begin in MMA, I thought that it would be very easy," Pinheiro recalled. "Especially as I saw how easily Ronda Rousey brought fighters to the ground and ended up finishing the fights. I thought that I would be able to do the same thing very easily but I discovered that in my first training of MMA that it was completely different than what I imagined. That I would have to strike and that the boxing was very difficult, but I ended up finding a love for boxing, and I love to box. I want to continue working on that to be able to be an all-around fighter."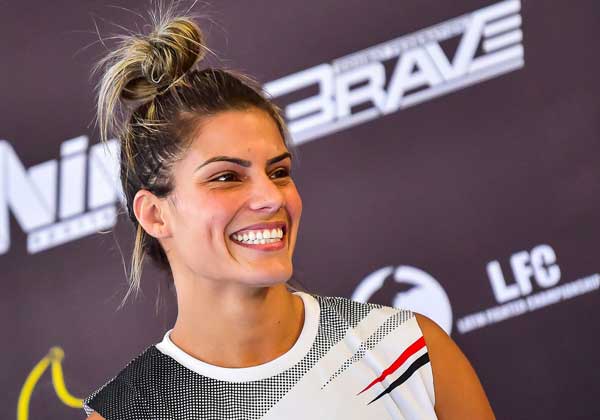 A lifelong athlete, growing up Pinheiro also found herself participating in activities like gymnastics, swimming, indoor soccer, and surfing. But her father's guidance toward Judo led her to where she would end up today.
Ultimately, it's hard to deny the aid that her other athletics provided. Gymnastics for strength, flexibility, and explosion. Swimming for energy maintenance thanks to the aerobic and anaerobic exercise… They all had and have their benefits for an endeavor as physically demanding as MMA.
In terms of other inspirations and favorites Pinheiro has, she's quite fond of former champions Conor McGregor, TJ Dillashaw, and Rose Namajunas. All fighters that her style resembles similar traits too—along with the legendary Judoka in Rousey, of course.
If things play out as she fully intends them to, Luana Pinheiro will one day join her idols with that label of UFC champion.
"My Judo teacher one day told me, 'If you want to be the champion, you've got to fight them all,' and I really keep that in mind," she shared. "So I don't really have a [specific] opponent that I want to fight against. I focus on my training and I believe that by working on my fighting skills, I'll be able to step by step get to my ultimate goal which is becoming the champion."
Drake is an MMA writer based out of Brush Prairie, Washington, USA who specializes in feature pieces, the women's fight scene, lists, news coverage, and rankings. He has been a passionate fan of MMA ever since 2009. Drake has most notably written for BJPenn.com, FanSided, The Body Lock, South China Morning Post, MyMMANews, WhatCulture, Cageside Press, Sherdog, The Scrap, and MMA Today. He has also written for and created video content for RT Sport. As for other sports, Drake is a longtime fan of the NFL's Green Bay Packers and Jacksonville Jaguars.
You can follow him on Twitter and Instagram: @DrakeRiggs_ . Also check out all of his video content on YouTube at YouTube.com/DrakeRiggs where he uploads fighter interviews, podshows, and various other types of content.