What's next for UFC light-heavyweight contender Aleksandar Rakic?
Austrian light-heavyweight talent Aleksandar Rakic just picked up the most dominant performance of his career this past weekend, and against the best fighter he's ever fought as well. He fought Anthony Smith in the main event of UFC Fight Night 175, and he looked better than ever.
Rakic was coming off his first UFC defeat, the second overall of his career, though many believed he did enough to win. Volkan Oezdemir defeated him last December via split decision, it was a very close fight.
There's no shame in having a close fight with someone of Oezdemir's caliber, he's one of the best in the world.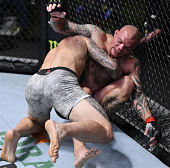 Rakic and Smith both opened up with some nasty leg kicks, though Rakic's were far more effective, taking Smith off his feet with one just 90 seconds into the fight. He spent the last three plus minutes of round one on top of Smith, as well as the majority of rounds two and three.
If it were a five round fight rather than three, considering it was a main event, Rakic looked like he could go two more rounds if needed. He ultimately won the fight via unanimous decision (30-26, 30-27, 30-27).
At 28-years-old, this Austrian powerhouse is about as good as they come. It's hard to see his future without world titles in it, he's so talented and physically powerful.
Rakic started out his combat sports career with boxing and kickboxing when he was 14-years-old, and he competed in over 40 bouts between the two. He started training mixed martial arts when he was 19-years-old, and while he lost his first fight via submission (guillotine choke), he won his next twelve before losing to Oezdemir.
The argument could be made that he should be 14-1, rather than 13-2, nonetheless he's one of the best 205 lb fighters on the planet. Rakic took Smith's No. 5 spot with this victory, and Smith took Rakic's previous spot at No. 8.
This begs the question, what's next for Aleksandar Rakic? There's a new face in the UFC light-heavyweight division that makes a lot of sense, former Rizin Light-Heavyweight Champion Jiri Prochazka.
He's a straight up assassin with a record of 27-3-1. 24 of those wins come via knockout, and he avenged his most recent defeat to King Mo. Aside from that defeat, he hasn't lost since 2013, and he knocks literally everyone he ends up fighting out.
Prochazka made his UFC debut in July, and he looked incredible, as he KO'd Volkan Oezdemir in round two. That's not at all an easy name to make your UFC debut against, he's as skilled and dangerous as they come, and Prochazka passed with flying colors.
That would be a great fight, Prochazka isn't booked at the moment, and Rakic just fought and came out of the fight without any injuries.
Everyone above Rakic is booked, Dominick Reyes is fighting Jan Blachowicz for the vacant UFC Light-Heavyweight Championship, and Thiago Santos is fighting Glover Teixeira in October.
The name directly below him is Prochazka, then Oezdemir, then Smith. Nikita Krylov is ranked at No. 9, and he'd be a good fight for Rakic as well. He's got a record of 26-7 and has finished 25 of those wins.
The only two decisions of Krylov's entire career, win or loss, came in his last two fights. He lost a split decision to Glover Teixeira, and won a unanimous decision over Johnny Walker.
Either of these would be great fights to see, but the one that makes the most sense of course is Prochazka. Rakic could rematch Oezdemir and try to get that win back as well, but now that Oezdemir's coming off a knockout loss, why not have Rakic fight the man that knocked him out?
Going 1-1 in his last two, he probably won't get the winner of Reyes versus Blachowicz, and Santos versus Teixeira is most likely a No. 1 contender fight. That leaves us with the No. 5 ranked Rakic and the No. 6 ranked Prochazka.
We know Prochazka has an 89% knockout ratio, and Rakic has a 69% knockout ratio with nine wins coming via knockout. Rakic stands 6'5" with a 78" reach, the perfect frame for 205 lbs. He has some very bright nights in his future.
What's next for UFC light-heavyweight contender Aleksandar Rakic?
I became a fan of combat sports when I was 12 years old. I was scrolling through the channels and landed upon versus, where WEC was televised. Urijah Faber fought Jens Pulver for the second time that night. That's the first fight I saw, and the fight that got me hooked on the sport. Since then, the sport has grown so rapidly, and my goal is to enlighten everyone on what's going on in the sport today.