Bellator 165: Chandler vs. Henderson Media Call Highlights with Audio
Bellator 165: Chandler vs. Henderson Media Call Highlights with Audio
Before the cage door closes this Saturday at the SAP Center in San Jose, the main and co-main event fighters from "Bellator 165: Chandler vs. Henderson" participated in a media conference call. If you weren't on the line, you can listen to it here, or read a couple of the quotes below.
"Bellator 165: Chandler vs. Henderson" features current champion Michael Chandler (15-3) against Benson Henderson (24-6) in the headlining role, while co-main event action will have undefeated British phenom Michael "Venom" Page (11-0) and California's own Fernando Gonzalez (25-13) duke it out in a welterweight thriller. Bay Area's own Keri Melendez makes her professional MMA debut, as does Kevin Ferguson Jr. better known as Kimbo Slice Jr.
The event airs LIVE and FREE at 9 p.m. ET/8 p.m. CT on Spike and completes three consecutive weeks of championship fights on the Viacom-owned network. Tickets for the event remain on sale and can be purchased at Bellator.com, as well as SAP Center Box Office and Ticketmaster.
Q: For Benson…Is there any extra motivation to prove yourself in this fight after the way the last fight ended?
Benson Henderson: I would say that there's not a whole lot of extra motivation this fight. I'm a pretty highly self-motivated individual. I want to win all of my fights. I don't need any extra incentives. I want to have my hand raised in every single fight.
Q: This is your second title fight in Bellator. Is there anything you learned from the first go-around that you're bringing into this fight?
Benson Henderson: I don't know if there's anything that I learned from the last title fight, just being more comfortable inside the Bellator cage and getting used to the walkout and finding my rhythm.
Q: You're fighting for the title now. Do you think of yourself as a lightweight? Is this where you intend to stay or is another trip to welterweight a possibility in the future?
Benson Henderson: I wouldn't say that I think of myself as a lightweight necessarily. For me, it's 155 lbs. or 170 lbs., just wherever the more interesting and fun matchups are. But, first things first, I have to take care of business on Saturday night.
Q: You mentioned fun and interesting fights. Is the title something you think about as well? The story line of the week is a two-division champion in the other promotion. Is that a dream that you have for yourself in your career or do you just want to stay and be the most dominate lightweight champion that you can be?
Benson Henderson: I'm going to go get this belt at 155 lbs., but after that I wouldn't say that belts offer a whole lot of extra incentive. Obviously belts are great and the meaning behind the belt is that you are the best in the planet and that means a lot to say that you are the best at that weight class, but I don't fight necessarily just for the belt. You do want the belt, but right now all I'm concentrating on is four days from now and a man named Michael Chandler.
Q: For Michael…Have you ever thought about trying for another belt? I know it's early in your title reign, but has that ever crossed your mind? And, if you did go for another belt, would it be for welterweight or featherweight?
Michael Chandler: I haven't put a lot of thought into it. For me, I'm just looking for the biggest fight I can get. I know there's no way I could make 145 lbs., since I walk around at about 190 lbs., between fights. So, I'm not interested in losing the muscle mass that I've worked so hard to build. If anything, I would jump up to 170 lbs., but right now I'm focused on my fight this Saturday night and I'm excited to get out there and perform.
Q: Why is Henderson an important opponent for your career?
Michael Chandler: Every opponent is important. Every single time we fight, we're putting ourselves, our livelihood, our records, and our reputation on the line. It just so happens for me, I get an opportunity to fight a guy who's been a champion and has done some great things in the sport. But luckily, it's the right time for me and the wrong time for him. I'm extremely excited to go out there and make a statement with this fight on Saturday night. He's definitely a great, willing opponent, but I'm excited to go out there and get the finish.
Q: For MVP…Obviously, it's been a fantastic year for you in Bellator, especially your performance in London. Have you got your finger on the pulse of pop culture right now and is there something out there that you're drawing inspiration from that you're looking to utilize in some entertainment factor on fight night?
MVP: Yeah, I'm always socially aware, but I have to get the job done first and that's the most important thing.
Q: At the moment, fighting at multiple weight classes and fighting in multiple divisions seems to be the rage right now and I know in the past you've mentioned the possibility of dropping down to 155 lbs., is that something that you're still interested in?
MVP: At the moment, no. Right now, I'm just focused on fighting in the welterweight division.
Q: If you can record a win over Fernando Gonzalez, how many more fights and how many more wins do you think before you are in that title picture and fighting for a title shot?
MVP: That's not really my main concern. I just go out there and entertain and I'll keep doing that until I end up in the position I'm supposed to be in.
Q: For Michael Chandler…With you watching Benson from a far for a long time, what did you think of him as his career progressed?
Michael Chandler: Benson's had a phenomenal career. Back in the day, he was the UFC champion and I was the Bellator champion. He was ranked number one and I was ranked number three in the world and it was always that "what if" matchup. What if these two guys could fight…and now we finally get to see. He's continued to impress. He's continued to win. Great careers and great legacies can't be had without great opponents. I look at Benson Henderson as exactly that, but I'll be damned if I'm going to step into that cage on Saturday night and lose this belt. I've trained my tail off, I've gone through some of the toughest hardships that anyone can go through in this sport…losing three fights in a row, coming back, and believing that no matter what, my next big breakthrough is right around the corner. I never once thought about quitting, where I think a lot of people in that situation would. Where I've been and where I am now, I'm confident and I'm excited to just go out there and put it all on the line against one of the best in the world and one of the biggest names in the sport. This is a great opportunity on Spike TV, live and free.
Q: For Fernando…question regarding the video packages that Michael Page has produced and released this year, most recently during Halloween. Did you watch them and what was your reaction to the video packages?
Fernando Gonzalez: I watched both of the videos and thought it was kind of funny, especially the last one. Bad choice of food products I guess. He's basically eating balls and drinking milk, while cupping and savoring the taste. So, I don't know if I should take that as a call out, but I think the victory alone will be enough for me.
Q: With Michael (Page) on the line right now, does Fernando have any sort of message for him leading up to the fight?
Fernando Gonzalez: It's the same message that I gave before. Just show up. I respect the fighter, but after this he'll congratulate me and thank me for making him a better fighter. He's tough, but he hasn't been tested and I'm going to give him his first loss.
Q: Michael do you have a response to that?
MVP: I'm allergic to bullshit, so there's no point in responding.
Q: For Benson Henderson…In the title eliminator fight in Anaheim, you had a calm and deliberate demeanor throughout that fight and before we could really see you explode, Pitbull was taken away with an injury. Are you going to look to set a faster pace with Chandler, or are we going to see a more measured response?
Benson Henderson: We'll see how it plays out. It's hard to dictate and say exactly what I'm going to do. If I was an NFL coach, I would not be one of those coaches that has the first 15 plays of the game scripted out and no matter what happens, we're sticking to these 15 plays. For me, I have to feel it out and go with the flow. But, for me I don't think this is going to be a slow pace fight. I'm expecting this to be one of the most high paced, action-packed fights you've seen in the Bellator cage.
Complete "Bellator 165: Chandler vs. Henderson" Main Card:
Lightweight World Title Main Event: Michael Chandler (15-3) vs. Benson Henderson (24-6)
Welterweight Co-Main Event: Michael Page (11-0) vs. Fernando Gonzalez (25-13)
Light Heavyweight Feature Bout: Linton Vassell (16-5) vs. Francis Carmont (25-11)
Lightweight Feature Bout: Adam Piccolotti (8-0) vs. Brandon Girtz (14-4)
Flyweight Feature Bout: Keri-Anne Taylor-Melendez (Debut) vs. Sheila Padilla (2-0)
Complete Preliminary Card:
Welterweight Preliminary Bout: Kevin Ferguson Jr. (Debut) vs. Aaron Hamilton (0-2)
Lightweight Preliminary Bout: Carrington Banks (5-0) vs. Jake Roberts (7-0)
Middleweight Preliminary Bout: Diego Herzog (3-2) vs. Nick Pica (5-0)
Bantamweight Preliminary Bout: Jeremiah Labiano (9-5) vs. Vince Murdock (8-2)
Welterweight Preliminary Bout: James Terry (17-9) vs. Justin Baesman (19-10-1)
Bantamweight Preliminary Bout: Alvin Cacdac (16-12) vs. Steve Ramirez (5-1)
Lightweight Preliminary Bout: J.J. Okanovich (2-1) vs. Luis Vargas (Debut)
Featherweight Preliminary Bout: Victor Jones (0-2) vs. Beau Hamilton (1-7)
Lightweight Preliminary Bout: Hugo Lujan (0-1) vs. Cesar Gonzalez (Debut)
Welterweight "VOW" Preliminary Bout: Dominic Sumner (Debut) vs. Justin Roswell (1-0)
Welterweight Preliminary Bout: Danasabe Mohammed (5-0) vs. Dwight Grant (6-1)
Flyweight Preliminary Bout: Sarah D'Alelio (10-6) vs. Jaimelene Nievera (4-1)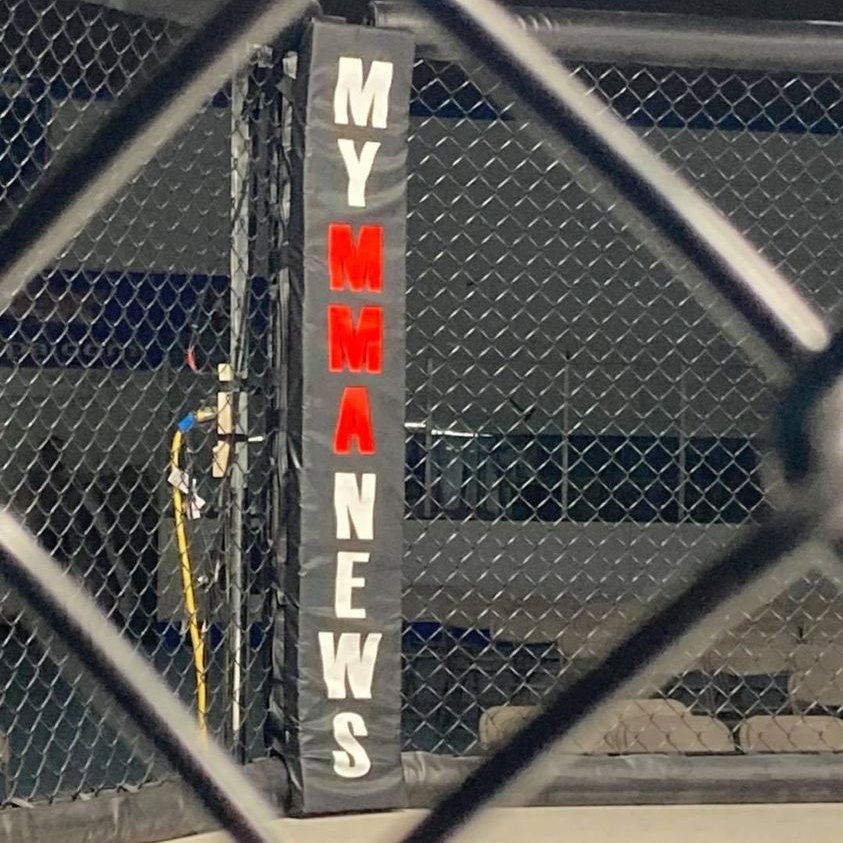 MyMMANews.com – We cover everything from MMA, BJJ, Bare Knuckle, Wrestling, Boxing, Kickboxing, and Judo
News, Opinions, Videos, Radio Shows, Photos and more.